Sew a Custom Feather Fringe
Create a feather trim to embellish any garment.
Get the latest from Threads delivered straight to your inbox.
by Susan Crane
Feathers are soft, light, flexible, and fluffy. When they are attached to thread, they drape beautifully, make curves easily, and add a bit of style to any plain-Jane garment. I'll show you a method of adding feathers that works well on lightweight garments that cannot support the tape edging found on most store-bought feather trims. You can make your trim using any feathers you like and in any color scheme. For a more classic look, try large, fluffy feathers or smaller feathers that match the hue of your garment.
First, to determine the amount of trim you need to make, measure the garment. Then cut a tissue paper strip that is at least 1 inch wide and the desired length of the trim.
1. Arrange the feathers. Lay the feathers in a straight line on the tissue paper. Machine-sew across the base of the feathers twice.
2.  Tear away the tissue paper. Be careful not to pull apart the stitches or tear the feathers.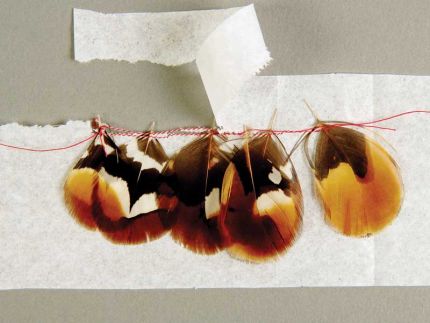 3. Lay the feather fringe in place on the garment. Machine-sew across the top, along the stitches that connect the feathers, to secure it. If your garment is lightweight, try hand-stitching the trim to the fabric.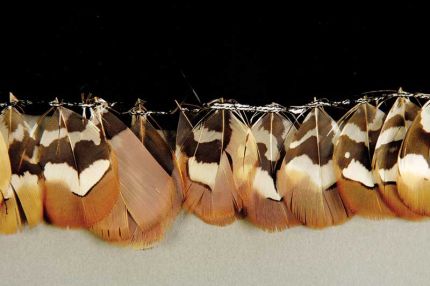 Excerpted from "Fanciful Feathers"
Threads Issue 141, p.23
Sew the trim to the garment.
Tear away the tissue paper.
Machine sew across the base of the feathers twice.
Try using different types of feathers to achieve the perfect look for your garment.