When it comes to sewing for dress-up events, fear not. Your basic sewing skills are definitely up to the task. Special occasions offer the opportunity for an exciting and easy sewing experience. Making a great gown doesn't require advanced skills, and you can be as daring, innovative, and inventive as your creative self can be. Whether the cloth is pricey or not, there's just no party without party fabrics. Read more about which fabric will fit your special occasion.
You Gotta Get the Hang and the Hand
The real flavor of the finished dress rests in the hand of the fabric. "Hand" is a term used to describe how the fabric feels and responds in your hand, and how it drapes on the body.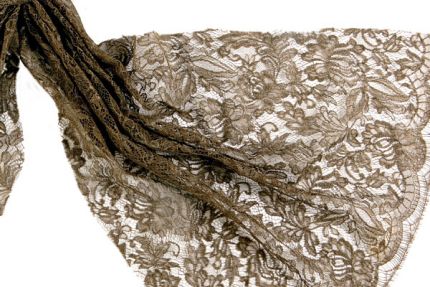 Test the "hand" of a fabric by scrunching it up in your fist. (Yes, it's okay!)
You may already have a vision of your dress—what do you see? Is it slinky, silky and slippery? Starched and structured? Soft and floating? Skin hugging and form fitting? Rich and nappy? Over the top voluminous? Match the characteristics you envision to the fabric.
To shop for the right fabric, you have to unroll several yards and gather or pleat it up in your hand and let it fall. Hold it up to yourself in the mirror and see how it hangs next to your body. It helps to have an understanding about what to expect from various weaves.

Organza and Dupioni Add Volume
Structured woven fabrics such as organza or dupioni have a crisp finish that provides the strength to support a voluminous garment, and they're easy to sew.
Organza can add strength to or stabilize a weaker fabric, yet it's sheer and delicate looking. It provides a fresh, crisp look for feminine dressing such as first communion dresses, bridal wear, and garden parties.
Get All Dolled Up with Satin
Satin is a broadly used term that applies to a variety of fabrics. Its major characteristic is a glow caused by the way the threads run across the surface of the fabric.
There are silk, cotton, wool, and synthetic satins, as well as high-gloss synthetic satins and elegant matte satin blends. Both sides of crepe back satins work equally well as the face fabric. This double-sided weave provides its own tone-on-tone coordinating fabric. Traditional bridal satin has body, is relatively easy to sew, and works well for fitted and voluminous styles.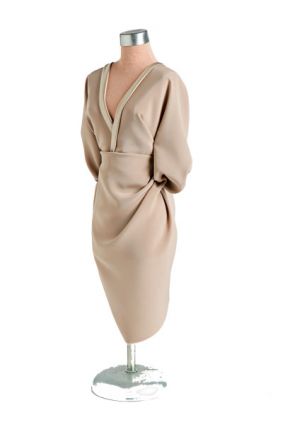 Here, the crepe backed satin is crepe side out, with the shiny satin as accent.
Unfinished satin edges ravel, though. Use pinking shears for edge finishing because serging can show through in pressing.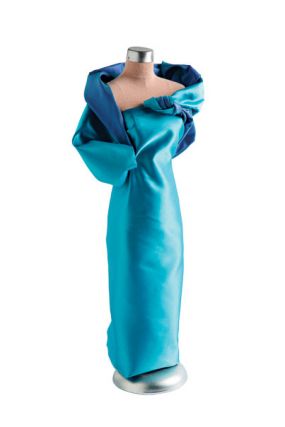 Play with both sides of double-sided satin.
Charmeuse is Like Butter
For a fabric that shines like satin but feels like butter, use charmeuse. This is a sultry fabric reminiscent of lingerie. It falls close to the body, floats on its surface, and is the fabric used in the sophisticated gowns of the 40s. The key to sewing charmeuse is keeping it perfectly on grain. Only silk is silk; a synthetic charmeuse doesn't quite cut it. Whatever the weave, it's best to stick with the true version.
Use the Velvet Touch
Velvet typically has a pile side (a surface of fine, stubble cut threads) on a woven ground. Velveteen has shorter denser pile on a heavier ground with minimal drape. Panné velvet is hard to miss with its high, wet-look shine and flat pile (almost like it's ironed!)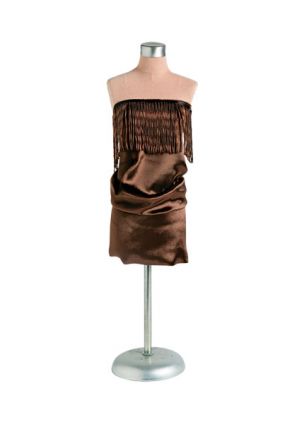 Stand out in a crowd with shiny panné velvet.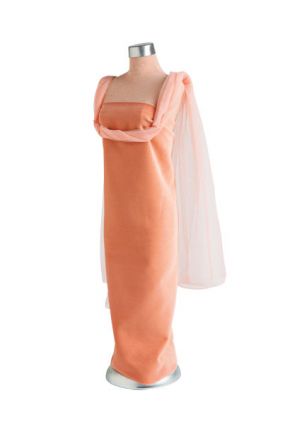 Bring out the lady in you with demure velveteen.
A swath of lovely netting takes a gown from plain to glorious.
Silk velvet is often a silk blend and is soft, washable, relaxed, and drapes beautifully—there's nothing quite like it. Synthetic velvets usually have a crisper hand with more structure and less drape than silk velvet.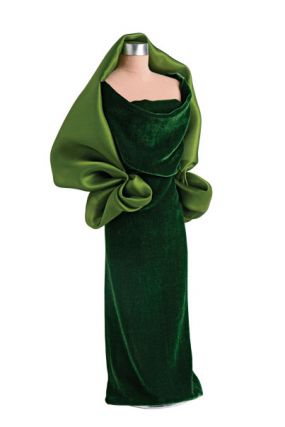 Silk velvet makes a pretty match with a wrap of coordinating silk gazar.
It's Sheer Magic
There are three basic see-through fabrics: crisp sheers like organza, and soft floaty sheer chiffons and georgettes. The soft fabrics often either fall away from the body so they can catch air and billow, or are shirred or gathered into a more fitted silhouette. As a fitted garment they need a lining of more stable fabric.
Chiffon and georgette have a tendency to shift and slide while sewing and it's sometimes difficult to keep track of their grain, but it can be done. Just pick a pattern with simple seamlines and remember that all of the architectural integrity of the garment will come from the inside lining and understructure.
Leather and Lace Make a Statement
Leather isn't the first thing that comes to mind for special-occasion material. However, take a trip to a specialty shop, and you'll find patent and metallic leathers or frosted suedes that just might be the perfect choice for your special occasion design. You may also want to use them just for trim.
Leather and lace have similar characteristics. They're usually more expensive than regular fabric, they are often purchased in a way other than by the traditional yard (such as by the skin or in very narrow widths), they provide a look that is on either side of mainstream, and they are cut and sewn without the concerns of traditional fabric.
Even though they may have a directional pattern, they don't have the same type of grain that fabric has. You don't have to finish the edges in normal ways, they don't ravel, and seam construction varies. Lace is very forgiving. An Alençon lace, for example, completely conceals stitches. You just lap seams or motifs and stitch.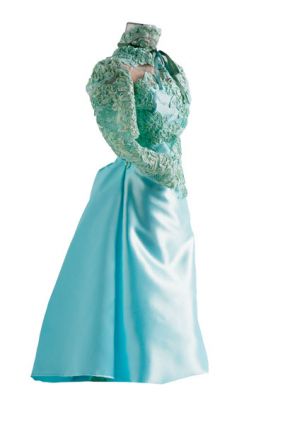 Leather and lace, paired up with lovely bridal satin, make a fashion statement in contrasts.
Get Regal with Brocade
Brocades have an all over pattern that make them look like a tapestry. This regal fabric makes opulent-looking jackets or bodices. It pairs well with smoother, softer fabrics such as chiffon. Brocade fabrics seem multilayered because of the numerous yarns that make up the patterns. These yarns fray, so make sure you line the garment. This stable fabric is easy to cut and sew, but remember to match the fabric patterns.
Metallics are Everywhere
You can find shots of metallic in every fabric in the full range from organzas to velvets and brocades. Metallic fabrics require some experimentation. But beware—some of them can't resist heat, some shred easily, and others shrivel with water.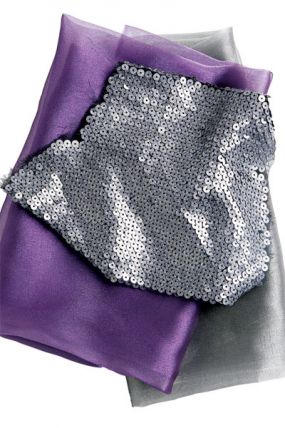 Add a little sparkle (or a lot) with sequined fabric, iridescent gazar, or metallic organza.
You should experiment with the effects of your iron and water on a swatch of fabric before you start your project to identify its boundaries. And always use a method of sewing that suits the host fabric.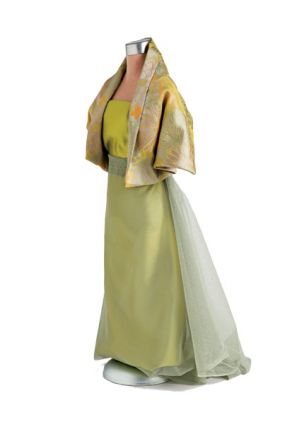 What's in a fiber?
There's a little fiber snob in all of us, but are natural or synthetic fibers better? Natural fibers such as silk, cotton, and wool come from plants and animals. They are comfortable to wear and manipulate well in sewing. Synthetic fibers, on the other hand, like nylon, acetate, and polyester come from chemical sources related to plastics and petroleum. Often these fibers are extruded to mimic natural fibers. Even though they look alike, they don't behave the same. But they both have good points. Only you can decide which works best for you.
excerpted from SewStylish Red Carpet Ready, p. 18
Don't forget to enter your garments made with these fabulous fabrics into our Fancy Fabric Challenge.
Flocked polka dot taffeta just naturally stand out among its taffeta cousins.
Add a little sparkle (or a lot) with sequined fabric, iridescent gazar, or metallic organza.