Victoria North and Judith Neukam
Get the latest from Threads delivered straight to your inbox.
In this episode, learn how to read a sewing pattern.
Teach Yourself to Sew is for beginning sewers or anyone who wants to brush up on their skills. We demonstrate basic sewing techniques, share tips, and give step-by-step instruction for beginner sewing projects.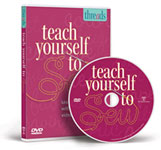 Click here to purchase the Teach Yourself to Sew Video Series on DVD.