Make a Bow With Tails – To Trim a Hat or Embellish a Garment
Get the latest including tips, techniques and special offers straight to your inbox.
Last week, in the post titled "Try Your Hand at Hat Trimming: Bows Without Tails" Threads shared designer John Koch's technique for making a bow type he uses to embellish his glorious hats (featured in "Millinery Marvels" in issue no. 153).
This post features another bow-making technique John uses on his hats. Next week's post will explain how to make realistic-looking features from fabric and wire.
If you'd like to review John's basic hat-making techniques, check out the post "How to Make a Hat Base."
Make a bow with tails
1 Decide on the finished bow dimensions and plan the fabric. Cut fabric on the bias, double the height plus 1 inch for seam allowances, and three times the length plus 4 inches. For example: A 3- by 8-inch finished bow requires a 7- by 28-inch fabric piece.
2 Fold the fabric in half lengthwise, right sides together. Cut nylon net in a double layer the same dimensions as the folded fabric. Place folded fashion fabric over netting and pin. Trim the short ends at an angle from the bottom corner to 1½-inches in from the upper corner.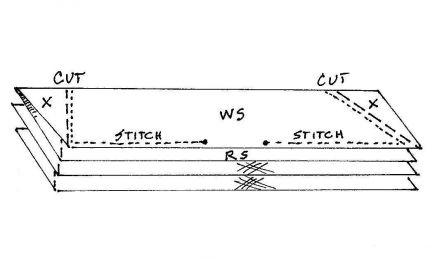 3 Stitch around fabric and netting's, ½ inch from the raw edges. Leave a 2- to 3-inch opening in one long edge's center. Turn fabric and netting to right side. Push out the corners.
4 Mark the bow's middle with a pin. Fold in half. Measure one half of the bow's finished width from the pin and mark. Sew from top to bottom at this mark.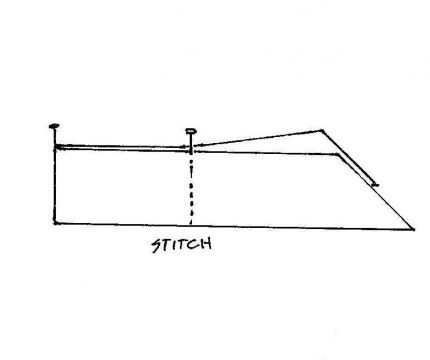 5 Open out the bow and tails, aligning the center pin and seam line. Remove pin. Pleat the bow, and stitch through the center to secure.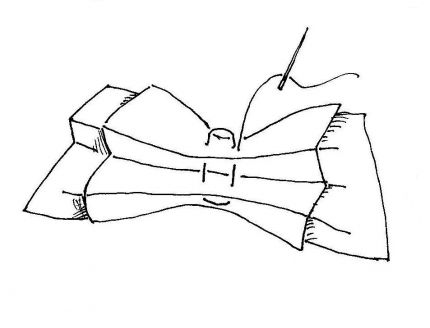 6 Make a center "knot" as in "Try Your Hand at Hat Trimming: Bows Without Tails."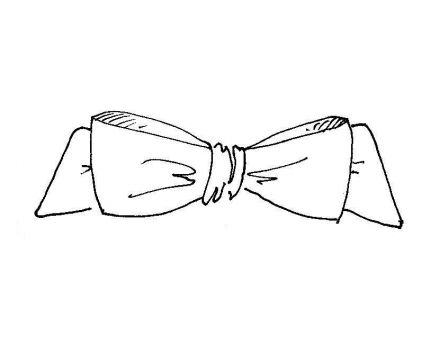 Next week: Make realistic feathers from fabric and wire
Learn how to make a fabric bow with angled tails by following John Koch's instructions.