Video: How to Fold Knife and Box Pleats
Evamarie Gomez and Carol Fresia
Author Linda Baker explains how to calculate the size and spacing of pleats, as well as the amount of fabric needed, to make a knife- or box-pleat skirt. Follow Linda's explanation from "Pleat to Measure," published in Threads #182 (December 2015/January 2016), to do the calculations and to make templates for marking the pleat foldlines on your fabric.
In this Threads Essential Techniques video, we show how to use the templates to mark the pleat foldlines and how to fold the pleats. To make it easier to identify the marked points on the knife-pleat template, we've labeled them X and Y on our template.
The photo below shows how those marks correspond to the A and B lengths shown in the article.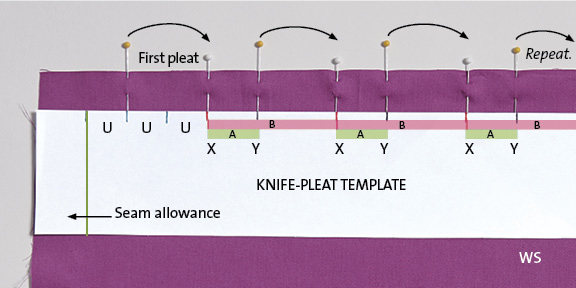 Mark your own template as shown, or simply use colored pens and pins to distinguish the pleat foldlines.