All You Ever Need to Know to Define Your Own Style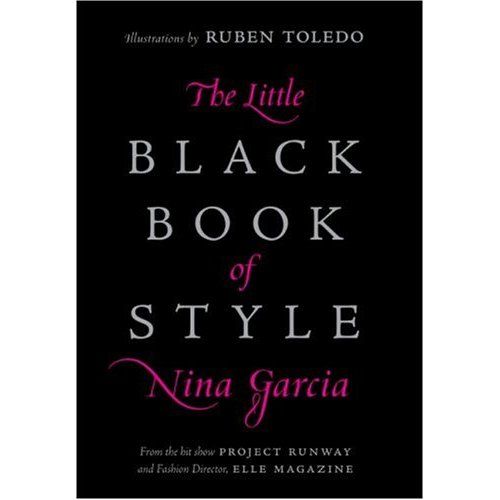 Everyone has those days when they look into their closet and can't find anything to wear. Or, they think style is what is currently on the runways or in magazines. Wrong – that is fashion but not style. The Little Black Book of Style, by Nina Garcia will change your life, or that is what Nina says. Her logic: this book will change your closet, changing your attitude and therefore your outlook on life. And she knows what she is talking about. Nina is not only a judge on Project Runway, but she is also the Fashion Director of Elle Magazine. She defines what is fashion, and here she teaches us what is style. "Fashion fades, style is eternal," Coco Chanel said. Nina's book is scattered full of fun fashion quotes that summarize Nina's ideas from the viewpoint of different designers.
Edit your closet
"What you wear is how you present yourself to the world, especially today, when human contacts are so quick. Fashion is instant language," Miuccia Prada said. This book is a crash course on editing your closet and on what to look for when you shop. It's also full of helpful fashion tips and tricks. You learn who to reference and how to avoid becoming the fashion victim walking around with the "it" bag (a bag that won't be in style that much longer). Nina understands that style and confidence must go hand in hand, and she tells you to flaunt your flaws. If you lack the confidence she suggests faking it, and eventually it will rub off on you. It is the confidence that defines your style, not your beauty. Although this sounds like comments you might hear from your mother to boost your self-esteem, we all know that it's right.
According to Nina, if you want to be a style icon there are ten things you must know:
1. How to edit
2. How to invest in "the Bones"
3. Buy with drama
4. The utmost importance of shoes
5. The power of accessories
6. A good tailor
7. How not to be a fashion victim
8. It is not about the money
9. How to mix it up
10. How to be imperfect
But this list is not simply enough. Once you read Nina's descriptions of each item on her must-know list, it will make you want to stop reading and start shopping. In a nutshell, here is her advice to live (and shop) by:
We all need a muse to inspire our style
In this book, you'll learn not only how to create your own style but where and how to let others influence you. Nina points out movies with style and music artists with taste to draw inspiration from.
Designer advice
Nina also interviews a long list of designers to tell us some of the fashion basics.
She calls upon Vera Wang for what to wear to weddings and Michael Kors for advice on cashmere, crocodile, and comfort. You'll also find a handy list of different types of occasions and what to wear to each; whether you are going on a job interview, meeting your boyfriend's parents for the first time, or just what to wear underneath that dress.
Dressing through the decades
Finally you get a decade-by-decade guide to trends and influential designers from each period.
All in all, this book is a quick read that's chock full of helpful style information. The only downside (or upside, depending on how you look at it) is that you will crave a shopping spree when you close the cover.
All quotes are from Nina's book