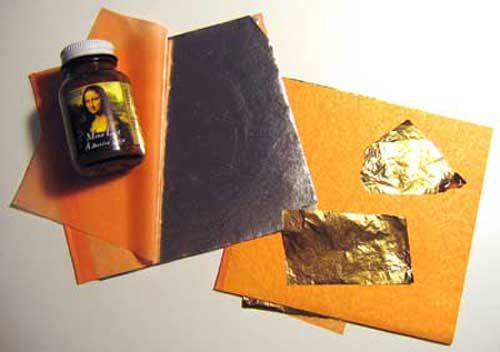 When you can't find the perfect belt buckle, gild your own! I couldn't find a buckle that matched the gold buttons on my coat, so I turned to the craft corner in my sewing room. There are a variety of ways to turn an everyday buckle into gold: gold spray paint, gold wax (Rub n' Buff), or gold leaf. I used old time gold leaf to get the job done. You can buy the supplies you need at any art or craft store, or shop these online sources: www.DickBlick.com and www.ArtSparx.com.
Step 1: Prep the surface
First paint a clean, dry buckle with gold size, a liquid that stays tacky until the golf leaf is applied.
Step 2: Add the gold leaf
You can buy leaf sheets in precious metals or in less expensive lookalikes that replicate gold, silver, copper, and other metals. Gold leaf comes in very fine sheets-so thin they fall apart when you touch them with your fingers. This means you have to move the sheet with the tissue paper that comes sandwiched between the layers. Lift a single sheet of gold leaf off the stack and allow it to drop onto the buckle. Don't plan on moving it once the leaf has touched the buckle. If you didn't get a perfect cover on the first try, just lay a second layer over it.
Step 3: Brush and buff
Use a soft brush to gently mold the leaf around the buckle and into crevices. Brush off any loose edges of leaf, then buff to a soft shine with a soft brush or tissue. You can spray on clear finish to protect your leaf, if you like.
TIP: Do not launder or dry clean. The gold leaf won't hold up to water or heat.