Trims, Trims, and More Trims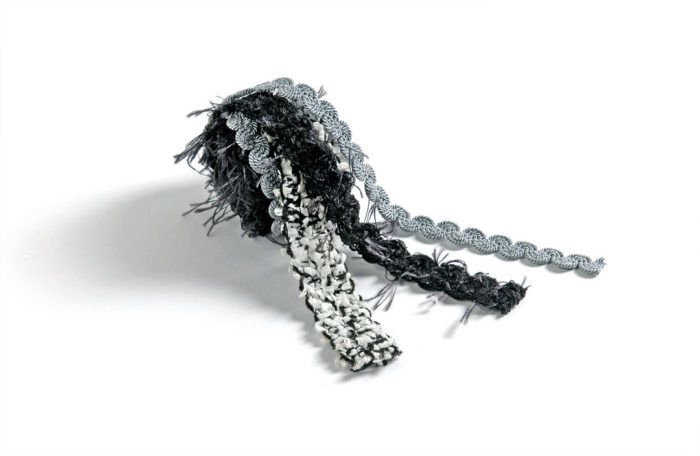 The right trim can make all the difference in the finished look of a garment or project. Just look at a Chanel jacket for proof. Trim can make or break a look. The right trim transports a look from so-so to sublime. The problem with trim is finding the right one. Often, it can be difficult to find just what you need in the local stores. Fear not! There are lots of great trimming vendors on the Internet. Let's have a look, shall we?
MJ Trim is the online branch of the New York store. If you ever have the chance to visit New York City, this store is a must-visit. But for those of us who can't just pop in, its online store is the next best thing! With everything from purse handles to ribbons to the largest assortment of buttons I have ever seen, this store can fill all your trimming needs. It can be overwhelming, because there is so much stuff on the site. But if you are looking for trim, MJ Trim will likely have it.

Tinsel Trading Company This is the online extension of the West 38th Street store in New York. While not as extensive as MJ, Tinsel Trading has one of the best selections of vintage ribbons, and a great selection of fringe trims as well.
Greenberg and Hammer is another online outpost of a New York institution. Greenberg is well known as a source for tailoring supplies, interfacings, boning, etc. They also carry a wide range of buttons, trims, ribbons, rhinestones, etc.
Cheep Trims This online store has all manner of trims, many at rock bottom prices. The only caveat is that you must buy in bulk. But if that suits your needs, this is a great source!
Snap Source If you are looking to put snaps or tack buttons (the kind you find on jeans) on your project, check this site first! They have a wide assortment of snaps in all sizes, as well as tools for applying them for a professional finish.
Repro Depot has a wide array of trims, buttons and ribbons, with a decidedly retro bent! If you are looking for just the right touch to finish off that vintage pattern, check here.
General Bead Is beading your bag? This online store carries just about everything you would want for beads, rhinestones and crystals, along with the tools to affix them to your project.
Lace Heaven This Yahoo merchant sells all sorts of laces, trims, ribbons, pipings, fringes … you name it! And one of the nice things is that if you buy in quantity, they lower the price.
UMX Fashion Supply Less an online store than an online catalog for a brick and mortar store, this site has one of the most extensive assortments of handbag hardware and purse handles in one place. They have handles in bamboo, acrylic and metal, along with snaps and hardware for all your bag making needs.
And don't forget eBay stores! There are lots of great sellers to be found on eBay. Here are three of my favorites:
Kathy's Lace and Elastic Do you need trim for a lingerie project? Are you looking for galloons of stretch lace for a special garment? Do you want foldover elastic to finish a knit top? Check out this eBay vendor. They have a wide selection of trims for all sorts of projects. If you need stretch trims, this is the place to look.
Heritage Trading This site has a breathtaking array of hand-beaded trims from India. They also carry medallion appliqués and jaquard ribbons, as well as hand-printed cotton fabrics.
Ah Kwok Supplies Are you a handbag maven? This is the spot for topnotch handbag notions. With everything from purse frames to grommets to metal feet, this is a great resource to give your bag a professional finish.
WANT MORE? There are lots of resources out there. Check out online forums like PatternReview, Stitchers' Guild and Sew What's New for hints on other great places to find trims online!