Start Your Own Stitch 'n Socialize Club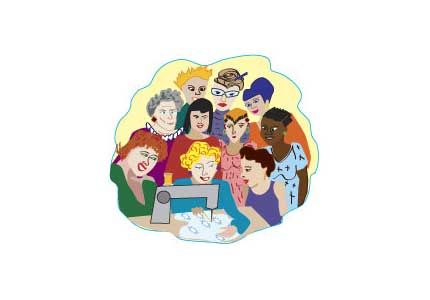 Everyone loves the idea of a stitch lounge, but not everyone has a local hangout that they can visit. If you don't have one handy, don't be down; start your own! I hold sessions called Stitch 'n Socialize (SnS for short) at my home several times a year for my sewing students and sewing friends. For me, it's pretty easy: I just tell my students when I will be holding them, and they show up with machines and projects in tow.
First up: find the seamsters
You don't need to be a teacher to start a club of your own. If you know of fellow seamsters in the area, send out an email to them. Don't know of any close by? Go to one of the online forums for sewing or crafting. They usually have a section for geographical areas. Put up a post and see if there are any like-minded seamsters close enough to you to be able to have a get-together. Check with local fabric stores. Often they run drop-in sessions. If they don't, they may have space that they can let you use. It's a win-win for them; they can sell supplies to the attendees and build store loyalty. Another great place to check for space to use is your public library.
You've got social, now what?
Remember, the main point of a Stitch 'n Socialize Club is to have fun. I run my club at my dining room table. Attendees bring their own machines and projects. I set up a fold-away cutting table and I have lots of 6-outlet power strips so people can plug in. If possible, it's nice to set up a little table with refreshments. Everyone brings a nibble or something to drink. The only rules? No eating at the sewing area, and no wine until the project is done!
What you will find is that once everyone arrives, these sessions take on a life of their own. It's fun, and inspiring, to see what other folks are working on. At my SnS, folks have worked on home dec, pants fitting issues, finishing UFOs, embellishment, quilting… the list goes on and on. It's a blast because everyone can contribute, both knowledge and inspiration from a very beginner to the most advanced. I find myself taking away loads of ideas. You can too!

HOW TO GET STARTED:
To find like-minded seamsters in your area, check out the forums at Patternreview.com, Stitchers Guild, and Sew What's New. You can also Google "sewing forums" for a longer list.