The Joys of Owning an Industrial Machine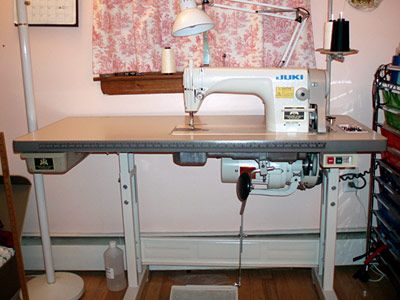 Many seamsters, myself included, are wowed by the cool new features available in sewing machines these days. It seems like machines can do everything from stitching a straight line to finishing seams to snipping your thread tails for you! There are sewing machines that do elaborate embroideries all by themselves. There are machines that will allow you to program a quilting pattern, flip a switch and walk away while it creates a masterpiece. There are machines that have hundreds of stitches and that cost as much as my first car. It's all so very seductive! Then I shake myself out of my reverie and remember what it is that I actually sew.
In my life, I don't do embroidery, quilting, or decorative stitches. My middle-of-the-line home sewing machine has 64 stitches, of which I use five: straight, zigzag, three-stitch zigzag, buttonhole and button or bartack. My sewing projects are primarily garments, with a smattering of home-dec items thrown in. I have more use for speed in a machine than for cool features. Okay, speed is pretty cool, especially when you are talking about 3000-plus stitches per minute (SPM).
That's what I love about my industrial Juki DDL8700 straight stitch machine. It does one thing, and it does it extremely well. It stitches a straight line: forward and backward. That's it. But boy, does that baby hum! It's like owning a Formula One race car. It looks good, and it's highly functional for what it is built for. And it's FAST! The technical specs list it at 5000SPM max. That's about ten times faster than my non-industrial, and five times faster than my non-industrial serger. As I said to my friend, 'Now I can make wadders in one-third the time!'
Not for the faint of heart
With all that speed, industrials can be intimidating. You need to learn to 'drive' one. Give yourself a couple of easy projects to start (perhaps curtains or a bag) to get your bearings with an industrial. You can buy industrials with servo motors whose speed you can control with a push of a button, but make no mistake, when you set them on high speed, they run like a racehorse, and you need to pay attention to what you are doing. Ah, but once you get used to them, you will never want to go back to a regular home machine.
A workhorse
In addition to speed, industrial machines work well on a variety of materials. My Juki only does a lockstitch, (the same as the straight stitch you're used to seeing from your standard home sewing machine) but it does it perfectly through everything from silk chiffon to several layers of leather. Industrials have a higher presser-foot lift than home machines, so you can maneuver bulky fabrics like canvas with relative ease. The sewing machine arm is longer than most home machines, making handling lots of fabric (like gowns or draperies) easy. Most industrial machines come with a knee-lift for raising the presser foot.
Industrial machines have three basic parts: the head, which is the sewing machine itself, the motor, and the table. You need all three. Industrials are not portable. The table/motor alone weighs about 120 lbs. Industrials are self lubricating. The head sits in a pan of oil which wicks into the hook and other machine parts to keep it humming. Once a year (in light circumstances like my studio), I change the oil. Once a month I clean the head to get the dust out of the machine. Other than that, it requires very little maintenance.
Accessories and for most industrial machines (there are a few German-made exceptions) cost a fraction of those for home machines. An average cost for a specialty foot on my Juki is $8.00. Industrials do require special needles, which are available online as well as at any commercial machine dealers. Standard Schmetz or Singer needles won't fit. Many industrial machines have automatic bobbin winders that allow you to wind a new bobbin as your sew. This time-saving feature is one of my favorites.
Find a dealer
The one thing I recommend if you are considering an industrial machine is to find a local dealer who sells and services them. I'm lucky to have one about 30 miles from my home. There are several good dealers who sell over the internet or by mail, but shipping for an industrial can be quite expensive. Another advantage of a local dealer is that you can test drive machines and get advice on the proper machine for your needs. My dealer loves to talk about the different feet and their uses, and whenever I stop by, he takes me to the shop to show me what they just got in and are working on. It's pure heaven for a machine hound like me!
Industrial machines range in price from about $600 to well into the thousands, depending on the type of machine you need. A straight stitch machine like mine will typically sell new in the $700-$800 range. If you sew a lot, and don't need many fancy stitches, you might want to take a look at one of these Ferraris of the sewing room!