Garment Construction Tip: Sequined Fabric Deserves Topnotch Seaming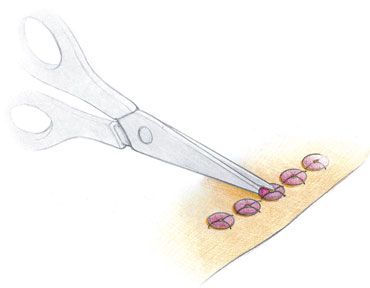 To keep seamlines in sequined fabric smooth, it's best to remove all the sequins that fall along each seamline. If you leave them in place, you'll have half or partial sequins in the finished seam. To remove individual sequins without cutting the thread that secures them to the fabric, push the thread out of the way with the tips of the scissors and then carefully cut to the center of the sequin. Sew the seam, then, sewing by hand, fill in any bare spots with sequins snipped off scraps of the fabric.
This tip submitted by Connie Long was originally featured in Threads #104 (Dec. 2002/Jan. 2003).

---
Submit your tip
At Threads magazine, we're always in search of smart tips, tricks, and solutions to help you sew smarter, better, and faster. Send us your great ideas for a chance to be featured in the magazine's Tips department.
Tips can be emailed directly to Threads or mailed to Threads Tips, P.O. Box 5506, Newtown, CT 06470.
We pay for any tips published in our magazine.