Book Review: American Fashion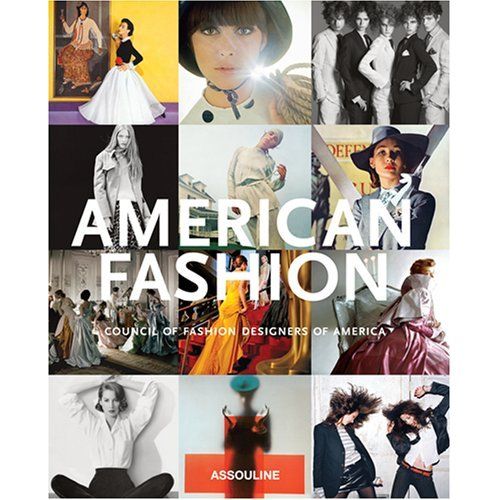 They say not to judge a book by its cover, but it is that aesthetic appeal that draws us to learn more of what lingers in its pages. A beautiful work of literature had this effect on me while scanning over the latest fashion publications that hit the shelves. It's called American Fashion-simple yet direct with details that seem to transcend trendy magazines that owe tribute to the modes of the past. The collage displayed on the cover enticed me, and so I thought what any other style addict would- "Where's the checkout box?"
American Fashion is visually stimulating and establishes thought-provoking connections to great movements in history that are not customarily associated with fashion. The timeline is extended over the past eighty years and delves into: cultural, political, economic, and social elements that have influenced fashion.
More than words
After a comprehensive introduction, the reader is presented with a brief display of icons and images that have been recognized for their extraordinary messages, along with information to describe the major historical events of those eras. Beginning with 1929 to the present time, prominent figures such as Eleanor Roosevelt, Rosie the Riveter, Marilyn Monroe, Elvis Presley, Martin Luther King Jr., Muhammad Ali, Madonna, the Pope, and many more are mentioned as models for what those years produced.
A slightly more in-depth history follows and is accompanied by more extraordinary photographs that paint a portrait of life in America. This niche seems neglected in typical renditions of history that we are taught to guide our thoughts but flows effortlessly through the minds of more creative fashionistas.
The era I love to follow
By far, the most personally appealing section is the "1939/1946 Wartime Invention and Expansion." Although the style initially attracted me to this period, I became further engrossed the more I learned about women's active roles in society while World War II erupted. The succeeding periods enlighten the reader to the groundwork that brought on the next innovations in fashion. When I arrived at "2000…Contemporary Directions," I found myself repeating what I say every time I glimpse through Vogue, Elle, or Vanity Fair designer advertisements, "What is with the hunched, emaciated-deformed look?"
Study up
This artistic rendition of fashion heights made me eager to see what the next decade will bring, and with a back index of the most renowned designers, preceding the Council of Fashion Designers of America (CFDA) Fashion Award Winners, I'll be able to brush up on the treasures of the runway, while anticipating Charlie Schieps' next masterpiece.

Find one of your very own
American Fashion was published by and can be purchased through Assouline Publishing, located at 601 West 26th Street, New York, NY 10001. It is also available at local book retailers, or at online sites such as www.amazon.com.
---
In addition to this wonderful book, if you are looking for Great Sewing Books, we have a collection of our favorites!