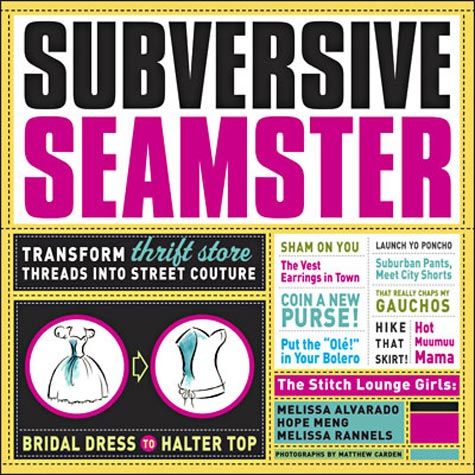 Are you thrift store savvy? I must admit, I'm wary of thrift stores-suspicious stains and smells make me grimace, and the probability of finding my size in a department that isn't plastered with cartoon characters is slim. Yet I find myself eager to face these problems head on after reading Subversive Seamster (Taunton Press, 2007) by Melissa Alvarado, Hope Meng, and Melissa Rannels.
Here lies a guide on how to transform seemingly unwearable thrift-store finds into unique clothes and accessories. With shout-out-loud titles and basic instructions, even the most novice sewer, like me, is encouraged to tackle the projects. Subversive Seamster does its job in proving that sewing isn't just for the older generations. Better yet, strange sizing is actually welcomed as alterations are expected!

Quirky ideas make this book even more enjoyable
Why pass over an old flannel nightgown when you can make a grocery bag? Don't throw away a tennis racket cover when you can make a checkbook cozy! And, my favorite project of all is called "Busting Out of Old-Man Pants". What do you need? Old-man pants, of course. What do you get? A fabulous top!

Bonus!
Being a bit of a nerd, I love that quick history tips are included as well. During World War II, people avoided rationing by buying secondhand clothes and/or repairing old clothes … if only I had learned more about that in my AP U.S. History class.