Bending the Rules to Fit Your Sewing Styles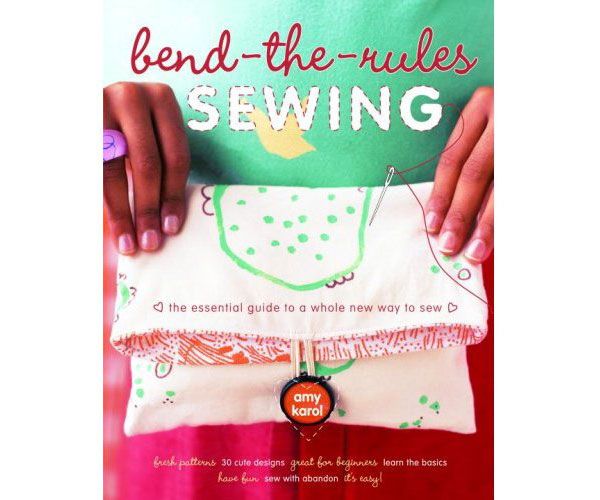 Author Amy Karol has two pieces of advice for new seamsters: don't be intimated by sewing and don't let frustration get in the way. In her book Bend-the-Rules Sewing: The Essential Guide to a Whole New Way to Sew, Karol teaches the reader how to sew with the least amount of frustration. While you do need to know the rules of sewing, Karol says you can get creative by bending them to fit your style. She points out that advanced sewers are actually at a disadvantage, because they are set in their ways, have created their own rules, and don't want to tamper with methods they know will work. Karol also shares her thoughts on mistakes. While admitting sometimes it's best just to start over, she stresses that you shouldn't sweat it, and instead you should relax and have a cupcake.
If you need a little extra guidance, this book gives it. Are you unsure of how or when to buy your first machine? Do you know the sewing lingo and necessary notions to kick-off that first project? Or are you too timid to thread your machine and dive into a new project? Take a deep breath, open this book, and let Karol's encouraging voice guide you through.
Bend-the-Rules Sewing has 30 projects, split into three categories: gifts, interiors, and small people. The gifts section includes bags and wallets, as well as projects for your pets. The interiors section includes pillows, curtains, and more. Finally, the small people section outlines projects for the children in your life, including bibs and hats. Some of the projects include patterns, and all of them have step-by-step pictures. The hints and tips at the bottom of each project are extremely encouraging and keep your projects on the right path.
P.S. Once you finish, upload pictures of your projects to flickr. There, you can share your creations with other Bend-the-Rules Sewing seamsters, and get tips and advice from Karol and other seamsters who are working on the same projects!