Seriously Strong Spaghetti Straps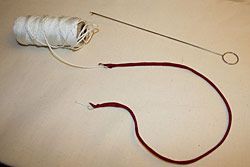 When I make spaghetti straps, I prefer to cut them on the bias. This allows me to make them finer, but bias tends to stretch. Here's an easy way to reinforce spaghetti straps so they're strong but don't stretch out with wear.
Make the spaghetti straps as usual. When you have finished them and turned them right-side out, simply cut a length of nylon drapery cording the same length as the spaghetti strap. (For illustration purposes, I've left the cording longer than the strap.) Using a loop turner, thread it through the finished strap.
Put a small stitch at each end to hold it in place until you attach it to your garment. Now the spaghetti strap will be able to handle the weight of the garment without stretching.
Nylon drapery cording is available at most home-decorating sewing departments and home-improvement stores.
Ann Steeves is the owner of GorgeousFabrics.com.