An Interview with Trudy Hanson of HotPatterns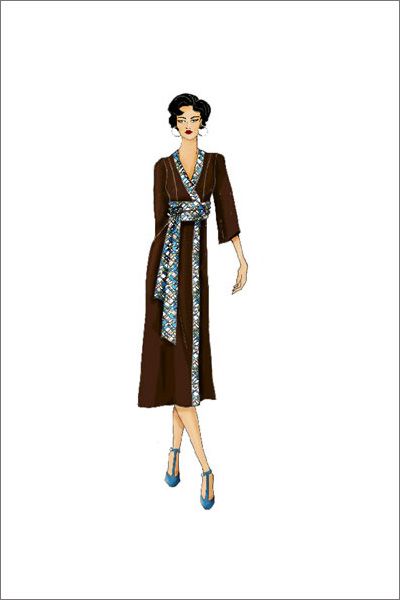 I recently had the opportunity to chat with Trudy Hanson, designer and owner of HotPatterns. Trudy is a vivacious, engaging conversationalist. She has some distinctive ideas and obviously enjoys what she does. Here's what we talked about:
Ann: Can you tell us a little bit about yourself and your background?
Trudy: I've been a designer and pattern cutter since I was 17. I've worked in and around the London rag trade with such companies as Jean Muir, Jaeger, and big bridal companies. I wanted to work for myself, so with my husband I started a bridal wear company. We had a store in Notting Hill and sold throughout Europe and the U.K. and even the U.S. After 10 years, we had had enough. We had the chance to come to the U.S., so we jumped at it. We came to the U.S. and I had the idea for patterns. We had done lots of patterns for individual clients, so I decided, "What the heck—we're going to do it." I thought it would be a small, part-time business, but of course, it took on a life of its own.
A: Can you give us a little HotPatterns back story? How did it get started?
T: I had these patterns in my head, and I wanted to let them run free! In London, I didn't have time to draft my own patterns, so I bought some commercial patterns. But they weren't exactly what I was looking for. I would buy fashion magazines and think, "Oh, I want that", but I couldn't find the patterns. So I came up with the idea to quickly turn around current styles. Companies like Zara and H&M do that (Editor's note: These companies are at the forefront of "fast fashion"—companies that design, manufacture, and stock garments in about 3 weeks) so I thought, if I want high-fashion sewing patterns in the same season, I'm sure I am not the only one.
A: Who is the HotPatterns customer?
T: That is a really interesting question. Most fashion companies have a really tight demographic with age and income. In our case, if you're into clothes, you're into clothes, regardless of your age or size. I try to be very democratic with the styles. The one defining characteristic is that the HP customer is into fashion, into clothing, and into looking nice. We want to offer nice styles to all size ranges.
Our customer is also into the creative process. She's creative, she's funky, and she channels her inner designer. Every decent designer started making clothing at home, so we try to encourage homesewers to expand their skills and free their inner designers. I love to see people take our patterns and tweak them to match their own style.
A: It must be a lot of fun to see the end results of your patterns on real people.
T: Yes, I had one fun experience when I was in restaurant and saw a woman wearing our Sunshine Top. I sidled up to her and asked "Where did you get that top?" She told me she had made it, then told me all about this great pattern from a company called HotPatterns. It was amazing!
A: I love your motto "Styles so hot they're smokin'." What do you see as the hot styles for 2008 and beyond?
T: Okay, the hot styles going forward: I spend a lot of time doing trends research. We end up going with the look of a certain designer for each season. And we change the focus each season, just like the fashion press. Right now everything is late '70s, early '80s. The totally hot designers include Roland Mouret, Philip Lim, Derek Lam, and Peter Som. They are at the forefront. So are Donna Karan and Sonya Rykiel—they have come roaring back recently. We track that and interpret these looks and trends so they are very au courant and wearable for lots of people.
I think for Winter 2008/2009, you'll see both cocoon, roomy coats, as well as the opposite: the nipped-in, body-conscious look. I think the color story for summer is dusty neutrals with brights. For winter, look for grays/blacks and soft ballerina colors—dusty pastels and such. Nothing too sugary or pretty. The big thing going forward in fall is people making their own applied embellishments from self-fabric and tone-on-tone effects.
A: You come out with several collections a year. Where do you find your inspiration?
T: I get inspiration from everywhere! On the net, fashion magazines, movies, people strolling on the street. Our main inspiration is high-end ready-to-wear designer fashion.
A: Do you have any favorite renditions of your patterns?
T: Oh, man, there's a lot. MissCeliesPantsblog has great versions of the Cosmopolitan Dress. One woman did a beautiful green brocade version of the Camden Coat, and I have seen some stunning versions of the Nirvana Twinset. To be honest, there have been very few that I haven't liked. When people get the pattern in their hands, they pick out the fabric, trim, and what have you so it becomes all theirs, and just a little piece is the pattern.
A: What's next for HotPatterns?
T: Oh, well, I can't give details, but there will be more patterns. Lots more patterns. We'll have lots of new ones during the year, so keep an eye out.
A: We surely will. Trudy, thank you for speaking with me, and best of luck!
T: Thank you, it's my pleasure!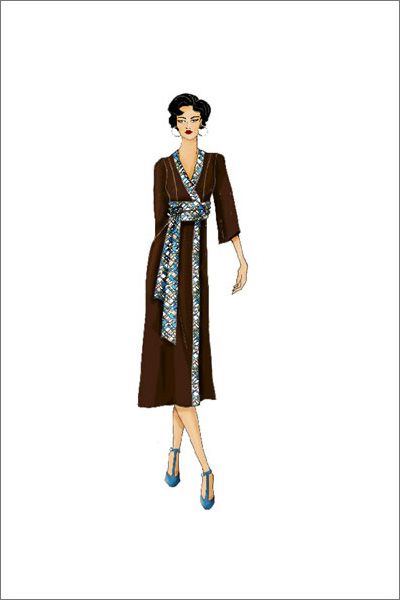 The Wong-Singh-Jones Kimono Wrap Dress (#1008) from HotPatterns.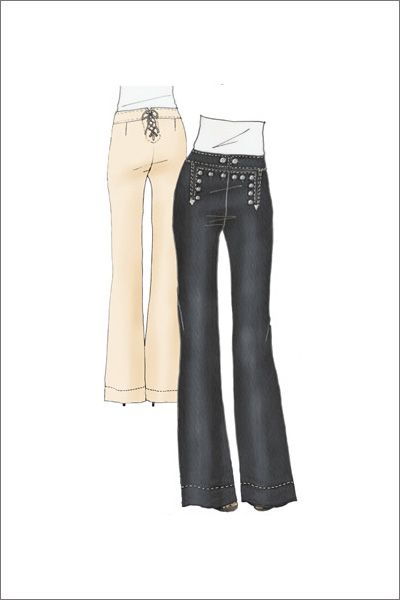 The Riviera Hello, Sailor! Pants (#1016) from HotPatterns.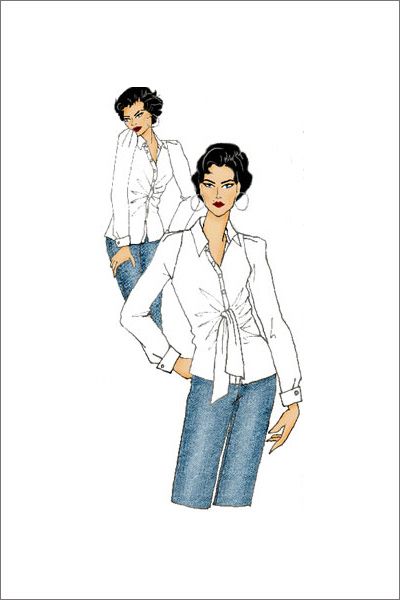 The Fit To Be Tied Shirt (#1007) from HotPatterns.