by David Coffin
Barbara Deckert, a dressmaker from Elkridge, Maryland, and author of Sewing for Plus Sizes, uses a form-making method that I've seen in sewing texts from the 1930s: Brown-paper tape from an office-supply store forms a body mold as well as duct tape does, then hardens into "papier-mâché" to become a pinnable form, which you don't even have to stuff.
Once it hardens completely, the tape double is ultra-light, easily moved and stored, can be pinned into, covered with fabric or a tight T-shirt, marked with narrow ribbon or marker, used on a table or stand, or hung from a hanger. It's probably the easiest and cheapest method of all…so what are you waiting for?
Don't miss techniques like this one by purchasing a print subscription of Threads magazine. Print subscriptions come with FREE access to our tablet editions.
More dress forms:
Introduction
Quick-and-Easy Duct-Tape Dress Form
Close Fit Duct-Tape Dress Form
Molded Papier-Mâché Form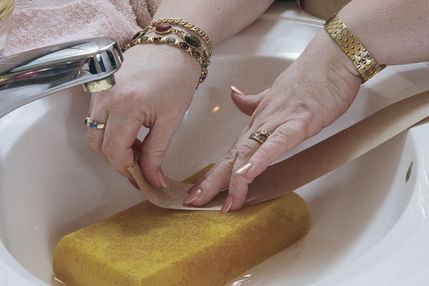 1. The bathroom or kitchen makes a good wrapping zone, since a wet sponge is the best aid to getting the tape properly moistened.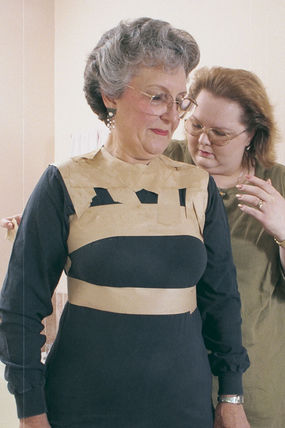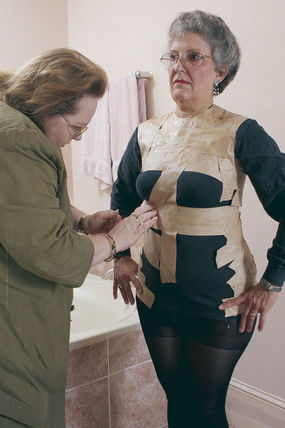 2. Start wrapping the snugly T-shirted, undergarment-clad wrappee horizontally below the bust, then above the bust.
3. Next, form the neckline and armholes in the shape of a traditional fitting bodice. The "cross-your-heart" method works well in paper, too, as does shortening the tape in the bust area.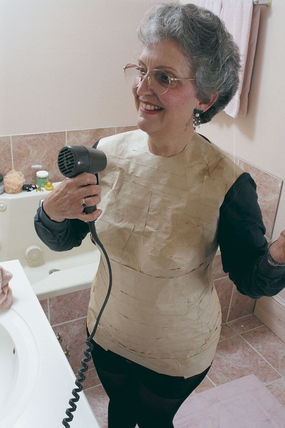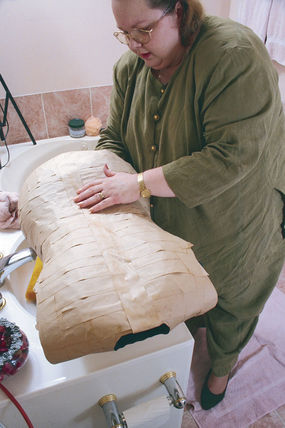 4. After three or four layers (alternating horizontal/vertical), you can use a hair dryer to speed the drying process.
5. Then (when the tape is hard enough to keep its shape but still soft enough to get out of) cut it up the back through the T-shirt, tape as with the other forms, and reclose by taping over the cut on the quite-stiff form.
from Threads #75, p.41
Get the latest including tips, techniques and special offers straight to your inbox.