Online Fabric Shopping: A List of Resources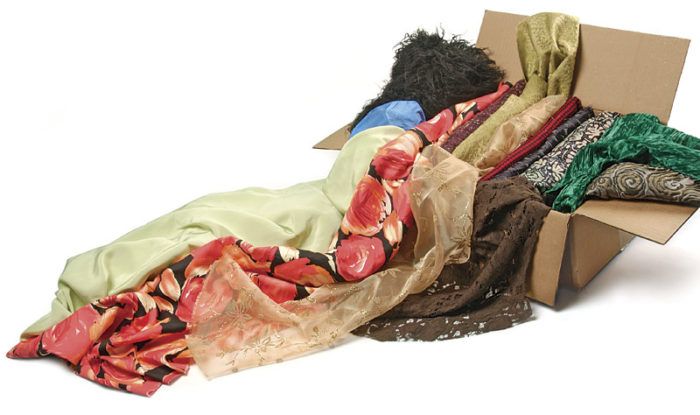 For lots of sewers, the pleasure of wandering through a local fabric shop, touching swatches of fine yardage and dreaming up future garment wonders, is a thing of the past. So where do you go when you need—or just want—to purchase fabric? In Threads #120, I discuss the many advantages of shopping for fabric via the Internet. With the power of the World Wide Web at your fingertips, you have access to hundreds of retailers, each with a tempting selection of goods to offer.
To learn how to make the most of your online shopping experience, check out my article, "Online Fabric Shopping," in Threads #120 pp. 62–65. I think you'll be pleasantly surprised to find out how easy, and sometimes addictive, it can be to order your fabric from afar. To get you started, I've compiled a list of websites to visit. It's up to you to decide how often to click the "place order" button.
You can find additional online sources for sewing notions, dress forms, and fabrics by category in "Online Shopping and Resource Guide."
Editor's Note: Some of these online fabric sources may be temporarily closed or have limited hours or supplies due to the impact of the coronavirus. Be sure to check back with the sites for updates.
Acme Country Fabrics
AcmeCountryFabrics.com
Apple Annie Fabrics
AppleAnnieFabrics.com
Aurora Silk
AuroraSilk.com
B&J Fabrics
BAndJFabrics.com
Batiks Etcetera
Batiks.com
B. Black & Sons
BBlackAndSons.com
Bamboo Fabric Store
BambooFabricStore.com
Banksville Designer Fabrics
BanksvilleDesignerFabrics.com
Beacon Fabric & Notions
BeaconFabric.com
Beautiful Textiles
BeautifulTextiles.com
Britex Fabrics
BritexFabrics.com
Bug Fabric
BugFabric.com
Christine Jonson Patterns
CJPatterns.com
Contemporary Cloth
ContemporaryCloth.com
Cotton Plus
OrganicCottonPlus.com
Cutting Line Designs
CuttingLineDesigns.com
Cynthia's Fine Fabrics
CynthiasFineFabrics.com/
Denver Fabrics
DenverFabrics.com
Decorative International Silk, Inc.
DecorativeSilk.com
DesignYourFabric.com
DesignYourFabric.com
Dharma Trading Co.
DharmaTrading.com
Discount Fabrics USA
DiscountFabricsUSA.com
Elfriede's Fine Fabrics
ElfriedesFineFabrics.com
Elliott Berman Textiles
ElliottBermanTextiles.com
Emma One Sock
EmmaOneSock.com
eQuilter.com
eQuilter.com
Fabric.com
Fabric.com
Fabric Depot
FabricDepot.com
Fabric Direct
FabricDirect.com
Fabric Guru
FabricGuru.com
Fabric Indulgence and Art Supply
FabricAndArt.com
Fabric Mart
FabricMartFabrics.com
A Fabric Oasis
Note: Check availability of items, as stock is limited. The retail store will likely be changing its focus to classes only in the second half of 2020, says owner Pamela Crosby.
AFabricOasis.com
Fabrications
FabricationsOnline.com
Fashion Fabrics Club
FashionFabricsClub.com
Fabric Place Basement
FabricPlaceBasement.com
Fabrics Unlimited
FabricsUnlimited.net
Farmhouse Fabrics
FarmhouseFabrics.com
Field's Fabrics Online Store
FieldsFabrics.com
Fine Fabrics
FineFabrics.com
Fine Fabric Stores
FineFabricStores.com
Fishman's Fabrics, Inc.
FishmansFabrics.com
French Connections
French-NC.com
Fun Fabrics
FunFabrics.com
The French Seam
TheFrenchSeam.com
Gala Fabrics
GalaFabrics.com
Ginny's Fine Fabrics and Support Group
GinnysFineFabrics.com
Gorgeous Fabrics
GorgeousFabrics.com
The Grapevine Collection
SewItUp.com
Haberman Fabrics
HabermanFabrics.com
Hart's Fabric
HartsFabric.com
Hawaii Fabric Mart
HawaiiFabricMart.com
The Hide & Leather House
HideHouse.com
High Fashion Fabric Center
HighFashionFabrics.com
Hoffman California Fabrics
HoffmanFabrics.com
Homespun Wide Fabrics
HomespunFabrics.com
Ichiroya
Ichiroya.com
Jasco Fabrics
JascoFabrics.com

Joann stores
Joann.com
Josephine's Dry Goods
JosephinesDryGoods.com
Kyoto Kimono
KyotoKimono.com
Lace & Co.
LaceCo.com
Lace Heaven
LaceHeaven.com
Lacis
Lacis.com
Loom & Stars
LoomAndStars.com
MacPhee Workshop
MacPheeWorkshop.com
Main Street by Mail
Note: As of late March 2020, limited stock is available due to the owner's plans to close the business in the coming months.
MainStreetByMail.com
Marcy Tilton Designer Fashion Fabrics
MarcyTilton.com
Martha's Fabrics and Interiors
MarthasFabricAndInteriors.com
Martha Pullen Co.
marthapullen.com
Mary's Productions
marymulari.com
The Material Girls, LLC
MaterialGirlQuilt.com
Mekong River Textiles
MekongRiverTextiles.com
Merchant & Mills
MerchantAndMills.com
Michael's Fabrics
MichaelsFabrics.com
Mill Direct Textiles
MillDirectTextiles.com
Mill End Store
MillEndStore.com
Monaluna
Monaluna.com

Montana Leather Company
MontanaLeather.com
Monterey Mills
MontereyMills.com
Mood Designer Fabrics
MoodFabrics.com
Nancy's Notions
NancysNotions.com
Nature's Fabrics
NaturesFabrics.com
New York Elegant Fabrics
NewYorkElegantFabrics.com
NY Designer Fabrics
NYDesignerFabrics.com
Oregon Leather Co.
OregonLeatherCo.com
Organic Cotton Plus
OrganicCottonPlus.com
Oriental Silk Company
OrientalSilk.com
Osgood Textile
OnlineFabricStore.net
Over the Rainbow
OverRainbow.com
Pacific Fabrics
PacificFabrics.com
PM Organics
PMOrganics.com
Peak Fabrics
PeakFabrics.com
Promenade Fine Fabrics
PromenadeFineFabrics.com
Purl Soho
PurlSoho.com
The Rain Shed
TheRainShed.com
Reprodepot Fabrics
Reprodepot Fabrics on Etsy
Reproduction Fabrics
ReproductionFabrics.com
Revival Fabrics
RevivalFabrics.com
Rockywoods Outdoor Fabrics
Rockywoods.com
Sarah Veblen Clothing Originals
SarahVeblen.com
Sari Safari
SariSafari.com
Sawyer Brook Distinctive Fabrics
SawyerBrook.com
Seattle Fabrics
SeattleFabrics.com
Sew Fancy Inc.
SewFancy.com
Sew It Up
SewItUp.com
Sew Sassy Fabrics
SewSassy.com
The Sewing Place
TheSewingPlace.com
The Sewing Workshop
SewingWorkshop.com
Shannon Fabrics
ShannonFabrics.com
Silk Baron
SilkBaron.com
Silk Connection
SilkConnection.com
Spoonflower
Spoonflower.com
St. Theresa Textile Trove
StTheresaTextile.com
Stonemountain and Daughter Fabrics
StonemountainFabric.com
Style Maker Fabrics
StyleMakerFabrics.com
Stylish Fabric
StylishFabric.com
Tandy Leather Company
TandyLeather.com
Tessuti (Australia)
Tessuti.com.au
Treadle Yard Goods
TreadleYardGoods.com
Trim Fabric
TrimFabric.com
The Unique Spool
UniqueSpool.com
Vogue Fabrics
VogueFabricsStore.com
Wazoodle
Wazoodle.com
An Online Extra to Threads #120, pp. 62-65