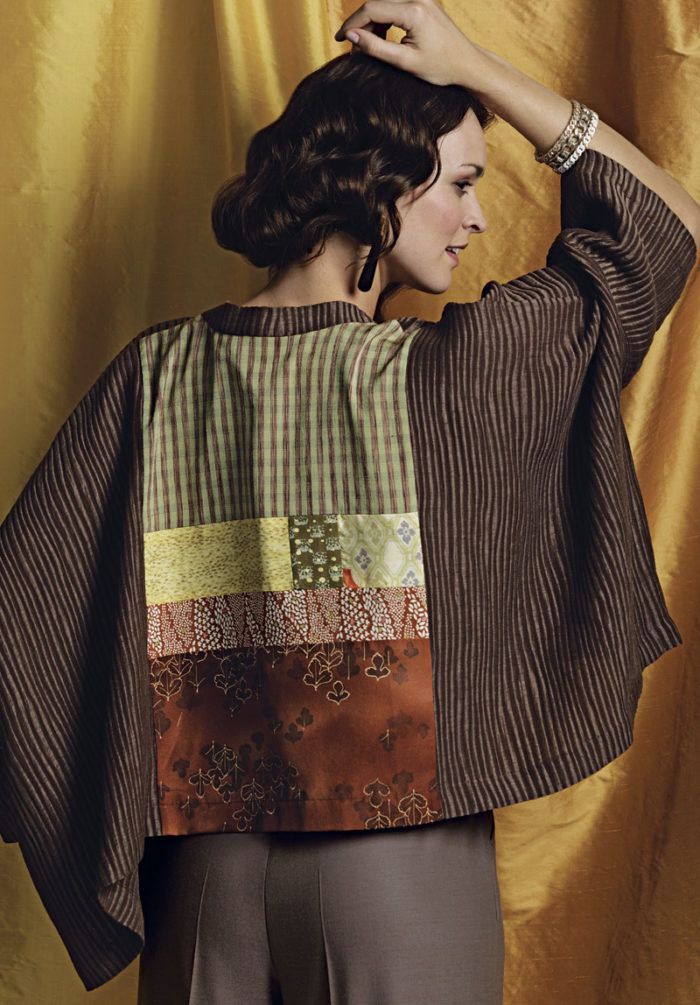 For some people, the idea of sewing silk fabrics is terrifying. Certain silks are more challenging than others, but there is nothing more rewarding than sewing an exquisite garment, using the best fabric and the finest seam finishes.

More on seam finishes

• Complete Guide to Seams and Seam Finishes
• Video: How to Sew a French Seam
• Video: How to Sew a Stitch and Pink Seam Finish
• Video: How to Serge Seam Allowances
• Video: How to Sew a Single-fold Clean Finish Seam


Before you begin, there are a few things to keep in mind while sewing silks. A simple way to ensure good stitch quality is to adjust the stitch length. For silks, shorten the stitch length to 2mm; you'll have fewer puckers. As you sew, hold the fabric both in front of and behind the needle to give the fabric a little tension. Don't pull the fabric through the machine-just lightly guide it.
After you sew any seam, press it flat to meld the stitches before you proceed to the next step.
Honing your skills when sewing silk is all about using the right sewing aids and choosing the right techniques for stitching. It's the difference between homemade and professional.
In the photo above, the Plaza Jacket from Lee's pattern line gets an elegant update with silk pieced insertions.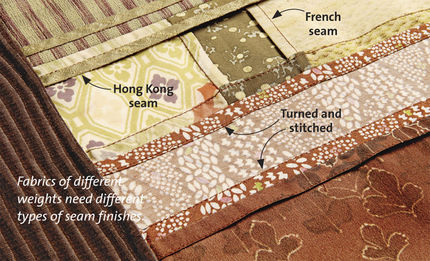 Fabrics of different weights fabric need different types of seam finishes.
Sewing aids
Here are a few extra items that are useful to have on hand when sewing silk.
Single-hole throat plate. If the fabric tends to get drawn into the throatplate needle hole, switch to a throat plate with a single small opening. Of course, you can't sew a zigzag stitch with this type of throat plate.
Fusible web tape. Many silk fabrics tend to slip and slide, so try a product that binds the fabric together before you sew it. Fuse a strip of fusible tape to one side of the fabric, and remove the paper backing to expose a sticky strip that you can fuse to another piece of fabric. This holds the fabric in place for stitching.
Pins and needles. I prefer to use IB C glass-head silk pins. Be sure to change your pins often.
Start each project with a new needle, and adjust the size according to the weight of the fabric. A universal needle, size 70/10, is a good starting point.
Thread. The right needle and thread combination is essential. I prefer 100-percent-silk thread. The next best choice is pure cotton. Polyester threads tend to pucker. For lightweight and sheer silks, choose a lighter thread, or use a two-ply machine-embroidery cotton thread.
Trimming tools. My favorite scissors are Gingher no. 5. Some silk fabrics are so slippery that you can't get a good hold on them-no matter how nice your scissors are. A bird and clamp tool is a device with a clamp on one end that attaches to the edge of a table and another end that pinches the fabric to hold it taut while you are trimming. They are attached to each other with a string and act as a third hand to help you hold your fabric steady.
Seam finishes
Choosing the right seam finish for silk fabrics takes some experimentation. First, consider the type of silk and the style of the garment in which you intend to use it. If it is a casual garment, try a quick method that prevents raveling but isn't necessarily couture-looking on the inside. If you have a higher-quality fabric for a more formal garment, try the more polished techniques such as French or Hong Kong seams. Regardless the situation, making seam samples on the fabric that you plan to use will save you time in the long run.
French seam. The French seam is a couture seam finish used in high-end clothing and is one of the most beautiful seams for any type of fabric-not just silks. It completely conceals raw edges and is sometimes used on the outside of garments. Since it ultimately has many layers, it is best used with lightweight and sheer silks such as three-ply or four-ply silk or silk crepe, crepe de Chine, charmeuse, chiffon, and georgette.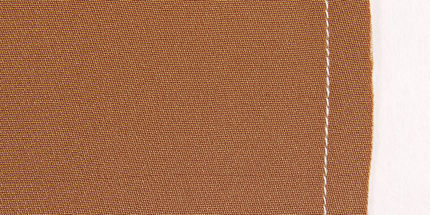 With wrong sides together, sew a 3/8-inch seam.
To make a French seam, start by pinning the fabric with the wrong sides together. Sew a seam 3/8 inch from the raw edge. Use your bird and clamp tool to hold one end of the fabric, and carefully trim the seam allowance to about 1/8 inch.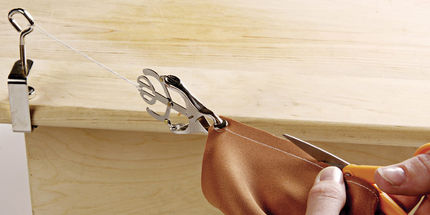 Use a bird and clamp tool to help you hold the fabric steady as you trim.
Position the seamed fabric on an ironing surface with the seam allowances showing. Press the seam allowance to one side. This step helps you get a good, crisp edge in the next step.
Now, with right sides together, fold the fabric along the seamline over the raw edges and manipulate the fabric between your fingers to bring the well of the seam to the very edge.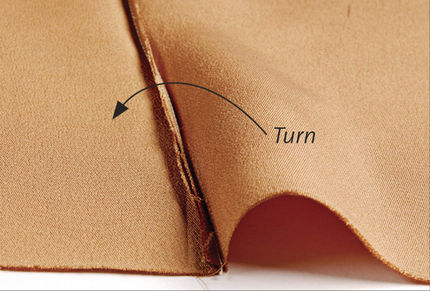 Fold the fabric with right sides together over the previous seam (above). To finish, sew a 1/4-inch seam, and press to one side (right). The seam allowances are completely hidden.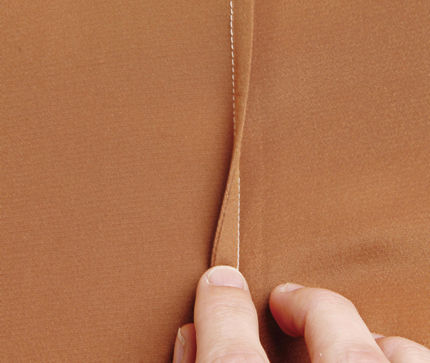 Pin and sew a 1/4-inch seam allowance. Press the seam to one side; then press again from the right side of the garment.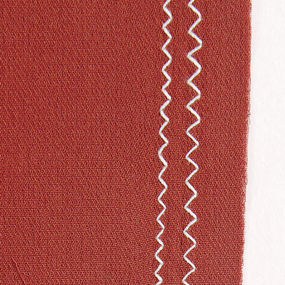 To prevent fraying, sew two rows of zigzag stitches.
Double zigzag seam. This seam is a nice finish to use with sheer chiffons and georgettes-even garments with multiple layers of chiffon. The zigzag stitch allows the fabric to relax and not draw up, which is necessary on bias seams. While this method seems unfinished to persnickety sewers, it is used quite often in expensive designer clothing.
To sew a double zigzag seam, first set your sewing machine to a zigzag stitch that is 1.5mm long and 1.5mm wide. You may need to experiment with your stitch settings to get a perfectly flat stitch on this type of fabric. Sew this seam with a 5/8-inch seam allowance.
Reset your machine to a wider and longer zigzag stitch-a 2.5mm length and 2.5mm width. Sew a line of stitching right next to the first line inside the seam allowance.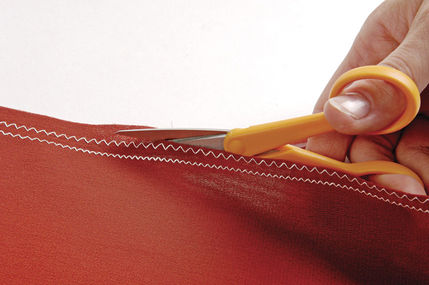 Trim close to the stitching.
Trim the seam right next to the second row of zigzag stitches. Use the bird clamp for extra support if the fabric is very slinky. That's it: The raw edges are your finish and will not ravel.
Turned and stitched. The turned and stitched finish is best used with opaque fabrics such as silk broadcloth, crepe de Chine, charmeuse, and silk crepes. It is used in designer clothing as well as in mid-priced lines. It works on straightcut, bias-cut, and curved seams.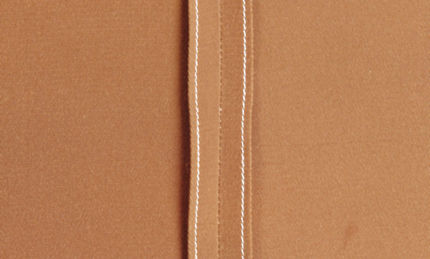 Turn under the seam allowance 1/4 inch, and stitch close to the fold.
Row edges are hidden under the seam allowance.
Sew your standard seam first with a 5/8-inch seam allowance, and press it open. Then turn under the seam allowance 1/4 inch and edgestitch close to the fold along each side. Be careful to stitch only along the seam allowance and not on the actual garment. Use an edgestitch presser foot to keep the stitches an even distance from the fold. No trimming is required on this seam finish.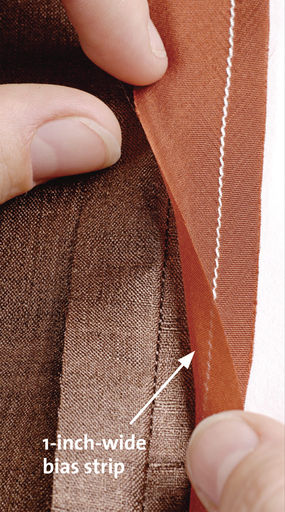 If necessary, you can piece your binding strips together to equal the entire seam length.
Hong Kong. This is quite an eye-catching seam finish, especially when you choose a contrasting fabric to bind the edges in an unlined or underlined garment. It's also an effective seam finish when using a fabric that frays easily. This finish works best on stable silks such as raw silk, matka, silk noil, brocade, damask, and silk tweeds. China silk or other very lightweight silks, even dupioni, are good choices for the wrapped edgings. Double-fold bias tape can also be used.
Sew a 5/8-inch seam allowance (or any seam-allowance width of your choice), and press the seam open. Wider seam allowances in this finish are handsome, but plan ahead to allow for them.
Next, cut 1-inch-wide bias strips of fabric for the binding. Align the strip with one seam allowance raw edge, and sew a 1/4-inch seam allowance. For precision edges, try a special presser foot designed for sewing 1/4-inch seam allowances.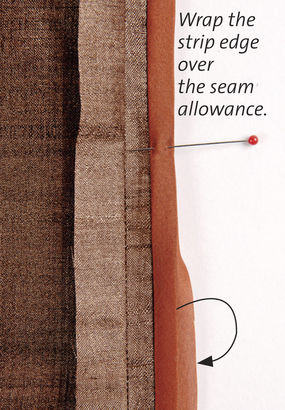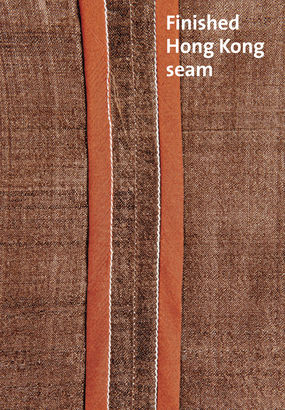 Wrap the strip to the underside of the seam allowance, and pin it in place. Stitch-in-the ditch along the strip seam to finish.   Tip: When working with silks, your sewing machine should be in tip-top shape. Have it cleaned and oiled professionally at least once a year, and perform similar at-home maintenance frequently.
Trim the seam evenly if necessary. Wrap the strip over the seam allowance, and press. Stitch from the right side of the seam allowance along the binding seamline to catch the loose binding on the wrong side and completely encase the raw edge. This is called "stitching in the ditch."
Stitched and pinked. In an effort to clean up all edges, there are times when less is actually the best. Some silk fabrics-such as four-ply silk-are too spongy (especially the washed variety), causing many seam finishes to be too thick or lumpy. While it feels a little out of date, many times, stitching and pinking can be the right solution. The seams lie flat, there is no bulk, and there is no show-through on the right side when pressed. For an even more secure finish, you may want to stitch 1/4 inch from each seam allowance edge before you begin to pink.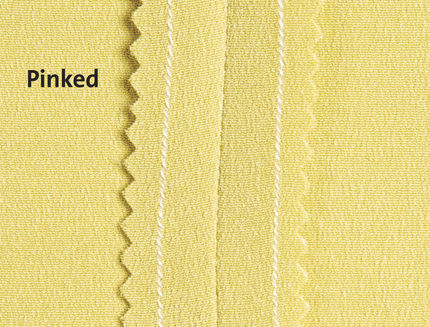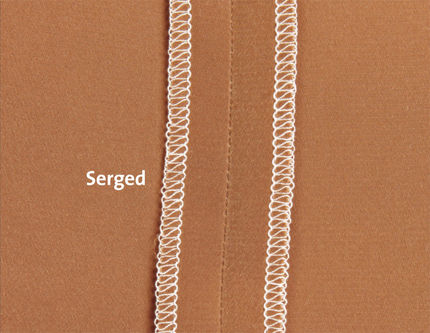 Press open the seam allowances, and stitch 1/4 inch from the raw edges. Trim with pinking shears.
Use a three-thread overlock stitch for less bulk.
Serged. While serging isn't usually considered a "fine" finish, it is certainly a viable option to consider. It is so prevalent in today's fashions that we are accustomed to seeing it, and it has become the industry standard. Serging is definitely an option for casual garments as well as those that will be laundered frequently and need a durable finish. It is also suitable for unlined garments.
I recommend serging (aka "overcasting") the raw edges of the fabric before sewing the seam. A three-thread stitch is more delicate than a four-thread, less bulky, and less likely to tunnel or pull. Tension adjustment is mandatory, so get familiar with your serger to fine-tune the stitch. Use either silk or cotton thread in your serger, and use the same weight for all loopers and the needle thread.
What is your favorite way of finishing silks?
Photos, except where noted: Sloan Howard
by Linda Lee
from Threads #139, pp. 61-64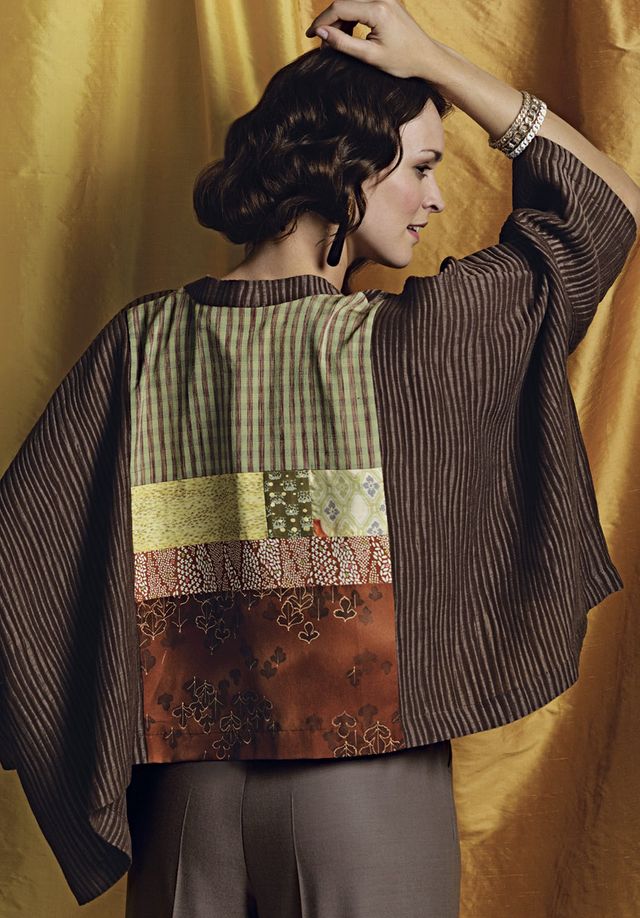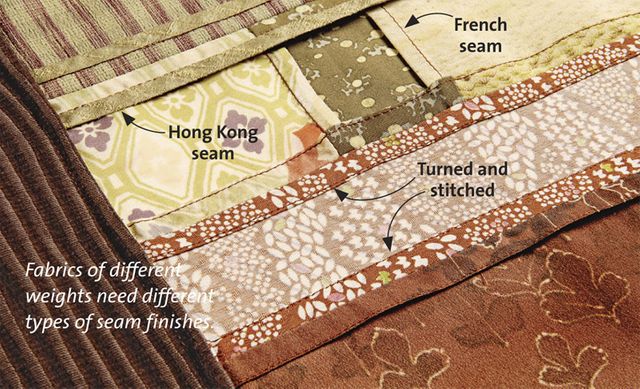 Fabrics of different weights fabric need different types of seam finishes.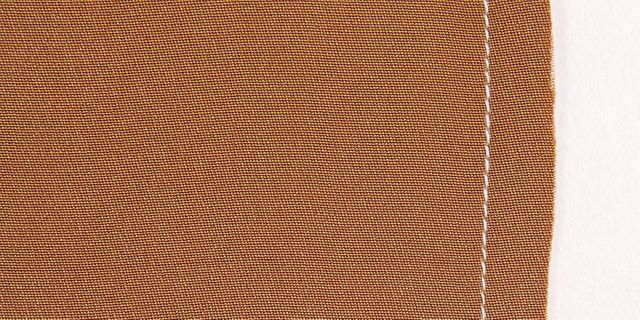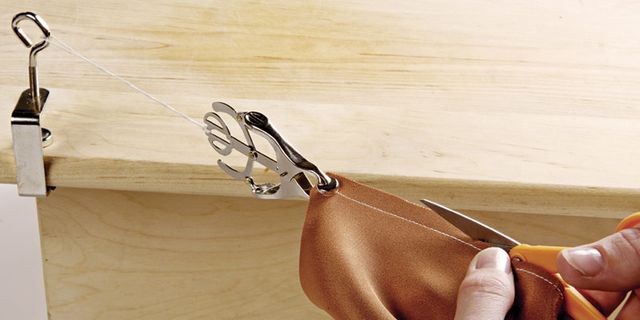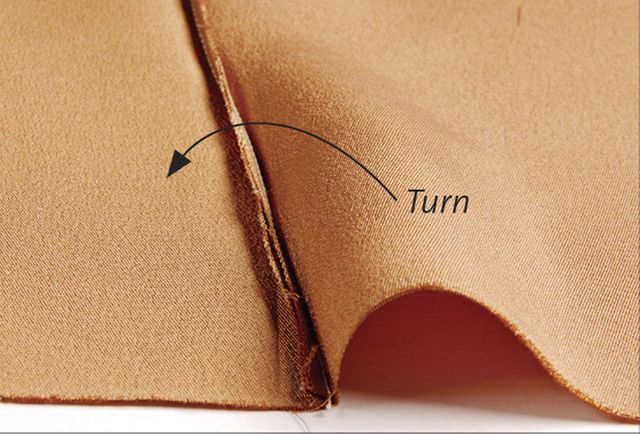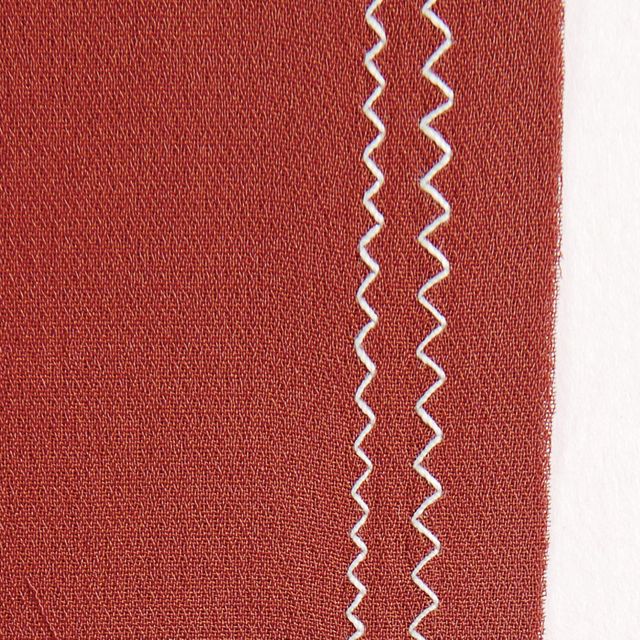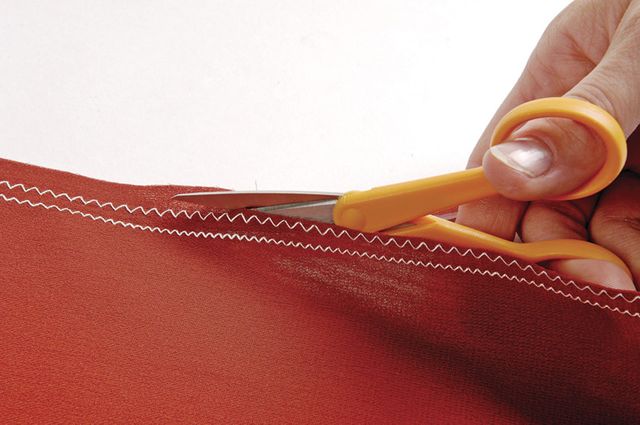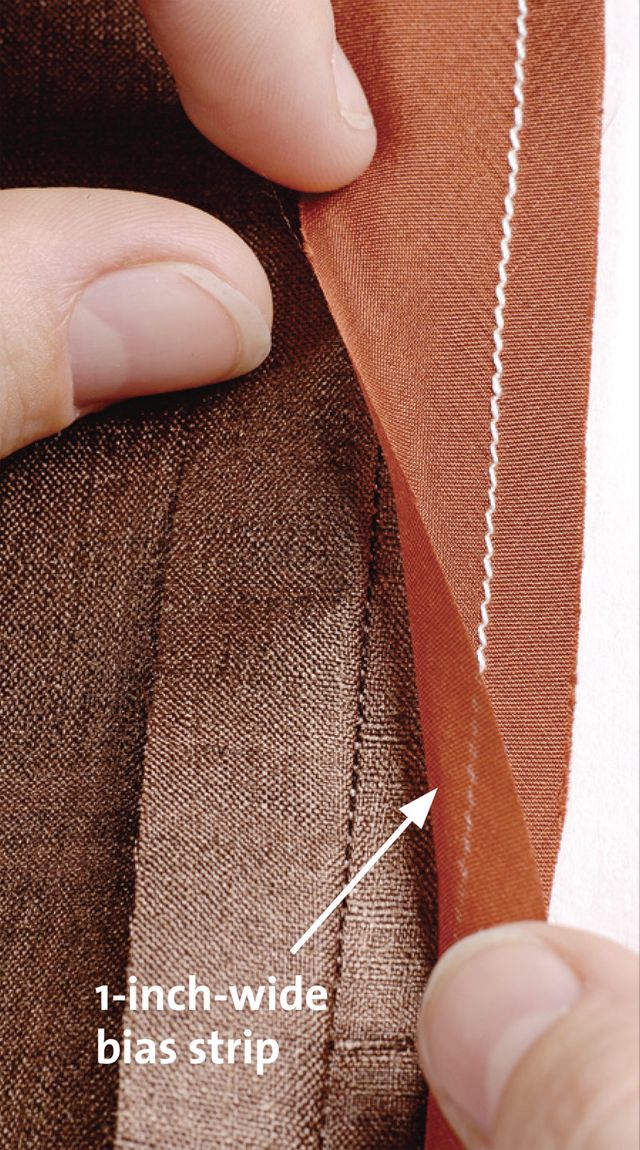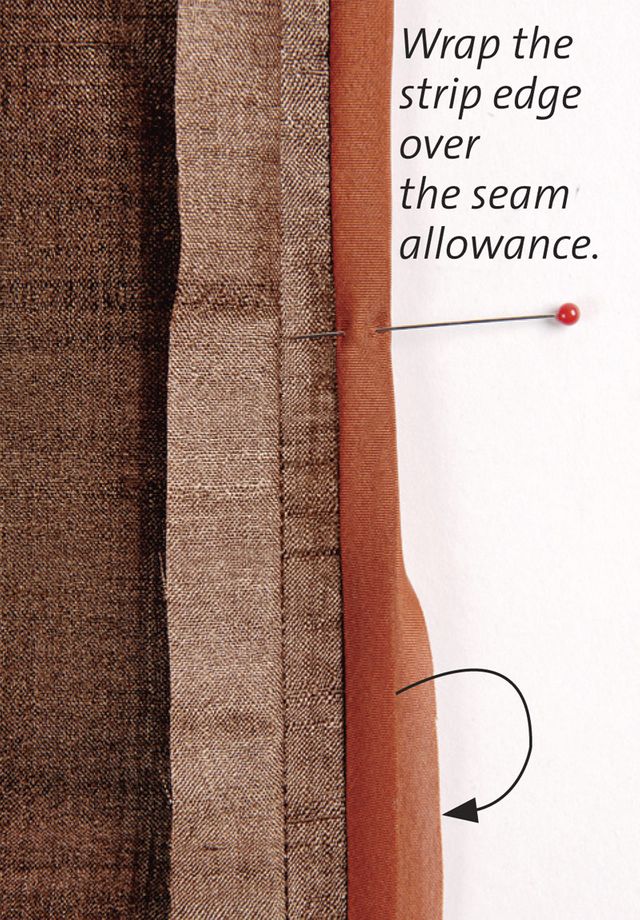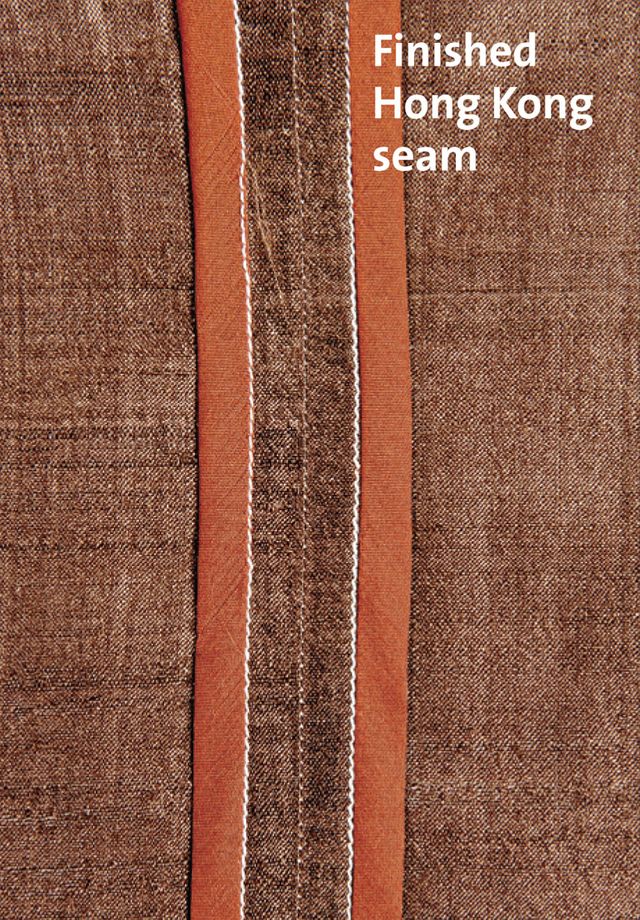 A Hong Kong seam is quite an eye-catching finish for silk, especially when you choose a contrasting fabric to bind the edges.