Beginners' Silk-Ribbon Embroidery: Five Easy Stitches

Silk-ribbon embroidery is a romantic, old art that uses ribbon, embroidery floss, and perle cotton to work beautiful floral motifs and decorative stitch patterns by hand on garments and accessories. Don't miss other stitching tutorials like this one by purchasing a print subscription of Threads magazine which comes with FREE access to our tablet editions.
I love the antique quality of this form of embroidery, and I use it to embellish crazy-quilted bags and purses, as well as contemporary garments cut from a single fabric. Silk-ribbon embroidery is easy and fun to do, and even a novice embroiderer can create elegant floral arrangements and beautiful patterns with some simple stitches.
There are many different embroidery stitches, but I've found that just five basic stitches, used alone or in various combinations, can create a large array of floral motifs and stitch patterns. The ribbon stitch is for ribbon only, but the lazy daisy, straight stitch, French knots, and stem stitch can be made with ribbon or thread. Try them, and you'll see that the ribbon produces a different effect with each stitch.
Straight stitch
The most basic of stitches can be used for numerous effects, some of which are shown below.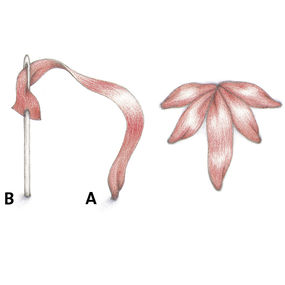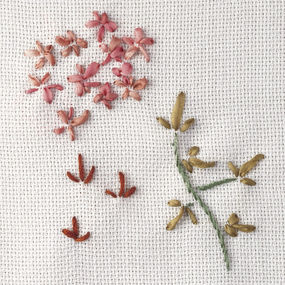 1. Bring up at A, pull through.
2. Insert down at B, pull through.
Ribbon stitch
This stitch makes great leaves or petals, and works only with silk ribbon.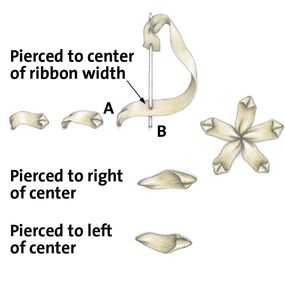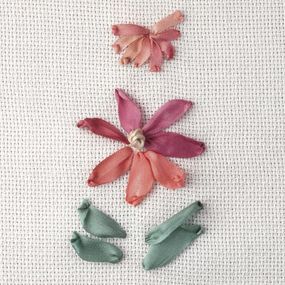 1. Bring up at A, pull through.
2. Lay ribbon flat on fabric and insert needle at B, piercing ribbon and pulling through slowly. Ribbon will curl into B, so don't pull tightly, or effect will be lost. To vary curl, pierce B to right or left of center of ribbon width.
Tip: If ribbon appears straight and narrow, make another stitch on top of first one.
Lazy daisy
Use for petals or leaves with ribbon, floss, or perle cotton.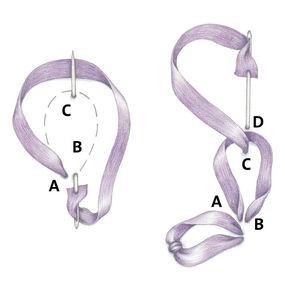 1. Bring up at A, pull through.
2. Make loop in direction of other end of stitch and insert at B, a thread or two to side of A. Pull out at C, in direction needle points until loose loop is formed, then stitch back down at D.
Note: To prevent ribbon from twisting when it's drawn through fabric after pulling out at C, arrange it around needle so it's flat. Gently hold in place with thumb while sliding needle and ribbon through.
French knots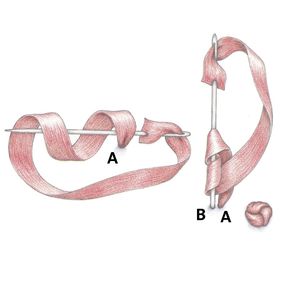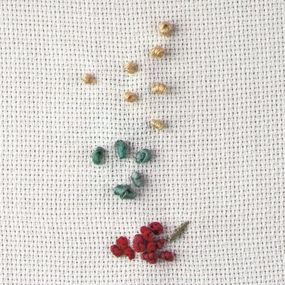 1. Bring up at A, pull through. Holding ribbon or thread, lay needle on top.
2. Wrap ribbon or thread around needle two to three times. Insert needle at B a thread or two from A. Gently slide wrapped ribbon/thread down needle to rest against fabric, and pull through.
Stem stitch
Use this stitch for flower stems and outlining.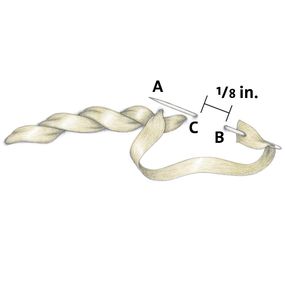 1. Bring up at A, pull through.
2. Insert needle at B on stem line. Holding thread below line, pull out at C directly in line with last stitch (not above or below) and 1/8 in. from B, pull through. Continue to end of line, making sure thread is always held below line of stitching.
Once you've mastered the basics, take a look at more of my favorite stitches, with examples of how I use them in designs.
Embroidery supplies by mail
Country Stitches
2200 Coolidge Rd.
East Lansing, MI 48823
800-572-2031
www.countrystitches.com
Granny May Company
1528 Gilcrest Ave.
East Lansing, MI 48823
517-332-4898
[email protected]
Nordic Needle
1314 Gateway Dr., SW
Fargo, ND 58103
800-433-4321
www.nordicneedle.com
Ribbon Smyth
PO Box 416
Fountainville, PA 18923
800-833-5067
www.ribbonsmyth.com
Vintage Vogue
712 June Dr.
Corona, CA 92879
909-279-9115
www.vintagevogue.com
by Karen Kieppe
from Threads #92. pp. 56-59
The basic straight stitch can be used for numerous effects.
Ribbon stitch makes great leaves or petals.
Vests come to life with asymmetrical floral designs embroidered with silk ribbon.
Get the latest including tips, techniques and special offers straight to your inbox.