Use Fabric Scraps to Make Knotted Buttons and Beads
Easy to make and virtually cost-free, knotted fabric beads and buttons can complement a unique outfit.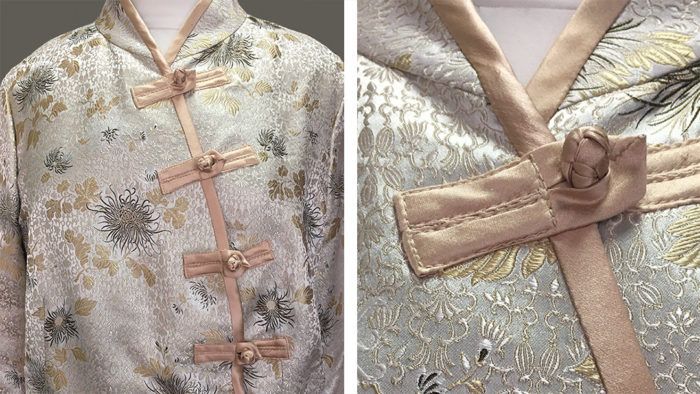 by Diane Ericson
This article is an online extra to accompany Threads #117.
Do you have a few fabric scraps lying around? I mean those little scraps that you've been saving for years.
There is a good use for them. Almost any fabric or cord can be knotted, rolled, padded, or wrapped into decorative shapes you can use anywhere that you'd use ordinary beads or buttons. You can string them into necklaces or stitch them, make them hard as rocks or leave them soft, and embellish them all you want with additional stitches, beads, and other surface effects.
Making little fabric gems is quick and easy, and you'll find everything you need around your home: a sturdy needle, scissors, knitting needles or nails, and some white glue. As you can see from the photo, fabric beads and buttons tend to be oversized, but depending on how you choose to pair them with other elements in your wardrobe, they can be inconspicuous or outrageous or anything in between. The only thing they won't be is ordinary.
Fabrics
Different fabrics will work with varying results, so the main thing you need to know about your fabric is whether you like the way it looks when it's knotted. To see how your fabric will knot, twist a length of it and tie it in an overhand knot. If you're using a thin piece of fabric and want a larger knot, you'll need to fold a wider piece or wrap it around some other scrap fabric to add bulk. You don't have to use a bias strip, but some fabric prints will look more interesting on the bias, and bias strips roll nicely into tubes. Knit fabrics work fine. You can choose to leave raw edges exposed or fold them completely out of sight as shown at right before making your knot.
To make beads in graduating sizes, the strip you make your knot from and/or the filling material you use to pad it with has to increase or decrease in thickness to step the beads up or down. Assemble small stacks of filler scraps to be included in each bead, and use them to make two or more beads in a row of the same size, then change the amount of fabric you use for the next two, and continue making varying sizes until you have the range you want.
Folding, knotting, and finishing
Below you'll find directions for a variety of basic knots, folds, and rolls that you can apply to your fabrics.
Basic overhand knot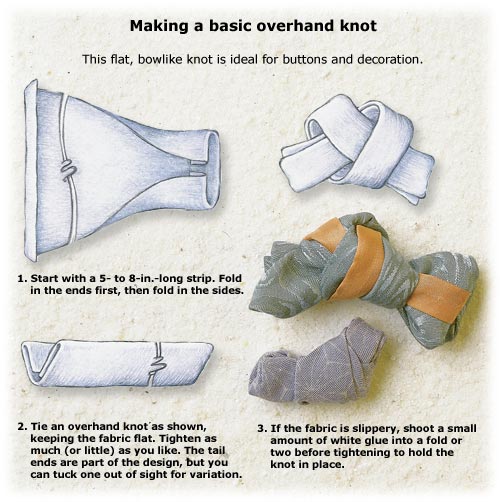 Basic ball knot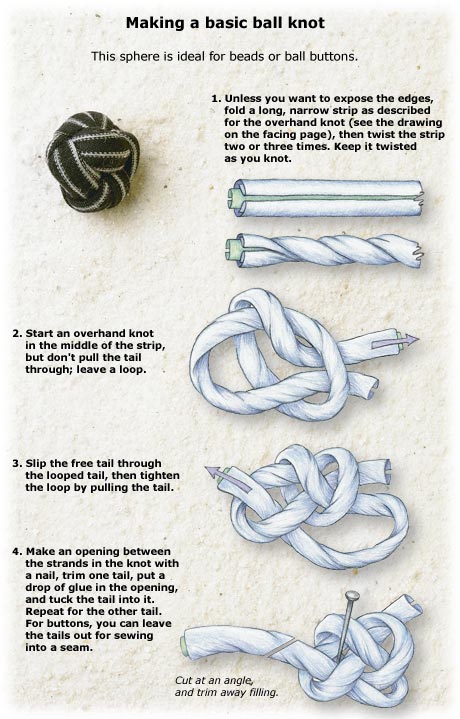 Braided knot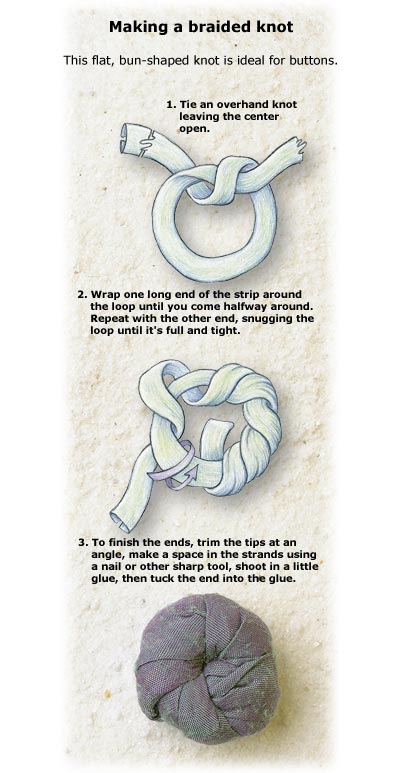 Rolled beads and toggles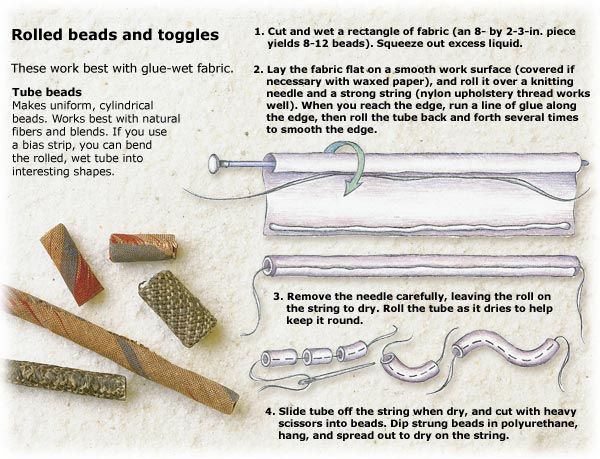 Single rolled beads and toggles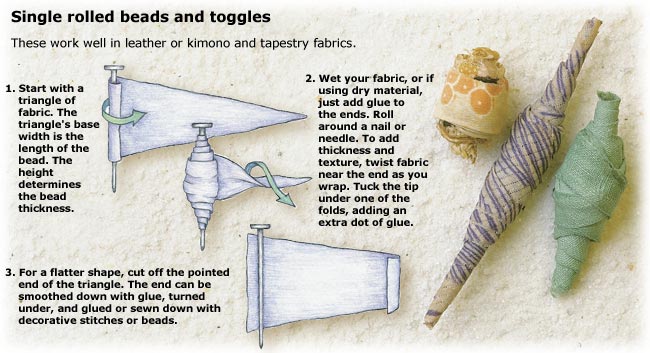 There's nothing fancy about the knots. Typically, you form them with the same kind of attention to their appearance you'd apply to a decorative bow, tightening and adjusting them until you like the way they look. After knotting, trim the ends and tuck them out of sight using a sturdy needle or a nail. If you've added filling, remove it entirely so the end is as thin as possible. You can stitch the ends in place or hold them with a spot of glue hidden inside the knot. Put the glue in, then tack the tail in between the strands.
If you want your knots to be soft looking and feeling just like the fabric they're made from, work with the fabric dry. You can also make any of these knots into hard beads by dipping the fabric, before knotting, in a half-cup or so of white glue mixed with water to the consistency of milk. Dip your fabric pieces in the glue mixture until they're saturated, squeeze them lightly, then knot. After the beads have a chance to dry, drill a hole in them and thread them onto a string. You can also knot or wrap the wet fabrics around a nail or a knitting needle so that the beads are formed with a hole in the middle. Slip them off the nails before they dry.
If you want a waterproof finish, string your creations on a heavy thread and dip the dry knots into a clear glossy- or satin-finish polyurethane wood sealer (I use Varathane), and hang the beads up to dry, spreading them out so they don't stick to each other. I prefer a satin finish, but a gloss surface would also be interesting. If you leave your beads soft, I suggest spraying them with Scotchgard to help the fabric resist dirt.
---

More embellishment techniques:

• 19 Inventive Embellishment Ideas
• Video: How to Add Sparkle to Knits
• A Couture Embellishment Technique
• How to Make Fortuny-Style Beaded Edges
---
Diane Ericson teaches workshops around the country on design with textiles. She wrote about pin weaving in Threads #51, about fabric jewelry in Threads #38, and about stenciling on fabric in Threads #28.
Photos: Sloan Howard; drawings: Christine Charbonneau