4 Belt Styles That Are a Cinch to Make
Try creating one of these soft belts to instantly update your look.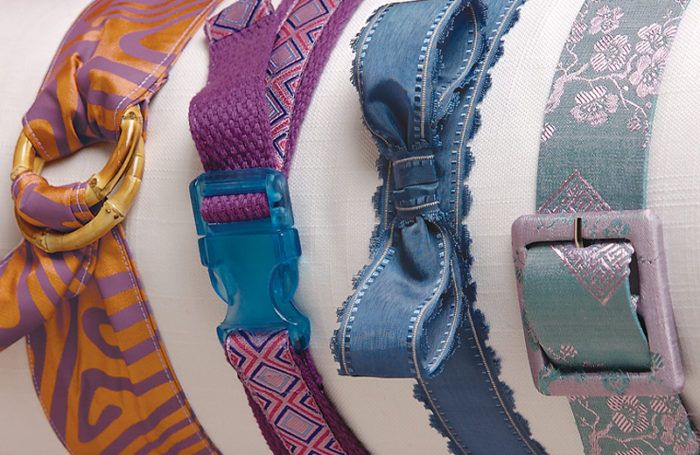 Buckled up, tied on, or slung low on the hips, belts do much more these days than just hold up pants. Once again a front-and-center accessory, a soft, decorative belt instantly updates a jacket, coat, or sweater, and it pairs beautifully with a dress.

More on belts
• One-Hour Wide Belt
• Video: Tie a Wide Belt Like a Pro
• How to Make a Striped Origami Belt

As much as I love how a belt completes an outfit, I more than appreciate that belts are so easy to make. Measuring your waist is the only fitting involved, and the sewing couldn't be more straightforward. In fact, if you have all the materials at hand, one of the four belt styles below could encircle you in less than an hour.
There's a belt for every body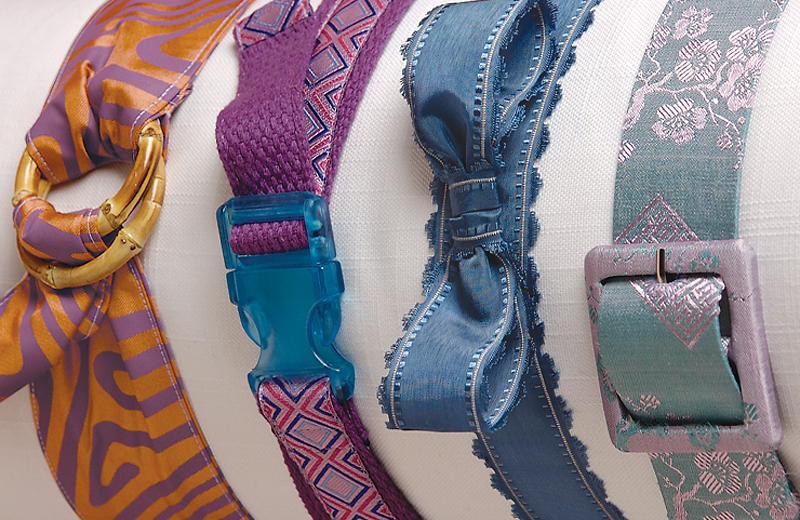 If you've never thought of yourself as a belt person, I urge you to reconsider. A belt helps break up the body and focuses the eye on certain parts of a figure-and away from areas you don't want to highlight. If you are long and lean, try a thick or chunky belt and sling it around your hips to interrupt your long lines. If you fall within the petite category, opt for a thin, dainty belt and fasten it around your waist. If you have curves, choose a simple style, and loosely fasten it; angle it to train the eye along a diagonal or vertical line-instead of a horizontal one.
Think outside the loops
A belt is a small accessory that can have a big impact. I've provided a variety of design ideas and ways to use the hardware and findings on the market, but I encourage you to use these as jumping-off points. As with any design project, it's always good to have a plan, but you must also be open to new possibilities. So, if an amazing buckle or a fabulous piece of ribbon crosses your path, let it set the stage for your belt design. And most importantly, have fun dreaming up and constructing your own unique designs. Anything goes.
Ribbon belts
Ribbon in solids, stripes, and prints make for fun, decorative belts. You can fold and sew one end of the belt around a buckle, or transform a tie belt by hemming the cut ends. Grosgrain and velvet ribbons have plenty of body, so they make beautiful belts.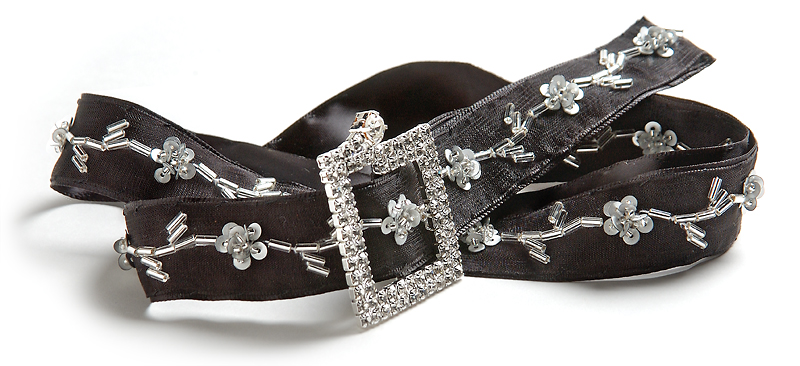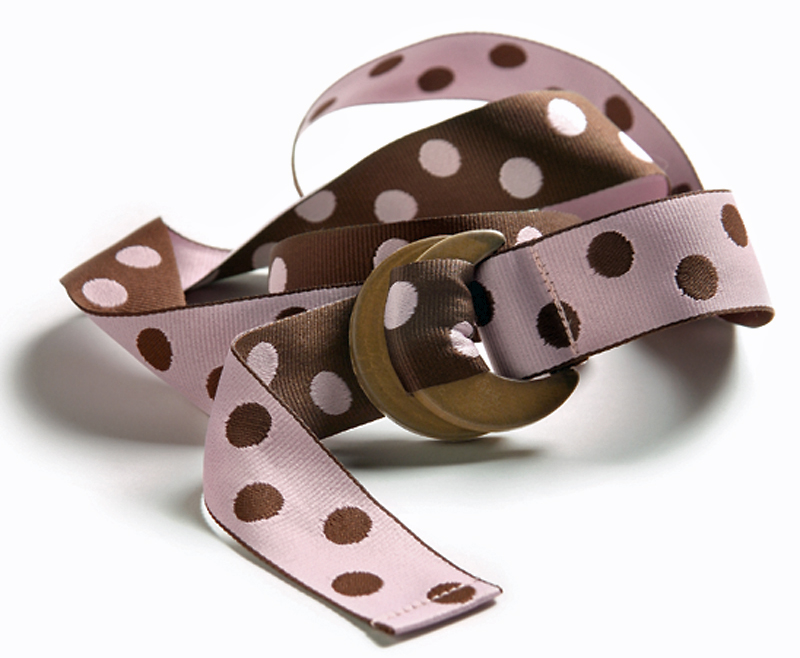 When you sew: For finer satin or silk ribbons, layer two lengths of ribbon wrong sides together, with a strip of interfacing in between, then topstitch.
Variation: If you desire a permanent bow, fold it at one belt end, then wrap a small piece of ribbon over the center to create a faux knot; secure with hidden stitches. Sew a hook behind the bow; then sew a hook or thread chain on the right side of the other belt end.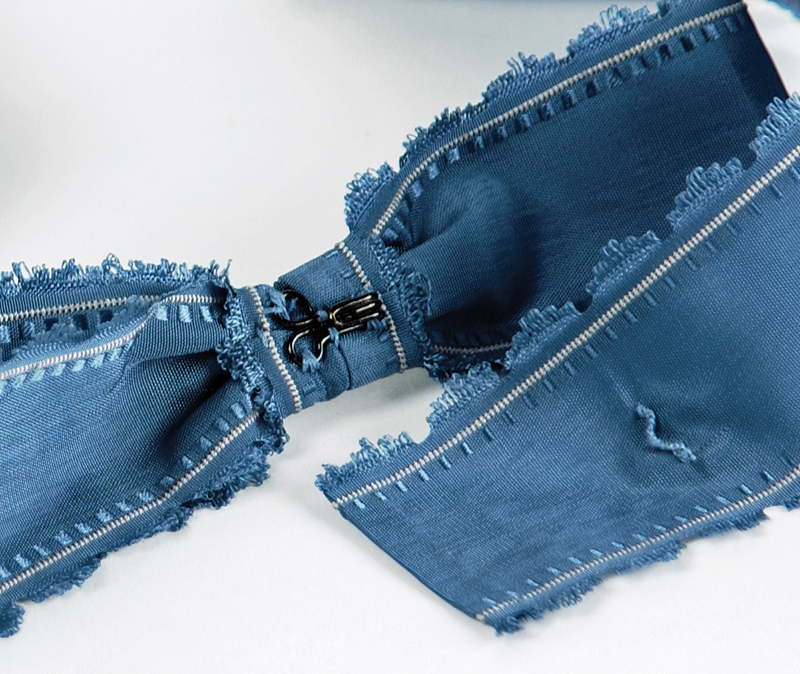 Webbing belts
For a casual belt that looks great with a sundress, jeans, or shorts (and is a darling addition to children's clothing), turn to colorful cotton, nylon, or polypropylene webbing. Loosely woven, lightweight webbing stretches a bit; hefty, tight-weave webbing is very stable.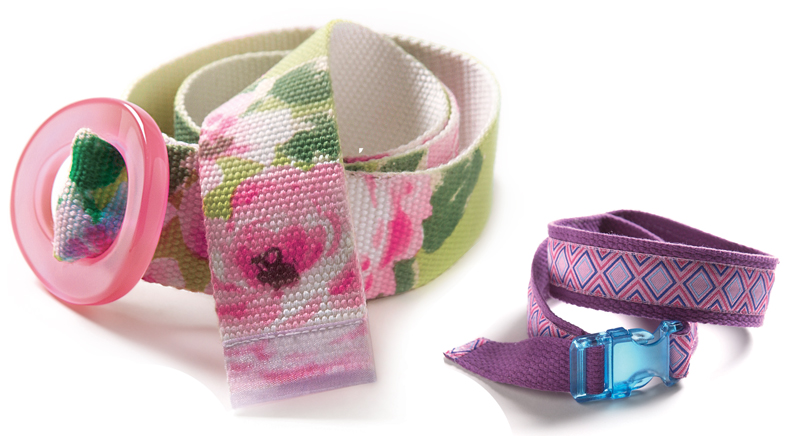 When you sew: To prevent raveling, singe the ends of nylon or polypropylene webbing with a match. For cotton webbing, clamp on a metal or plastic tip.
Variation: For a double-duty, reversible soft belt, topstitch ribbon to one side of the webbing. If the webbing is lightweight, the ribbon will keep it from stretching.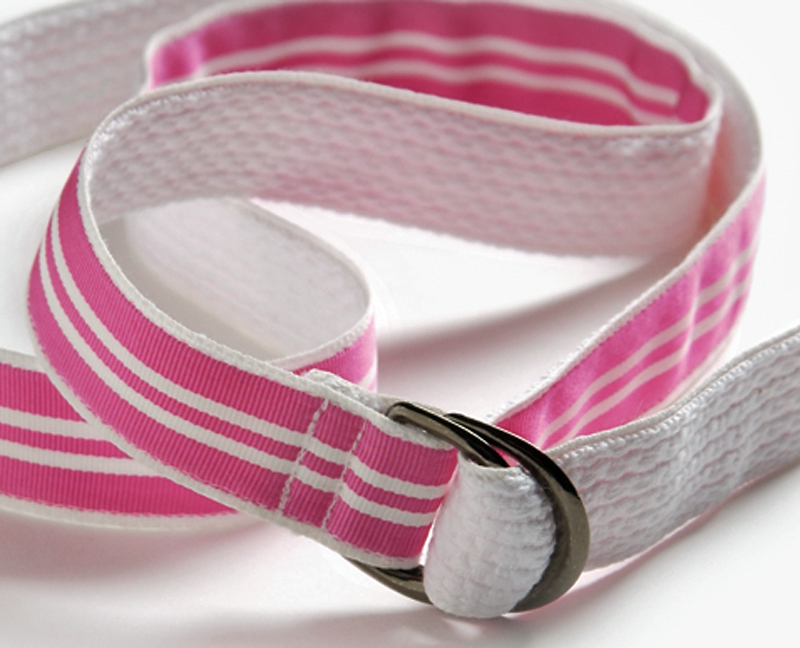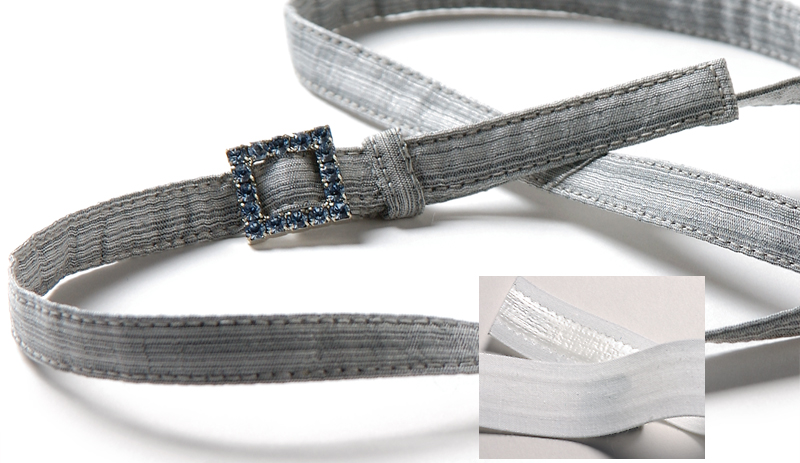 Covered belts
The sky is the limit with covered belts because you can use virtually any fabric or lightweight leather/suede. The key to a smooth, stiff custom belt is belt backing, which contains polypropylene; it can be purchased by the yard or on a roll, and can be machine-washed as well as dry-cleaned. Belt backing comes in 1-, 1 1/4-, 1 1/2-, 2-, and 3-inch widths, and can be cut down to size.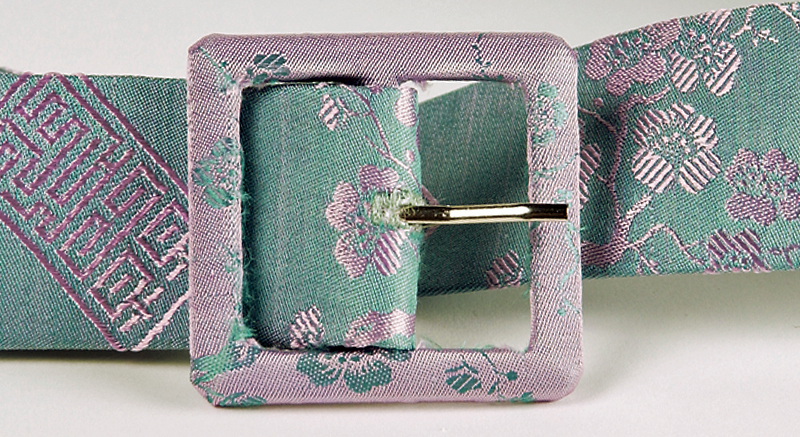 When you sew: Before you cover the backing with a lightweight or stretchy fabric, stabilize the fabric with fusible lightweight interfacing.
Variation: Don't stop at the belt. Also cover the buckle for a truly coordinated look.
Trench-style belts
Fashion's new soft fabric belts are reminiscent of those customarily found on trench coats. Suitable for midweight cottons, linens, wools, or microfibers, these belts are generally 1 3/8 inches wide (or wider) and may or may not have eyelets.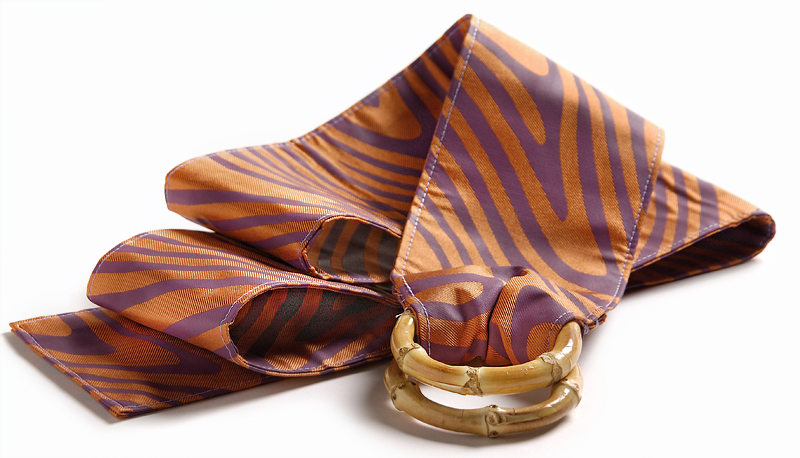 When you sew: Simply cut two pieces of fabric, fuse lightweight interfacing to the wrong side of both, sew them right sides together, and turn them right-side out.
Variation: To fasten a buckled trench-style belt with carefree panache, simply tie it on and let the buckle hang free.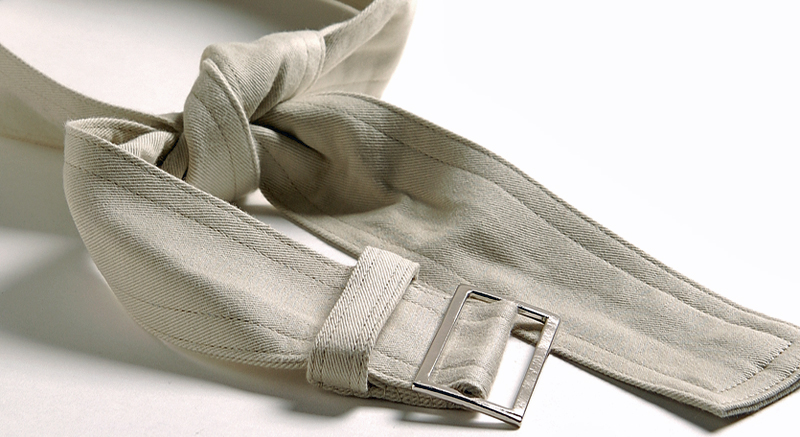 Sources
For ribbons, buckles, belting, webbing, findings, and kits, visit these websites:
AcmeNotions.com
Greenberg-Hammer.com
HomeSew.com
LesbonRibbon.com
MJTrim.com
SeattleFabrics.com
SteinlaufAndStoller.com
StLeather.com
Strapworks.com
TandyLeatherFactory.com
This article, by pants pattern designer Joyce Murphy, was first published in  Threads #118, pp. 57–59. Photos by Sloan Howard.