Introducing Decorator Fabrics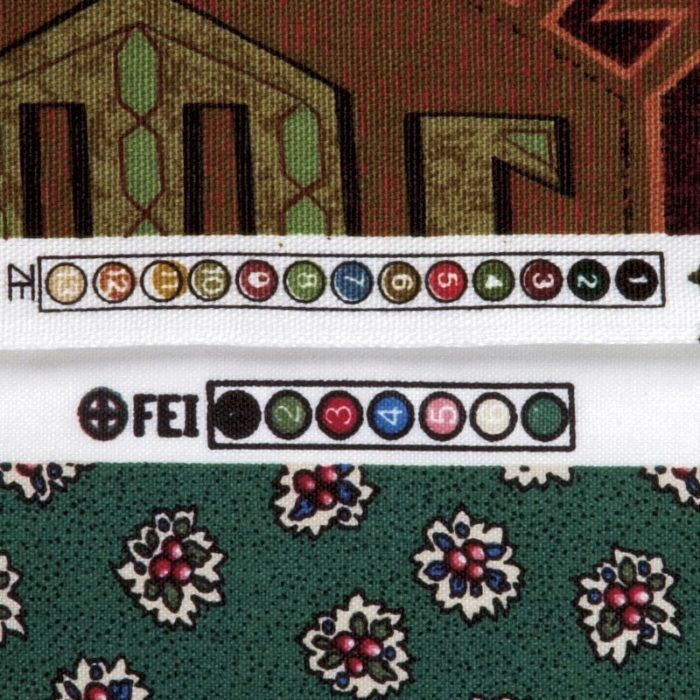 by Laurel Sprigg
From Threads #92, pp. 64-69
Even if you've shopped the finest fabric stores in the land and rummaged through dozens of "home-dec" outlets, if you've never peeked into the world of professional interior-design resources, well, you simply haven't been to Fabric Paradise!
Like to visit? Despite its many similarities to the fabric world most garment sewers know, Paradise is a different planet–with its share of surprises. In this overview, allow me to be your guide and interpreter, both to the breathtaking textiles you'll find there and to the local customs.
Not planning any decorating? Even though I've been running a workroom in San Francisco for interior designers for many years (we do everything but upholstery: custom curtains, slipcovers, bed covers, pillows . . .), I started out as a garment sewer. So, trust me when I say that Paradise is full of amazing garment fabrics, too! Let's start with directions, then get down to the goods.
Your ticket to Paradise
Online sources for decorator fabrics


This list includes many fabric manufacturers as well as many sites offering on-line swatches and purchasing. This list, of course, is not exhaustive; and, like all such lists, it is subject to change as sites are updated or taken down. Many of these sites offer discounted and discontinued fabrics, and some offer price quotes for fabrics you specify by manufacturer and style number. The manufacturer sites usually have listings for their showrooms in design centers and for independent representatives carrying their line, either of which can be good starting places for locating fabric from other manufacturers.
http://sewing.about.com/
od/homedecoratingfabric/
Home_Decorating_
Fabric_Sources.htm
www.fabricland.com/
static_html/
find.htm
www.fortunecity.com/
westwood/guerlain/144/
index.html#
SITECONTENTS

If you live near a major city, chances are excellent you've got an enormous center nearby devoted to resources for interior designers and architects, usually called a design center, or design mart, or something similar. There are 21 such centers in North America: in Atlanta, Boston, Chicago, Dallas, Los Angeles, New York, Philadelphia, San Francisco, Toronto, and similar large cities. To find the center nearest you, scan the fabric ads in any interiors magazine, such as Architectural Digest, Southern Accents, or Traditional Homes. Listed you'll find showroom locations for many major manufacturers, as well as information to locate representatives in your area if you don't live near a design center.
As far as sewers are concerned, the main attraction of a design center is the fabric showrooms, each displaying hundreds of incredible fabrics of every description, every weight, color, texture, and level of luxury, beyond your wildest fabric dreams. Most design centers are open to the public, and many have free tours of the fabric showrooms.
Design-center showrooms show fabrics sorted by manufacturer rather than by fiber. Some of my favorite makers are: Great Plains, Henry Calvin Fabrics, and Rogers and Goffigen, which all specialize in natural fibers. Their linen collections in particular will amaze you, ranging from tissue weights to the heaviest upholstery fabrics, with soft textures you must feel. See Larson Fabrics, Bart Halpern Fabrics, and Donghia for fabulously inventive, contemporary fabrics; Bergamo for beautiful silks, sheers, and incredible upholstery fabrics; and Robert Allen Fabrics, F. Schumacher, Scalamandre, and Brunschwig and Fils for marvelous traditional fabrics. If you are outfitting a period house, the latter four manufacturers all offer "document" prints, that is, reproductions of historic fabrics going back several centuries. There are many other wonderful fabric companies; if you love fabric, you will definitely enjoy exploring these incredible textile treasure houses.
The downside of all this magnificence is that you can only buy from these wholesale resources through an interior designer or architect, or anyone else with both a resale number and an established business, plus an understanding of fabrics for the home. Don't fret, though, we'll pursue this option further in a moment; but first, let's look at the alternatives.
Why bother with wholesale?
Many retail fabric stores recognize the growing interest in fabrics for the home and have stocked up accordingly. There are also chain stores, like Calico Corners, that specialize in home-decorating fabrics, and have a fairly wide range of fabrics and prices. These sources tend to have lower-priced but still interesting goods, and can be a wonderful alternative to a design-center showroom, or to a designer's sample books, especially for smaller projects. You can see and touch the fabric, and take it home right away. The drawbacks come if you want a really wide selection, lots of coordinating fabrics, something truly exceptional, or if you've selected a fabric that's a second or discontinued, as is commonly the case with interior fabrics at retail outlets.
With regard to seconds, years ago, before I got into my current business, I made my bedroom curtains out of a bargain retail fabric. A short time later, I decided to add a bedcover in coordinating fabric and found that it was no longer available from any source; it was no longer being made. I'd also discovered that my curtain fabric was a second; the "flaw" was in over-printing the floral motif past the selvage, meaning I could not match the pattern efficiently at the seams, so my yardage estimate was off–I didn't have enough for what I planned.
Inaccurate printing shows up on the selvage of any print for interiors, where you'll see a row of small boxes, each containing one of the different colors used in the print, like the example shown below. If the color is not registered perfectly inside the lines of the box, the print is off, and you should examine it more closely; you may see the flaw easily once you know it's there. This may not ruin the appeal of the design, however; and if it doesn't (and you won't need more later, which may come from a different, flawless, bolt), then enjoy your bargain.

Watch out for imperfect registration: When the color is off register, it will show up in the color boxes in the selvage.
Wholesale advantages
Besides the larger selection, if you buy fabric through a design-center showroom, or from the same sources through a designer, the fabrics you'll see will all be available in a number of colors for many years and will have coordinating fabrics and trims. You can ask for large samples (called "memo" samples) to take home and live with for 30 days while you make your decision. The fabrics are first-quality; carefully designed to allow for efficient repeats (I'll explain in a moment); and if they arrive with flaws, can easily be replaced, provided you have not cut them. You can even ask for a "cutting for approval," or CFA, which will be taken directly from the piece they plan to send you. This may be from a different dye lot than your memo sample, so a CFA is always a good idea, allowing you to make sure any difference in the two lots is acceptable.
Decorator fabrics must be ordered and paid for in advance, and there's sometimes a long wait, since your choice may not even be woven until enough orders accumulate worldwide. Also, most manufacturers will charge a nominal fee for cutting less than a 2- to 5-yd. minimum, plus you can expect a shipping charge, but neither is likely to be much more than $10, which you'll probably scarcely notice when it's added to the total!
Sticker shock
Yardage estimates


The following general guidelines will give you a sense of scale as you plan home-decorating projects. Be sure to add yardage for fabric with pattern repeats.
Coverlet: all sizes, 6 yds.
Bedspread with pillow return: king, queen, 12 yds.; double, twin, 8 yds.
Gathered bed-skirt: king, 10 yds.; queen, 8 yds.; double, 7-1/4 yds.; twin, 5 yds.
Pillow sham: 1-1/2 yds.
Couch slipcover: 20 yds.
Easy-chair slipcover: 10 yds.
Table-skirt formula: height plus diameter, multiplied by 3.14 (30-in. table with 30-in. diameter: 5-1/2 yds.)
Curtain formula: window height plus 16 in., multiplied by (length x 3), divided by fabric width

From almost any source, fabrics for the home usually start at $15/yd. and go up from there, often way up. It's not uncommon, for example, for a fine-grade, 54-in.-wide silk taffeta to sell wholesale for $130/yd. Yet, even though there are lots of great fabrics in the $20-$40 range, your project is likely to require many more yards than any garment (for some general guidelines, see the chart at right).
Take a deep breath and consider: These fabrics are more expensive than most garment fabrics, with good reason. Any item for your home has to look good as it withstands daily use for many years. And trust your hands as you calculate the costs: Feel a typical garment-weight cotton print, for example, and then any cotton print for interior use. The differences in weight and substance will be obvious, and they are worth the money in the long run. It helps if you think of home fabrics as an investment you'll enjoy for 10 or 20 years, like a couch or a stereo.
If you decide to give in to the delights of Paradise, simply choose a designer or architect (they are listed with the design centers) and explain to them what you wish to buy, negotiating payment for their administrative services. If there's no design center near you, look up the local interior design shops; they will usually have swatch books from the same sources for you to buy from.
In either case, I also strongly suggest you consider buying an hour or two of consultation time, typically $50-150/hr., as a way of getting some feedback on your decorating plans if they are extensive. A little expert advice can help prevent costly mistakes.
What's different about home fabrics?
No matter where you purchase them, fabrics for the home are different from garment fabrics in several ways, both in how they are made and how they are intended to be used. Here are some of the main areas of difference:

Width and print orientation—Most fabrics for the home are either 54 in. wide, or extra wide, at 110 in. or 118 in. Extra-wide fabrics are usually intended for unlined sheer curtains, and are meant to be "railroaded," or run sideways with the selvage at the top and bottom of the curtains, allowing the curtains to be made without seams. Many narrower fabrics are also meant to be railroaded to avoid seams, for example, across the back of a couch. If these fabrics have a pattern, it will be oriented so that it's upright when the selvages are at top and bottom, as shown in the drawings above. Hence, if you use the narrower, patterned fabric for curtains, your motif will be sideways.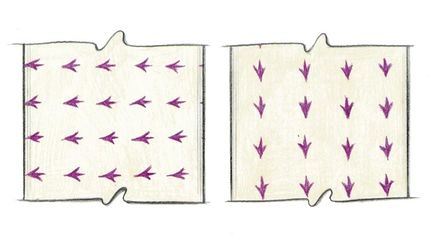 Watch out for "railroading": Fabrics intended to run with selvages horizontal (as for sofa backs) have patterns at right angles to the grain, not parallel to it. In the photo, railroaded fabric is at left; normal fabric is at right.
Weight and texture—Just like blouse-weight and pants-weight garment fabrics, home fabrics come in a variety of weights according to their intended uses (mainly upholstery, bedding, curtains, and sheers), but there are lots of variations within these broad categories, so you have to judge each fabric individually. If you want curtains, for example, hold up one corner of your choice and see how it drapes on the bias. If there is no drape, don't use it for curtains. Also, hold prospective woven curtain fabric up against a window to check for floats that might distort the look of your fabric when back-lit (the fabric will look striped). And feel any bedcover fabrics to be sure you'll want them next to your skin on a daily basis.
Stick with light- to medium-weight fabrics for home sewing—heavier weights won't agree with your machine. Take a sample of your proposed fabric and fold it double, and then double again, to simulate the amount of fabric that you'll be trying to fit under your presser foot. Avoid any upholstery fabric with a sprayed-on, rubbery backing. It sticks to the throat plate and breaks needles.
Pattern repeats—Printed or woven patterns may repeat both vertically and horizontally. The exact length and width of each repeat is important information. With a horizontal repeat of two 27-in. motifs across a 54-in. fabric, for example, a standard 20-in. by 26-in. pillow sham could have a centered motif, but a king-size 20-in. by 36-in. pillow sham could not.
Vertical repeats should be centered on a chair seat, pillow, or bedcover, and should typically be aligned on adjacent panels in a curtain. Curtain hems should start at the same place on the fabric for every cut, so that a repeated motif isn't jumping randomly around your windows—unless you place them that way intentionally.

Beware the half-drop repeat. Normally, a horizontal repeat allows you to match the pattern straight across the piece of fabric to the next piece at the same place, because the pattern is positioned at the same place at each selvage. The half-drop pattern is half of a vertical repeat up or down from one selvage to the other, as shown in the drawing at right, to make the repeats more interesting. This means buying extra fabric and cutting very carefully, because every other cut will start at the half-repeat. There are many beautiful fabrics made with the half-drop repeat, so do try them, but be forewarned! For any patterned fabrics, check both selvages at the same point to be sure the patterns will match easily and economically across the full width. This investigation will also reveal a half-drop repeat.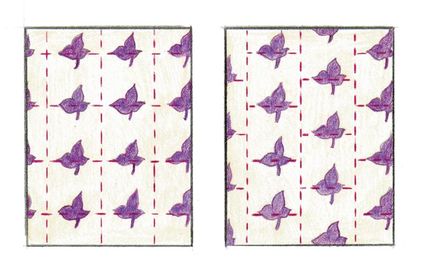 Watch out for half-drop repeats (as in the fabric at left): They look less repetitive, but can need more fabric and careful matching at the edges.
Weave—Lightweight and loosely woven fabrics do best at the window where light filtering through them can be very beautiful. Loosely woven fabric is not a great choice for seating, but it could be used if it were backed with fusible interfacing that secured the floating threads. Avoid hanging quilted or matelassé-type fabrics vertically in a window, as they can alternately stretch and shrink over time.
Think it through
A little analysis will help define your fabric choices. The first question to ask yourself is what kind of use will this project get? Will the kids and the pets be hanging out on the couch you plan to slipcover, or will the couch be used twice a year by guests?
Ask yourself whether the fabric you are considering will be exposed to lots of sunlight, for example, on a window seat cushion, or as curtains. Some fibers hold up better in sun than others (cotton, linen, and especially polyesters and microfibers are all pretty safe), and all are subject to fading. Never put silk or silk blends, for example, in direct sunlight because the fibers will rot very quickly, as well as fade. Silk is fine for curtains if you interline it with flannel and line it with a good cotton lining, but silk sheers in your window will last about six months.
Ask yourself if your project will be practical and easy to use. For example, a satin lining for a duvet cover might sound attractive, but wrestling with a slippery bag of feathers and getting it to stay in place every day just might send you over the edge. And a curtain that needs to be opened and closed each morning functions better if it just clears the floor in length. Though visually appealing, curtains that "puddle" on the floor from extra length tend to pick up more dust and debris and need cleaning more often–especially since the puddles of fabric can make nice beds for your pets!
Shopping tips
Here are some final suggestions before you sign on the dotted line:
Before you commit to major amounts of yardage, be sure that you can live with it. The store lighting is probably different from your home lighting, and that light will change with the time of day. Take home the memo samples, or buy a 1-yd. piece to live with for a few days, and ask the retailer to put the rest on hold for several days while you decide.
Consider other fabrics to coordinate with your major piece. For example, a bedcover looks nice with a coordinating lining, pillows, and possibly a bed-skirt. Take samples of all fabrics being considered, even if it is only one-eighth of a yard, and lay them out together in the room they will go into. You'll be glad you did.
Consider scale and the relative amounts of all your colors and patterns. For example, a small print may get lost on a king-size bed, and a large print may overwhelm you when there are 30 yds. of it across a large, sliding-glass window. You don't have to give up that fabric you love; you may just need to rethink its placement. If a fabric is too bright, for example, make throw pillows from it and look for something more neutral for the larger amount of yardage.
Plan what buttons, trims and dressmaker details you want to include in your project. This is your chance to make one-of-a-kind, special things for your home. Just have fun with it.
Don't forget lining and interlining. Always line curtains unless they're sheers. They'll last longer, and you won't see the wrong side of a print from the outside. Use a good-quality cotton or cotton/poly blend for durability. Most curtains last longer if they are also interlined with flannel, which protects from sun damage and adds insulation. Pillows and cushions made of lightweight fabrics, like silk taffeta, also look better and last longer if you underline them with flannel, or interface them with knit fusible interfacing. And always test a sample piece of fabric to make sure you will get the desired result—some rules never change, no matter what you're sewing!
Laurel Sprigg's custom-interiors workroom is in San Francisco.
Photo: Sloan Howard; Drawings: Bob LaPointe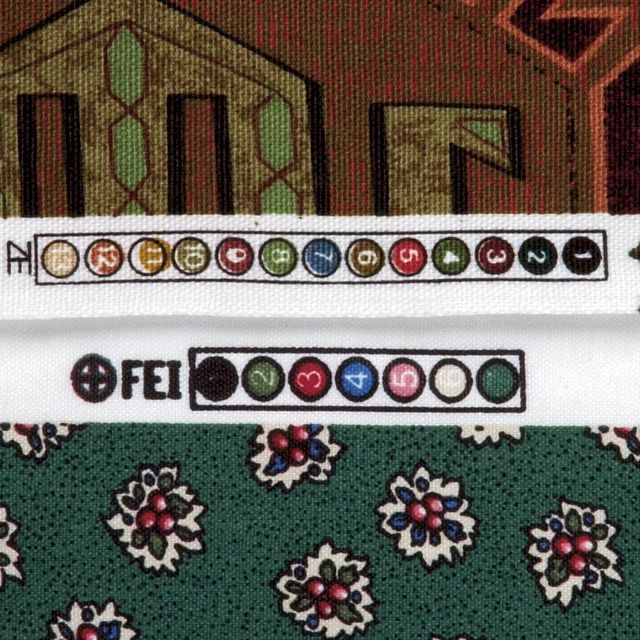 Watch out for imperfect registration.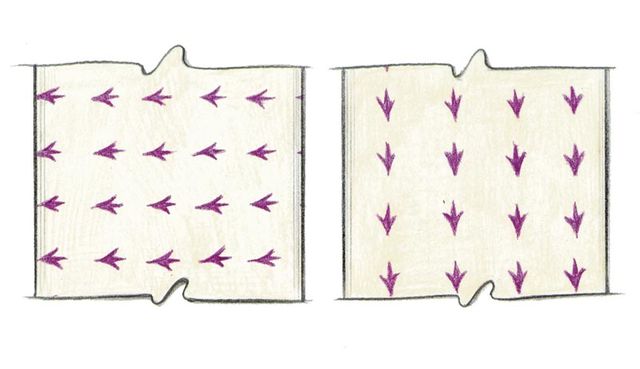 "Railroading" is when fabrics are intended to run with selvages horizontal and have patterns at right angles to the grain, not parallel to it.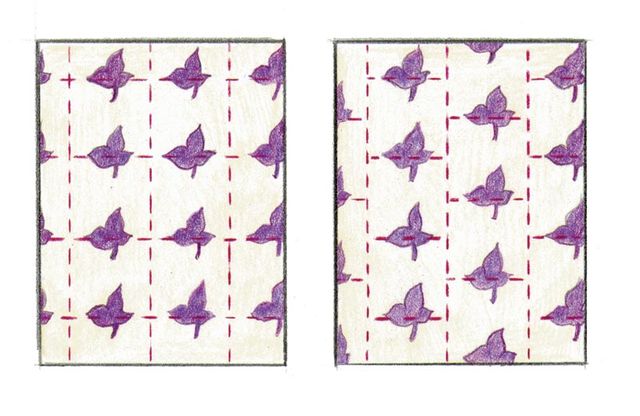 Half-drop repeats look less repetitive, but can need more fabric and careful matching at the edges.