How to Replace a Broken Zipper

Remove the zipper without undoing any of the visible topstitching, and slide a new zipper into place. You'll hand stitch one side to attach it invisibly.

More on zippers:
• 8 Zipper Installation Techniques
• Sewing in a Zipper
• How to Sew an Exposed Zipper
• Move a Zipper's Location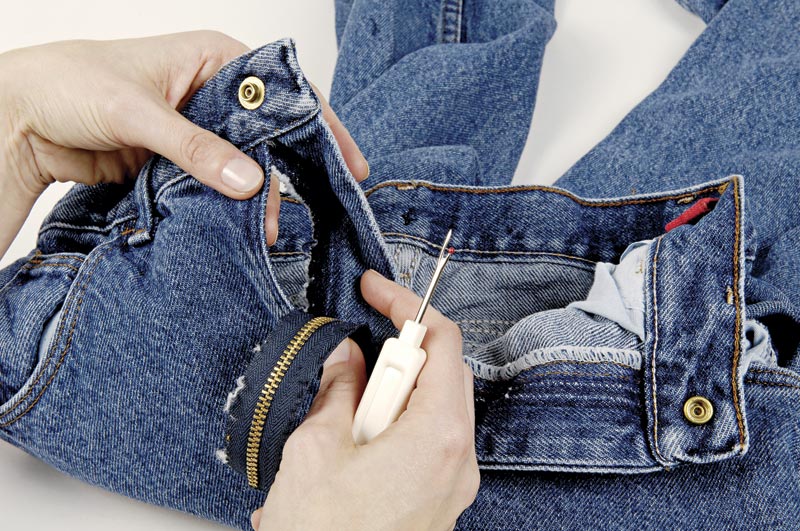 Remove the zipper.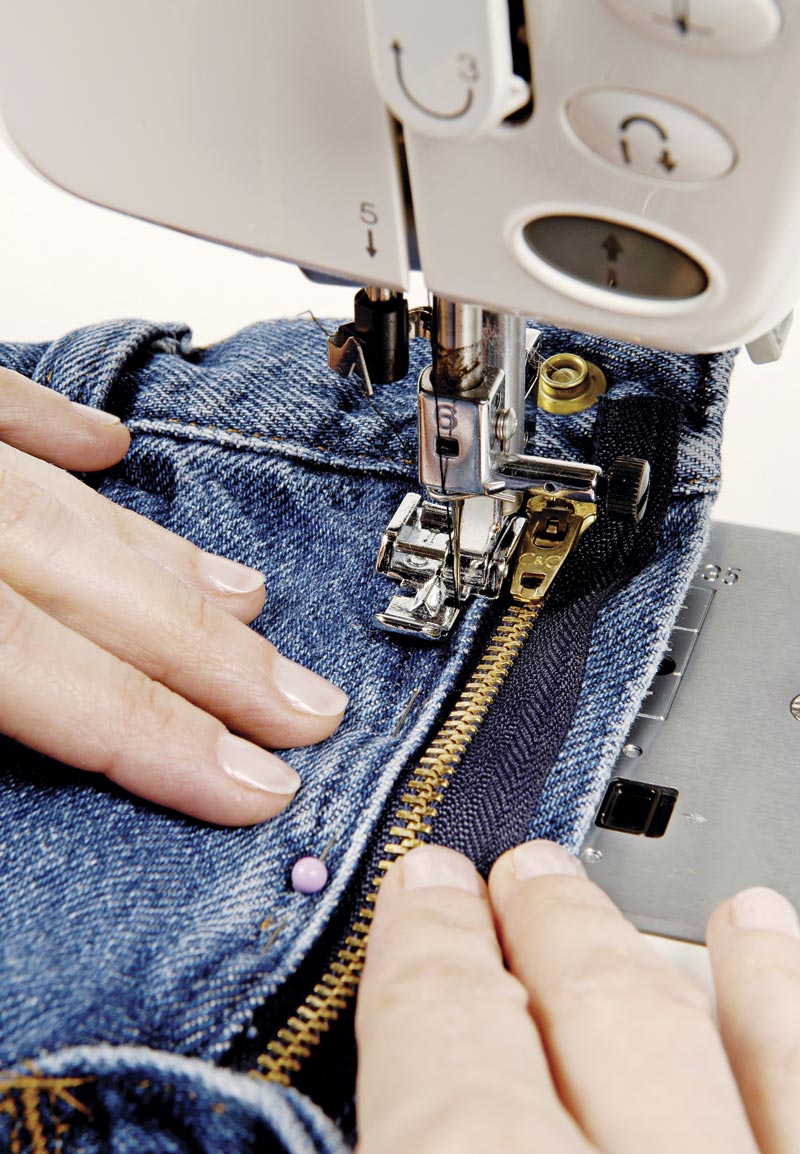 Stitch the underlap side by machine.
Working with a seam ripper, remove the stitches holding the original zipper in place. On the fly underlap, you'll create a slot between the jeans front and the fly shield. On the overlap, simply pick out the stitches. At the waistband and bottom of the fly, cut the zipper tape to release the zipper. Don't unstitch the waistband.
With the zipper right-side up, slide one side of the tape into the opening you created between the fly shield and the pants front. Fold the top of the tape under. Pin or baste the tape in position. Install a zipper foot on the sewing machine, and stitch the zipper close to the edge of the pants front, sewing from the top of the zipper as far down the tape as you can.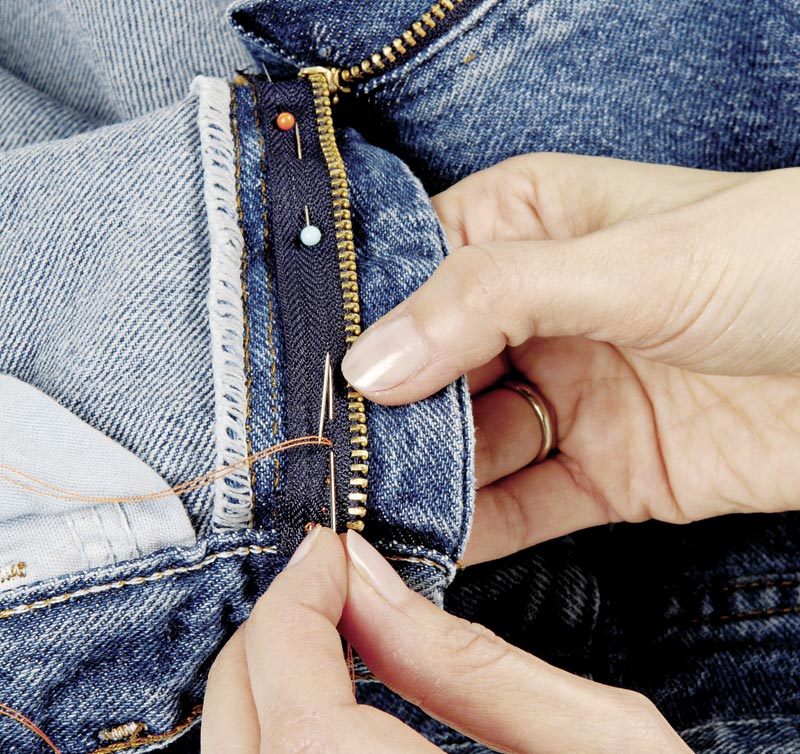 Backstitch the overlap side by hand.
Close the zipper. Working from the inside of the jeans, pin the free tape in place on the wrong side of the fly overlap. Align the tape along the original stitching line, and fold the top of the tape under. Open the zipper. Using a sturdy needle and a double strand of thread, backstitch the tape firmly to the jeans. Stitch through only the inner layer of fabric so no stitches show on the outside of the jeans.
How to shorten a zipper
You may need to shorten the new zipper to fit into the fly opening. To do so, measure the length of the teeth portion of the original zipper, and measure down from the top stop of the new zipper. Stitch a new bottom stop by zigzagging across the zipper teeth; then cut off the bottom of the zipper with diagonal cutters. Note: It's not advisable to shorten this zipper from the top, because, in this repair, the upper end is not enclosed by the waistband. Without an upper stop, the slider is likely to slide right off the top of the zipper, leaving you with one option for getting out of your jeans-scissors!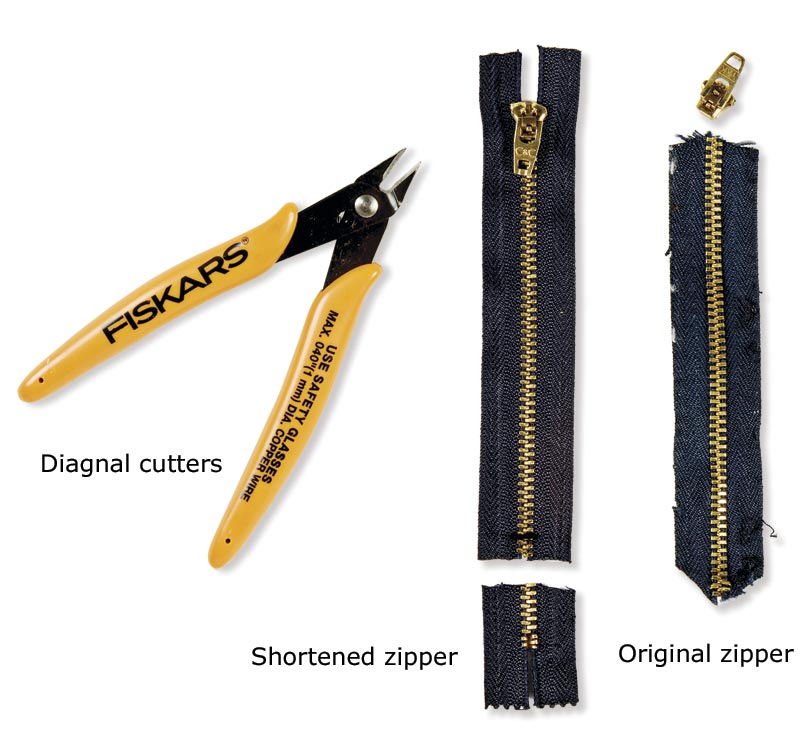 by the editors of Threads
from Threads #139, p. 58
Get the latest including tips, techniques and special offers straight to your inbox.