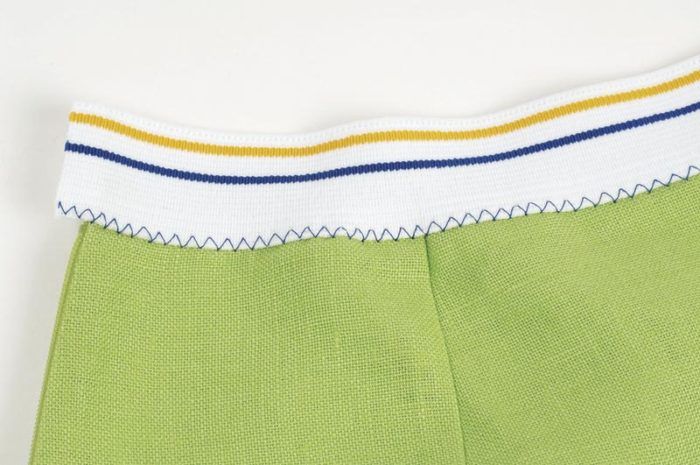 by Connie Long
from Threads #138, p. 43
Before you head home from the fabric store, make sure you have the correct amount and type of elastic. This can be determined by measuring your pattern and assessing your fabric type.
When staying the waist seam of a lined garment, use narrow, clear or braided 1/4-inch or 3/8-inch-wide elastic. Clear elastic is fine for lightweight fabrics and for using elastic as a stabilizer. Braided elastic has more oomph (or support) for thicker fabrics. Keep in mind that it is necessary to use non-roll elastic for a contour waist finish, where the elastic is 3/4-inch or 1-inch-wide and susceptible to folding or rolling.
The length of elastic should be shorter than the waist seam (after seams and darts are sewn). How much shorter depends on the combination of fabric, lining and elastic. On lightweight fabric with lightweight lining, use clear elastic, and pull the elastic gently as you sew it in place. If the fashion fabric is corduroy or cotton twill with a medium lining, use braided elastic, and stretch the elastic more as you sew it in place because heavy or firm fabrics put more pressure on the elastic.
After you've attached the elastic, the waist seam should look eased not gathered. I typically sew a test seam to get a sense of how much the elastic needs to be stretched to ease the waist in slightly.
Photo: Sloan Howard