Pins may be the tiniest of sewing tools, but they take on big, important jobs. They hold pattern pieces in place, anchor seam allowances as you sew, fit fabric on the body, and secure all sorts of squirmy trims, delicate sequins, and miniscule beads. If, like many of us, you take for granted the pins that pepper your pincushion, I urge you to take a good hard look-from head to point-at each of those little bits of metal. There are many, many pins on the market-some are quite unusual and wonderful. What is the reason for all of these choices? One pin can't successfully tackle all fabrics and sewing tasks. Simply stated, different jobs require different pins.


More on working with pins:

• A Pin for Every Purpose
• Create Intricate Fabric With Pin Weaving
• How to make a dust pan that attracts pins
• Why Pincushions Frequently Resemble Tomatoes
Any pin is just the sum of its parts
The seemingly endless variety of straight pins can be daunting, unless you break each pin down into its five main components: head, point, thickness, length, and metal content. Just figure out what your needs are in each of the five areas, then seek out a pin with those qualities.
I suggest that you buy a few basic styles for the kinds of sewing you do most, such as dressmaker, extra-fine, and quilting, and then think of the other pins as problem solvers. In other words, if you come across a situation where your stash of basic pins can't handle a particular project, such as appliqué, supplement with appliqué pins. And with every pin you purchase, it's a good idea to keep a portion of the packaging somewhere in your sewing room, and tape one sample pin onto the label as a reference. When you run out of your favorites, you'll have all the information you need to replenish your stock.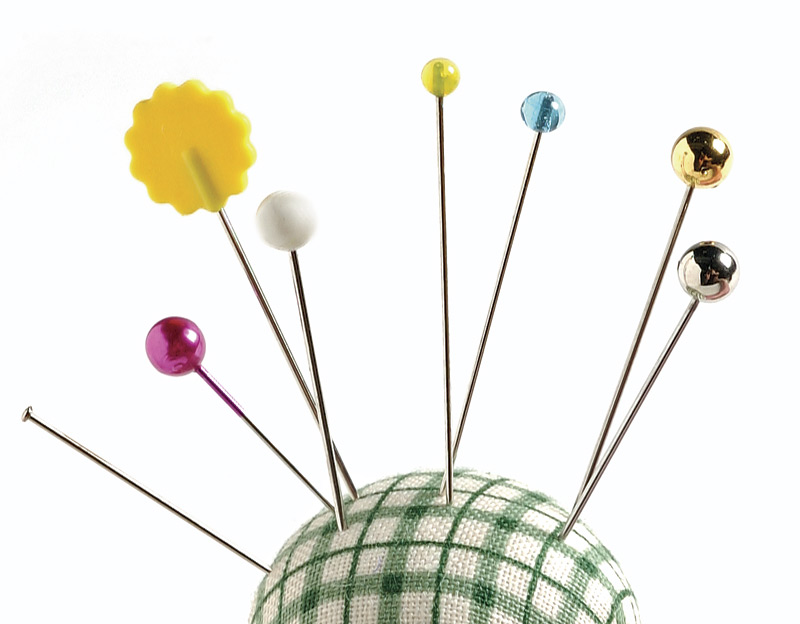 From left to right: Flat; pearlized plastic, plastic flower-head, ball-shaped plastic; glass (yellow and blue); and metal (brass and silver).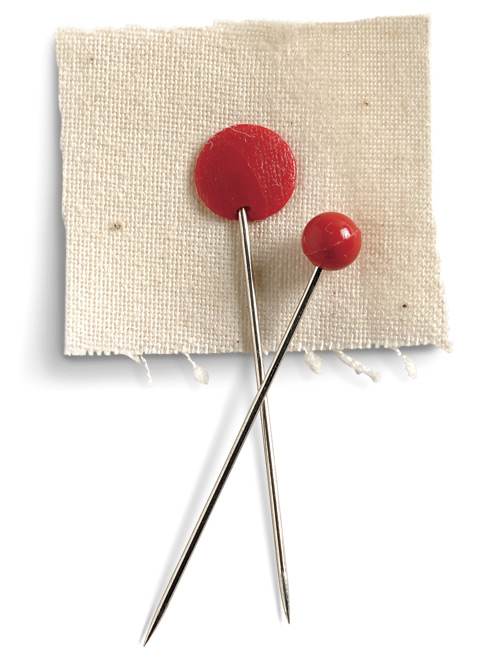 WARNING: Some plastic pin heads can melt under a hot iron and adhere to the fabric.
Head
The head is the most recognizable part of a straight pin. What it is made of dictates if it can be pressed, and the shape determines when you should use it in the construction process.
Flat Also called "no head," this pin may be pressed with a hot iron. It's also good for handwork, as thread doesn't get caught on it. A flat head can be difficult to see on busy or textured fabrics, however.
Plastic Ball-shaped plastic heads come in different sizes and colors, and may be pearlized. Wide, flower-shaped plastic heads are the easiest to spot, and because they are flat, they come in handy when you need to lay a ruler or tape measure over a pinned area. They are also a good choice for lace, eyelet, and loose weaves, as the large heads won't slip through the holes in the fabric.
Glass This small, ball-shaped head is fairly easy to see, and won't melt when touched with an iron.
Metal Metal balls aren't common, but they can be pressed with an iron without fear of melting.
Tip: Use only the best-toss the rest. If a pin becomes bent, dull, or rusted, don't hesitate to throw it out. A less-than-perfect 1¢ pin can wreak havoc on your $10-, $20-, or $40-a-yard fabric.

Point
The points of pins should slide cleanly into fabric without causing snags or unsightly holes. Different fabrics require different types of points.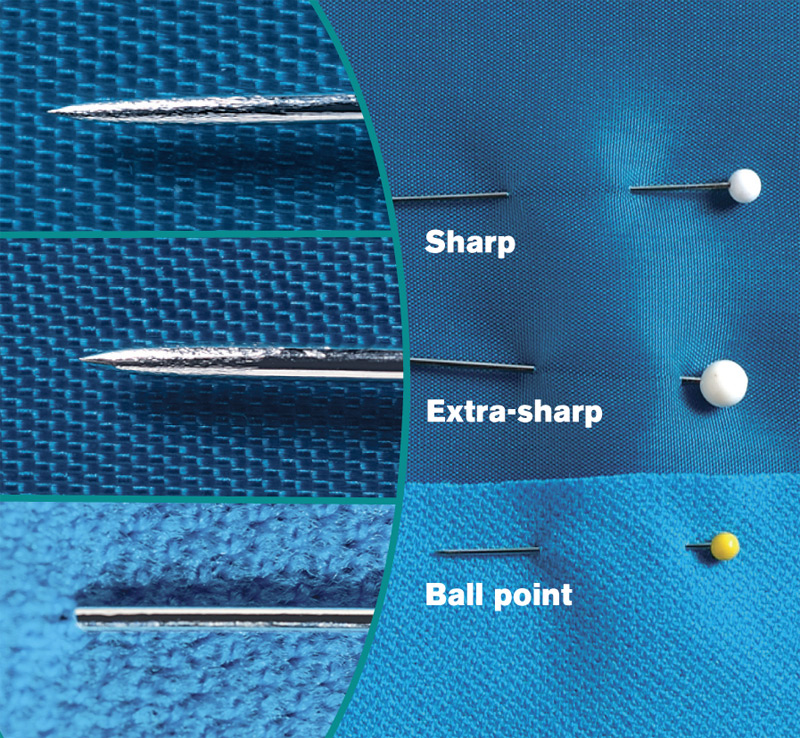 Sharp These all-purpose points are a fine choice for loosely woven, medium-weeight, and heavy-weight fabrics.
Extra-sharp More defined and tapered, this point passes cleanly through delicate fabrics.
Ball point Created especially-and only-for knits, this point is rounded so it slips between the loops of the fabric and doesn't pierce or pull the yarns.

Length
Some sewing projects require long pins, other ventures may do better with short, stubby pins. Pin length used to be listed on packages as sizes (size 12 = 3/4 inch long, etc.), but most pin manufacturers now just list the actual lengths.

Appliqué/sequin This 1/2- to 3/4-inch length is the best choice for applying appliqués, trim, or sequins, as you can position many pins close together (below left). Long pins, in comparison, overlap awkwardly (below right).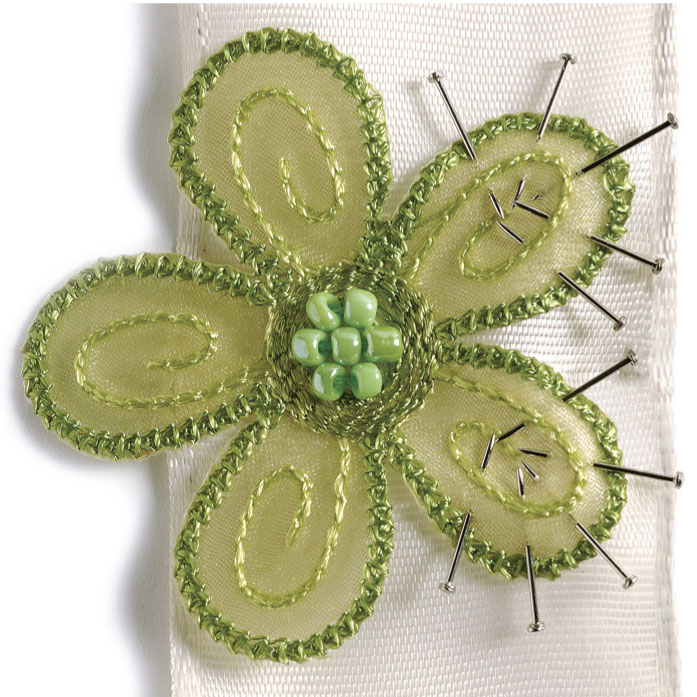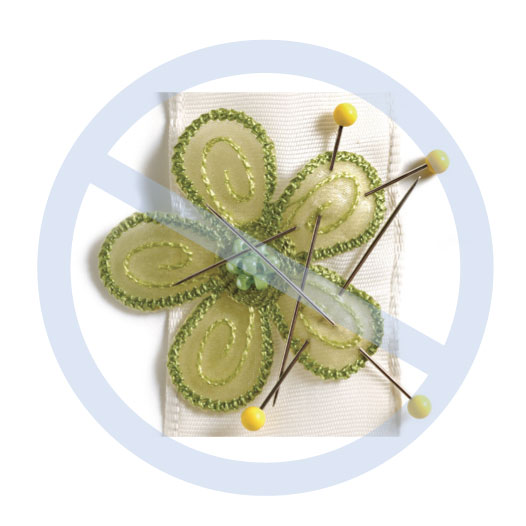 Dressmaker/all-purpose If in doubt, reach for this medium- length (1-1/16- to 1-1/2-inch) pin. It is appropriate for all sorts of garment sewing.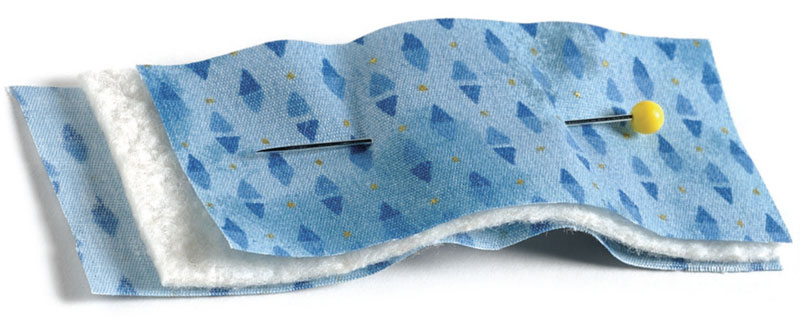 Quilting Made especially for pinning through many layers of fabric and batting, this 1-1/2- to 2-inch pin is also garment-friendly, as its long length hardly ever slips out of place.
Thickness
To avoid marring fabric with pin holes, choose the thinnest pin to accomplish the task at hand. Unfortunately, we discovered that the naming convention, as it relates to actual diameters, isn't consistent among manufacturers. So the best thing to do is roll a pin between your fingers to gauge its actual thickness.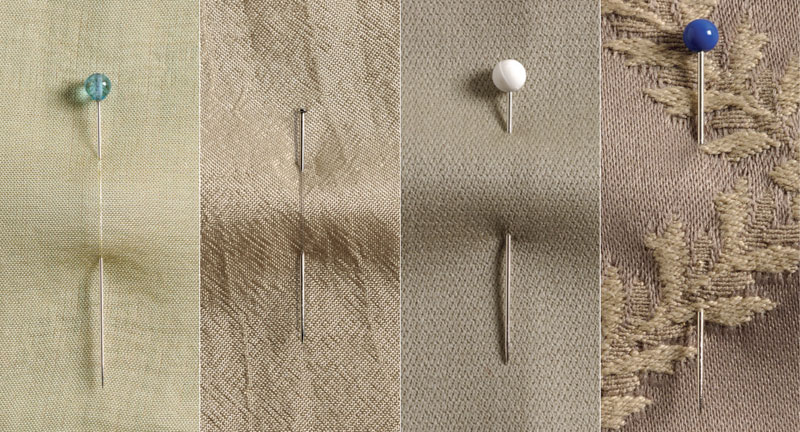 .4mm, .5mm, .6mm and .7mm or .8mm.
.4mm The thinnest traditional pin we found was a .4mm "Patchwork Pin (Fine)" by Clover. It passes beautifully through the finest of sheers.
.5mm Called "extra-fine," "super-fine," "silk," or "satin," these .5mm pins are recommended for fine, lightweight fabrics, including some sheers.
.6mm Most all-purpose pins are labeled "fine," and are best paired with medium-weight fabrics.
.7mm or .8mm Although harder to find, these diameters are great for thicker fabrics like heavy wools, denim, and quilted layers. But they do leave large holes in their wake.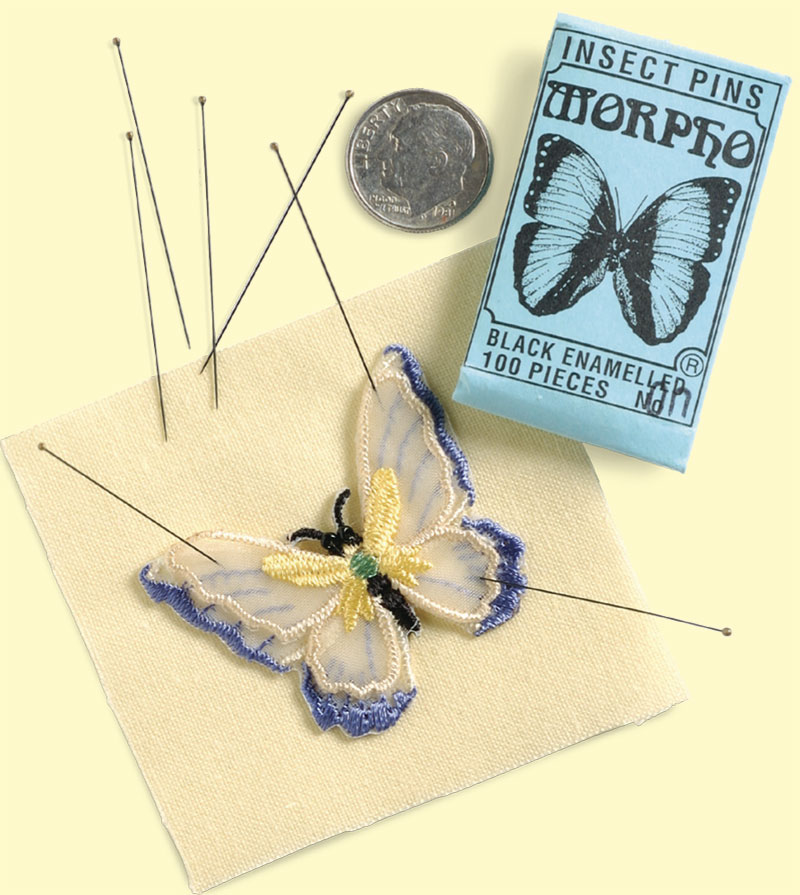 Insect pins: superfine and rust-resistant
Forget bugs, this very skinny (size 00 – .3mm) and flexible spring steel pin is a great choice for fine fabrics. Originally created for insect collectors and entomologists, the double-coating of black enamel-to, yuck, resist insect fluids-makes them easy to see, plus they're rust-resistant. Visit Indigo Instruments.

Metal content
A pin's content is important, especially if you are allergic to certain metals. There are six types: stainless steel, nickel-plated steel, nickel-plated brass, brass, and chrome-plated steel, which is the strongest option. If you aren't sure of the metal, test it with a magnet; stainless steel and brass pins won't cling.
Put through a salt-water test, only nickel-plated brass passed. To test the rust-resistance of various metal types, we spritzed each pin with salt water. The results were surprising, as nickel-plated and chrome-plated steel should only rust if the plating is damaged; stainless steel should offer the best resistance. Brass tarnishes, but any residue washes out.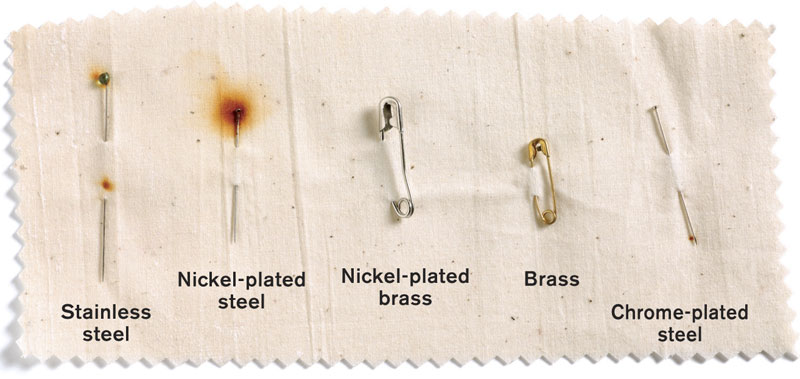 Left to right: Stainless steel, nickel-plated steel, nickel-plated brass, brass, and chrome-plated steel.

The bottom line: Never leave any pin in fabric for very long, especially if you live close to the ocean's salty environment.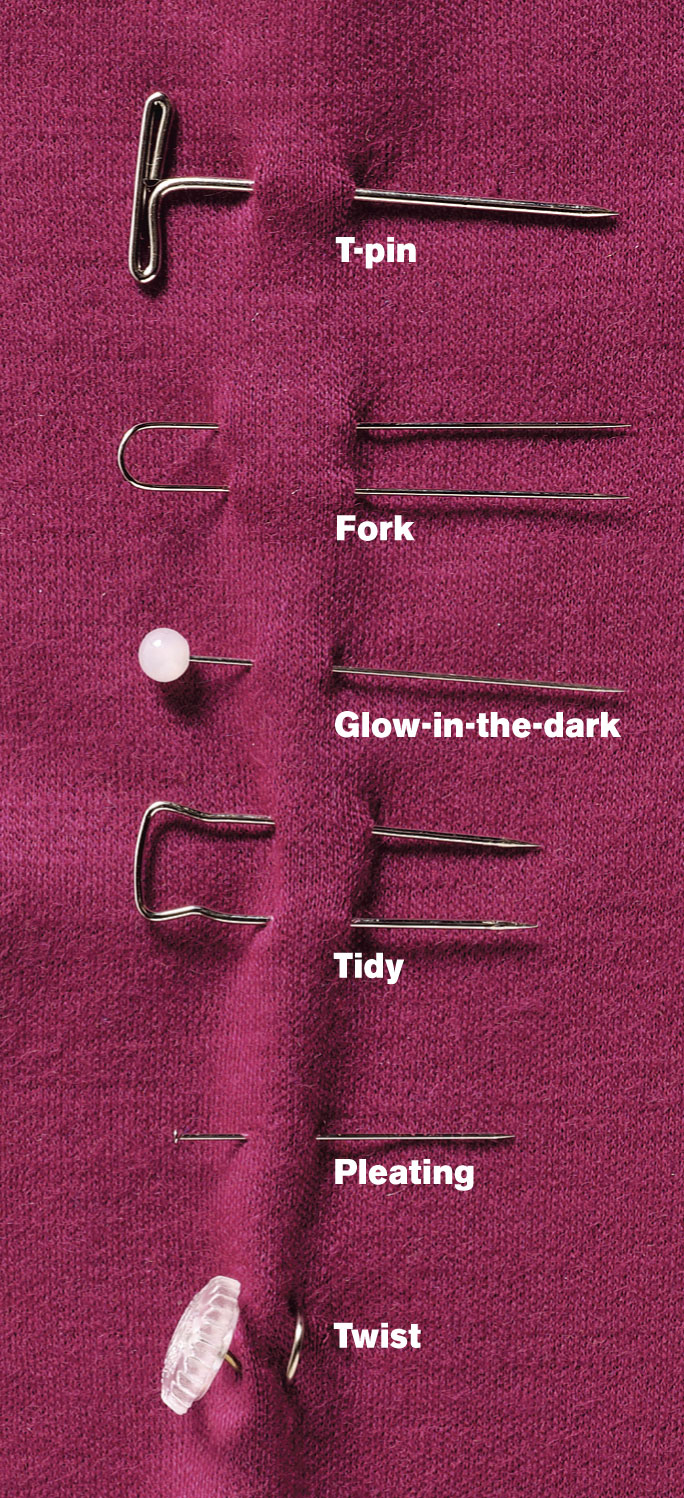 Left to right: Skirt pin, button pin, curved pin, traditional pin.

Specialty pins
For certain projects, you need special pins. The ones shown here aren't always available at the local sewing shop, so you may need to order them.
T-pin This 1-3/4-inch-long thick pin can pierce and hold hefty upholstery and outdoor fabrics.
Fork Fine and 1-5/8 inches long, this two-prong pin curves up at the end, which allows you to pin hard-to-handle fabrics, like lining, without lifting it. Also use to align stripes and plaids.
Glow-in-the-dark If you drop this pin, simply turn off the light, and look for its glowing head.
Tidy Similar to the fork pin, but flat and square. It was created to secure doilies, arm covers, and slipcovers to furniture.
Pleating This fine, strong, sharp pin doesn't look all that special, but is 1 inch long, which allows you to perfectly pin out pleats.
Twist The thumbtack-like plastic head and short corkscrew shaft hold slipcovers and mattress pads in place.
Safety pins
Safety pins won't wriggle free or stab you as you sew. They are available in a range of metals and colors, as well as sizes: size 00 (3/4 inch long), size 0 (7/8 inch long), size 1 (1-1/16 inches long), size 2 (1-1/2 inches long), and size 3 (2 inches long).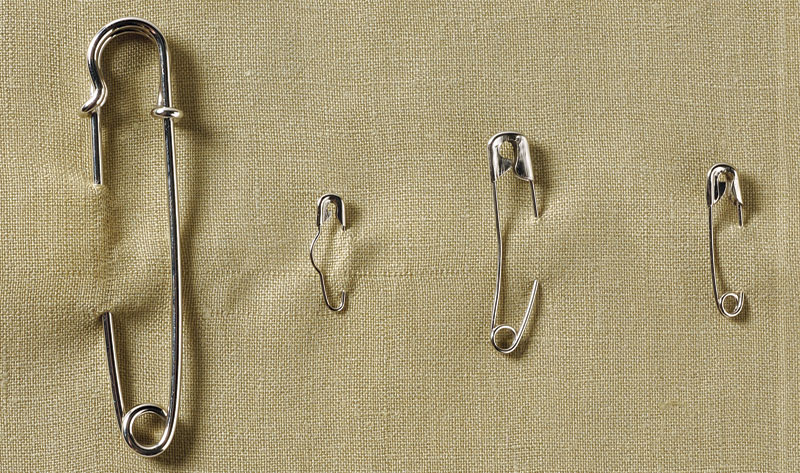 Left to right: Skirt pin, button pin, curved pin, traditional pin.
Skirt Also known as a kilt pin, this decorative pin holds skirts and kilts closed.
Button The bump in this pin holds delicate, nonwashable buttons temporarily in place.
Curved The bend makes basting quilts easy, and ensures that the layers never shift.
Traditional These pins can be used for sewing, quilting, and crafts.
Pincushion Gallery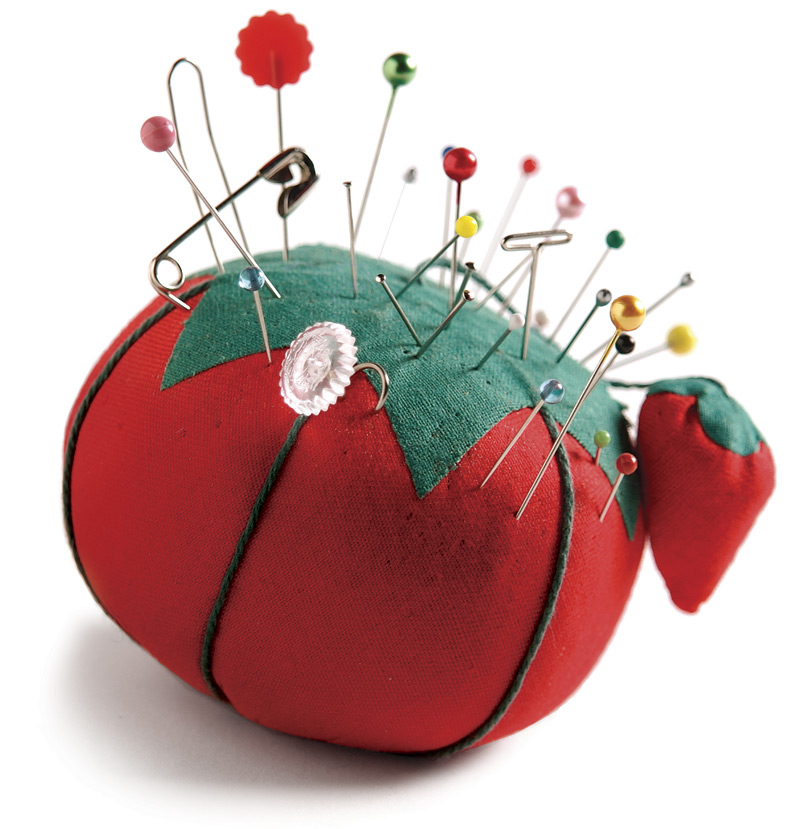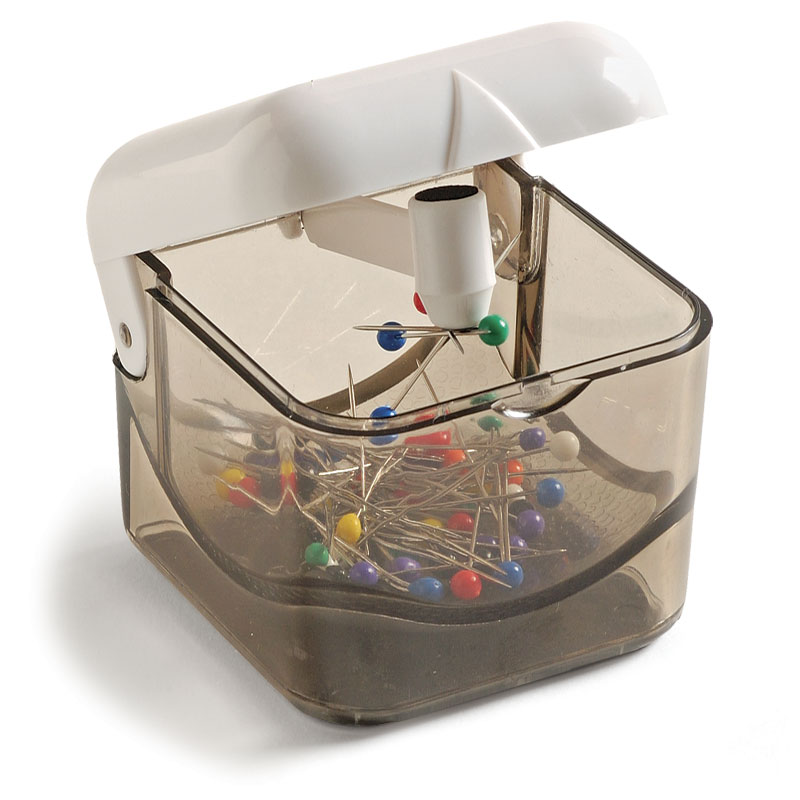 Why the tomato? According to folklore, placing a tomato on the mantle of a new home guaranteed prosperity and repelled evil spirits. If tomatoes were out of season, families improvised by using a round ball of red fabric filled with sand or sawdust. The good-luck symbol also served a practical purpose-a place to store pins. These days, a strawberry-shaped emery often comes attached to the tomato. It is filled with silica, which cleans and sharpens pins and needles.
With its shut-tight lid, the magnetic dispenser is the best way to transport pins, and the lid grabs a few pins every time you open it.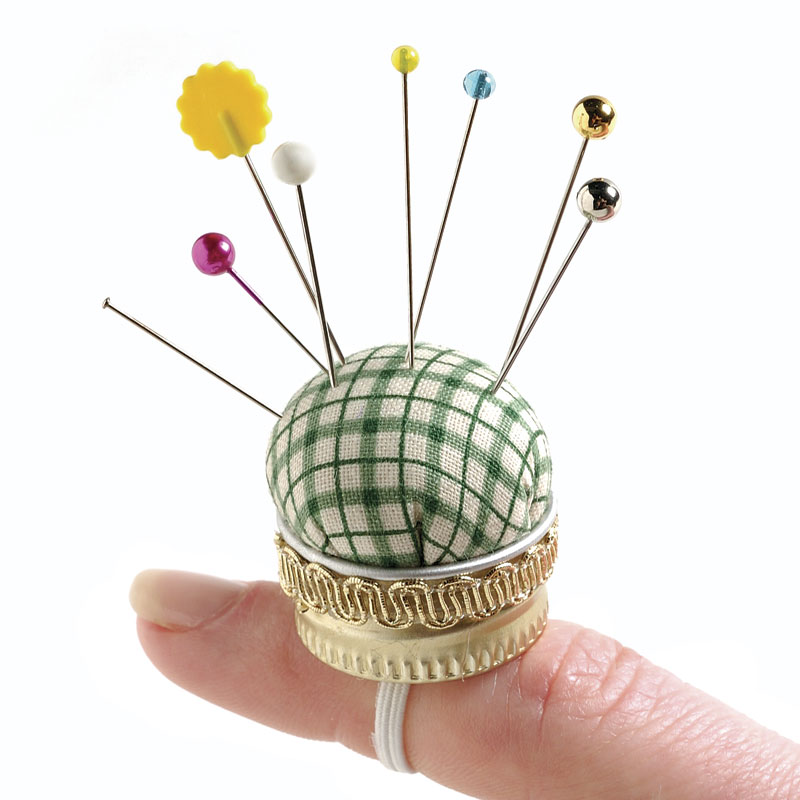 Although called a magnetic pincushion, this tool is really just a magnetic dish. Fill it with pins and flip it upside down-not one will wriggle free. You can also toss a pin in its general direction and the magnet will draw it in. Available from Clotilde, LLC.
A finger pincushion. Available from Prym-Dritz Corporation.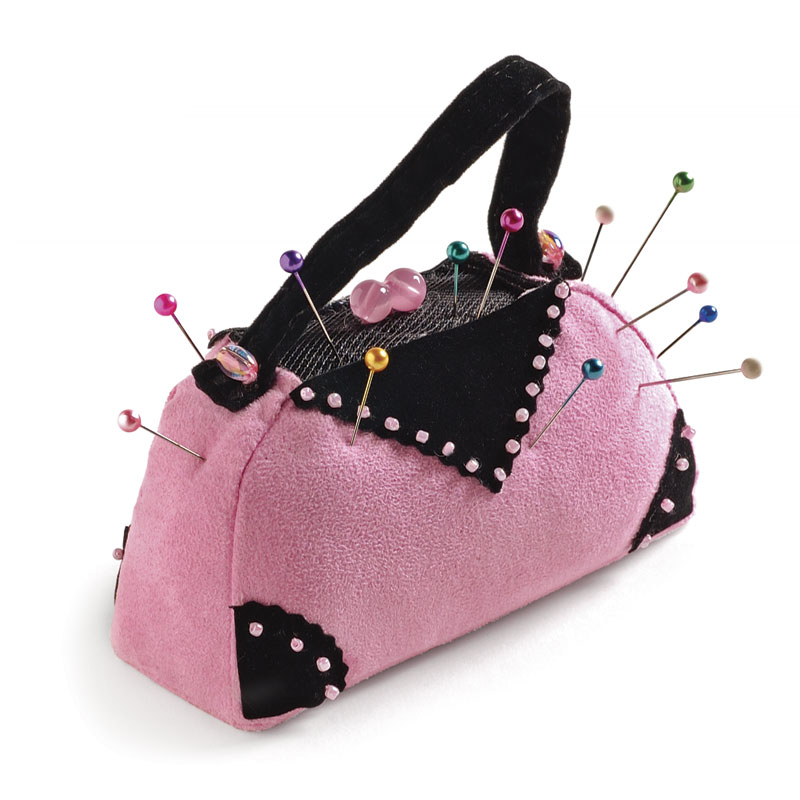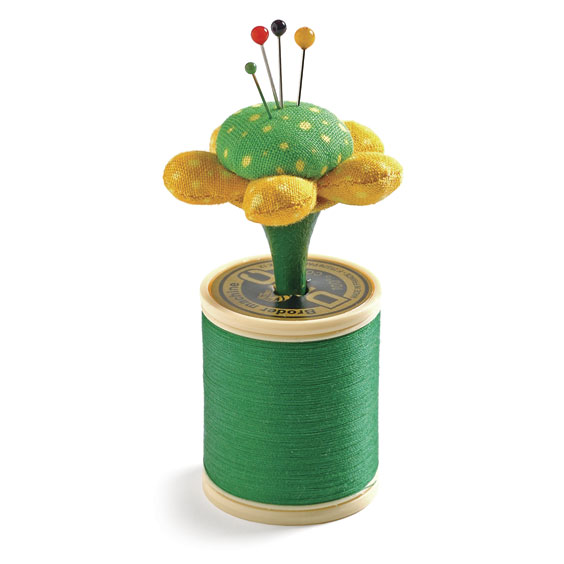 Pincushions can take on a variety of whimsical shapes. To break away from the traditional tomato, try a stuffed purse. Available from Prym-Dritz Corporation.
Pincushions can take on a variety of whimsical shapes. To break away from the traditional tomato, try a flower mounted on a golf tee. Available from Prym-Dritz Corporation.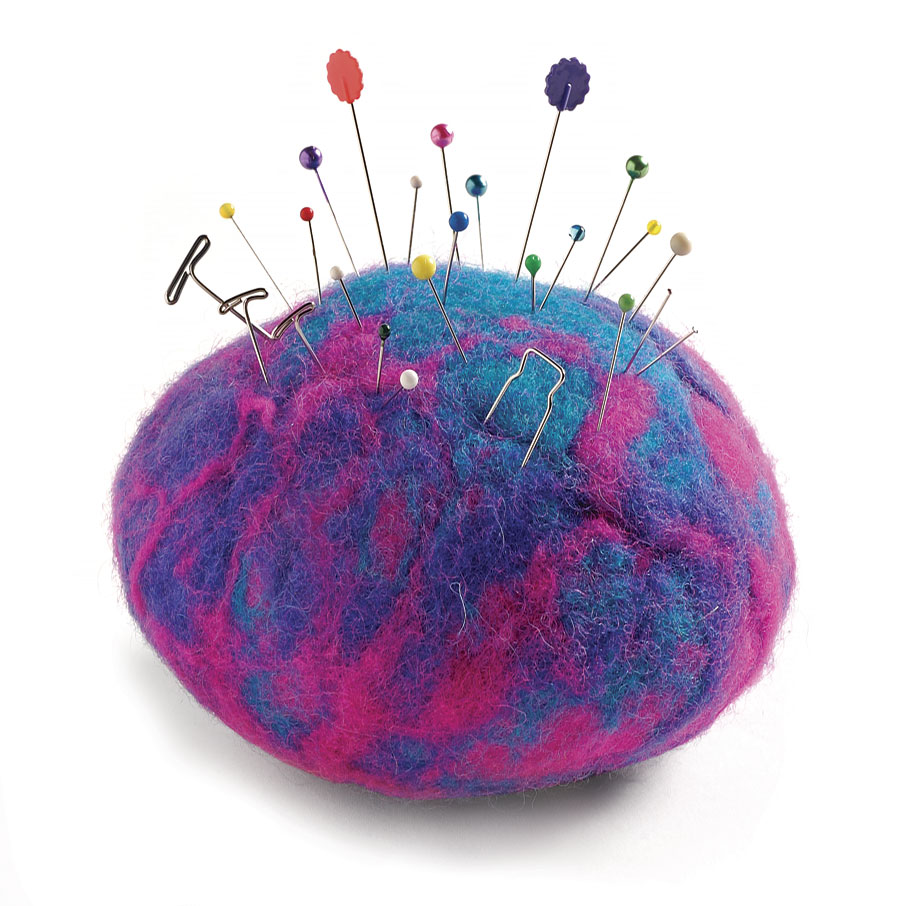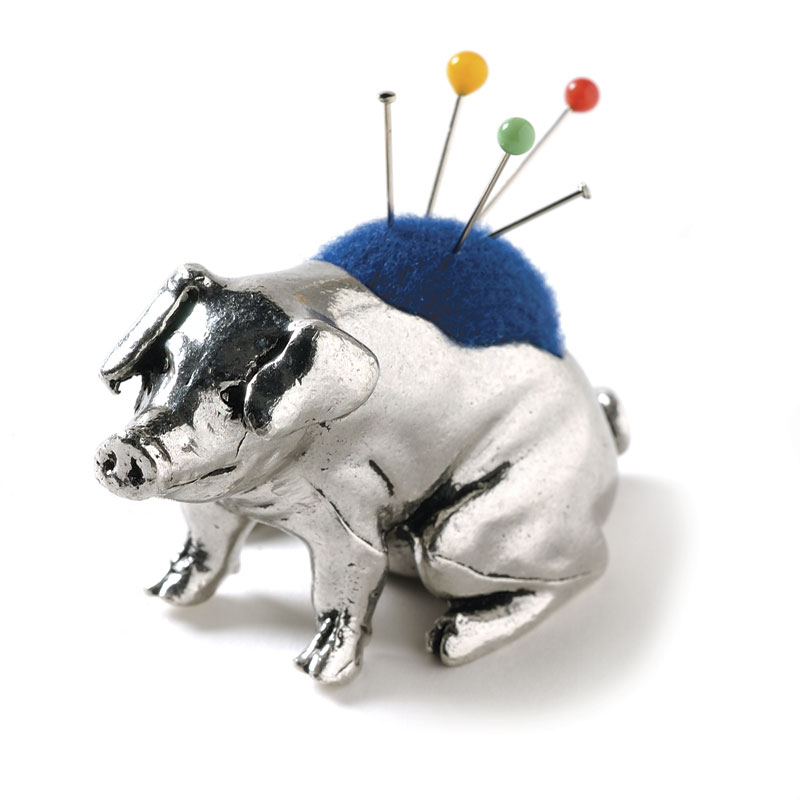 More sources for pins and pincushions

Clover Needlecraft, Inc.
(pins)
Color Me Patterns
(pincushion patterns)
903-868-3105
Nancy's Notions
(pins and pincushions)
QuiltSmiths
(pincushions)
Carol Laflin Ahles would like to thank Teresa Settles and Dianne Giancola at Prym-Dritz, Sarajane Johnson and Cheryl Savini at Quilters' Resource, Mr. Jan Carr at Clover, Clotilde, and Kay and Steve Lancaster.
Get the latest including tips, techniques and special offers straight to your inbox.