New Sewing Machines by Pfaff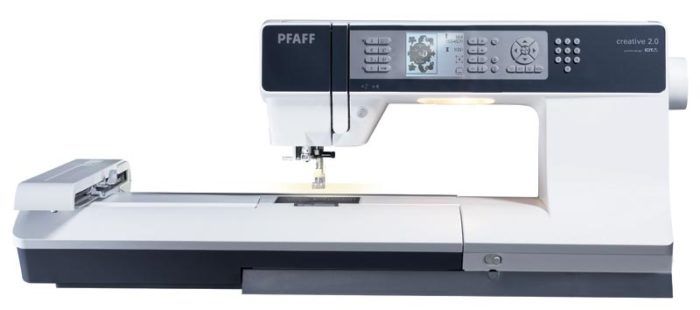 compiled by the editors of Threads
An Online Extra to Threads #140, p. 28
For more information on the Pfaff machines listed here, visit www.pfaffusa.com. For information on new releases by other manufacturers, see The Latest in Sewing Machines.
Pfaff—Creative 2.0 and 4.0
The new PFAFF® CREATIVE™ 2.0 and CREATIVE™ 4.0 sewing and embroidery machines are the newest members of the CREATIVE line of PFAFF machines. Created using the new PFAFF platform which set an industry-wide standard for sewing space (250mm, 10 inches, space to the right of the needle), the CREATIVE 2.0 and CREATIVE 4.0 machines provide sewers an intuitive user interface that enables the creation of complex and large embroidery designs with a touch of a stylus. The available 300 intricate 9 mm stitches on the CREATIVE 4.0 machine will inspire new ideas. The Original IDT™ feature, precise positioning, adjustable LED lighting, the longest free arm and most space to the right of the needle are only a few examples of the hundreds of features now being made available.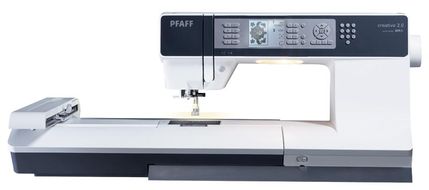 Pfaff—Creative Vision
The new PFAFF® CREATIVE VISION™ sewing and embroidery machine, the world's most advanced sewing and embroidery machine, remains the number one desired machine for advanced sewers. Its brand new features include automatic Cut Jump Stitch, tapering with patchwork, new beading and candlewicking stitches, and the ability to see how much time it will take to embroider a color block. The CREATIVE VISION sewing and embroidery machine offers sewers previously unavailable features and benefits including enhanced sewing precision, brightness and more sewing space.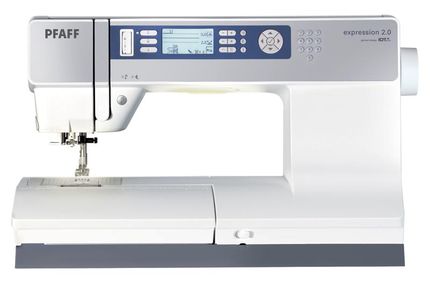 Pfaff—Expression
The PFAFF EXPRESSION line of sewing machines provide spacious, bright and precise features giving flexibility for quilting, fashion design, and home décor projects. The PFAFF EXPRESSION line includes the EXPRESSION 2.0, EXPRESSION 3.0 and the QUILT EXPRESSION 4.0 designed specifically for quilter's needs. With 250 mm / 10 inches of space to the right of the needle, dual lighting, 37 different needle positions available for a straight stitch, and the Original IDT™ feature, PFAFF has brought affordable high quality features to sewers around the world.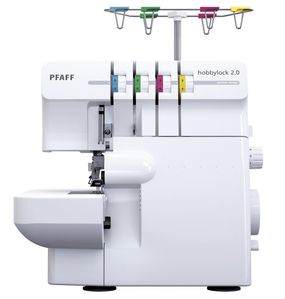 Pfaff Hobbylock 2.0
This new overlock and serger machine saves sewers time as it handles sewing, trimming and finishing in one step. These multifunctional features that create 1,300 stitches per minute are ideal for the sewer who likes precise results in stretch fabric and knits.
Photos courtesy of Pfaff