Scissors are essential to every sewer, but for cutting a pattern, I prefer a rotary cutter. Unlike scissors, a rotary cutter cuts through multiple layers of fabric and a pattern without lifting the stack off the table. A scissor blade can shift layers when it slides under them.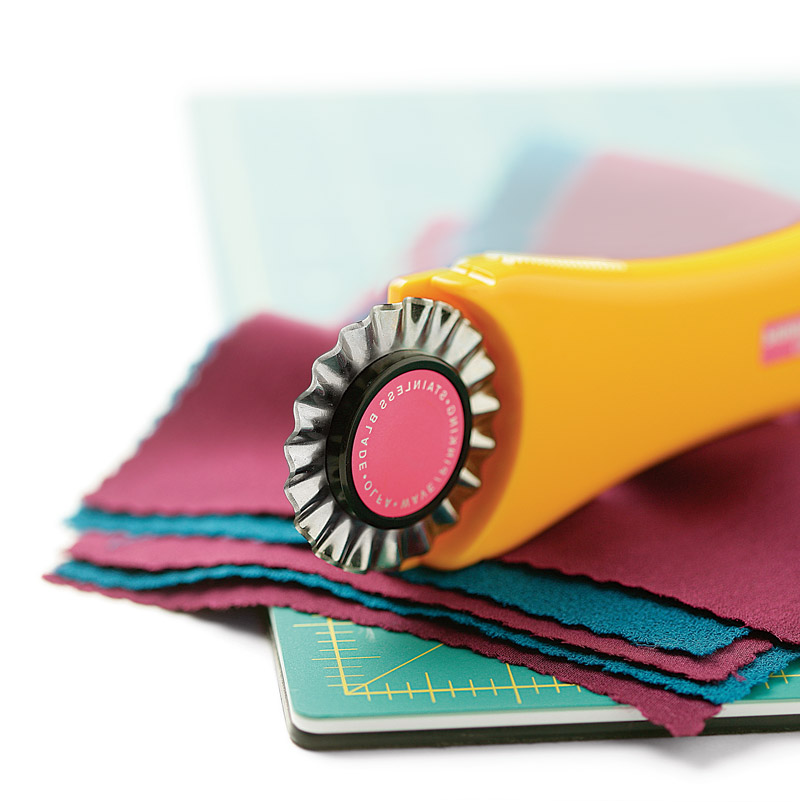 Cutting a seam with a rotary cutter's razor-sharp circular blade is often as easy as a wave of your arm. And because they cause much less arm and hand strain than scissors, rotary cutters are ideal for arthritis sufferers. Most cutters work for either the right or left hand.
Using a rotary cutter requires a special mat underneath the fabric to protect your table and the cutter's blade. Large mats are expensive—the main drawback to rotary cutting. I'll tell you how to ease that expense below.
Rotary cutters come in a variety of sizes and shapes
Blade diameters determine the handle size and range from 18 mm to 65 mm (approximately 3/4 inch to 2 1/2 inches). Smaller cutters navigate tight curves such as armholes or necklines. Larger ones cut through heavier fabrics, loftier thicknesses, and more layers, and they move effortlessly along a straight or moderately curved seam.
| | |
| --- | --- |
| Omnigrid 45-mm cutter with a soft-cushion handle. | Olfa 18-mm cutter |
| Dritz 45-mm pressure-sensitive handle | Martelli's 45-mm ergo rotary cutter |
| Olfa rotary circle cutter cuts 1 7/8- to 8 1/2-inch-diameter circles | Clover's 45-mm cutter with replacement blades and protective holders |
| Fiskars's 65-mm cutter; handle accommodates 45-mm and decorative-pattern blades | Olfa 28-mm ergo rotary cutter with push-button and self-releasing safety lock |


Alternative cutting edges include blades for pinking or scalloping, which are interchangeable and far less expensive than their corresponding shears. Circle and point cutters provide unique cutting for specialized use.
All brands offer replacement blades, but you can extend the life of your blade by having it professionally sharpened or by sharpening it yourself.
Be careful
Rotary cutters are extremely sharp. Be vigilant about where you position your free hand, always use a sharp blade (dull ones require more force to use), keep them retracted and locked when not in use, and—very important—store your cutter out of the reach of children.
Sharpen your blades and extend their life
| | | |
| --- | --- | --- |
| | TriSharp blade sharpener | |


You can send dull blades to a professional sharpening service or you can use the TriSharp rotary-blade sharpener for 28-mm, 45-mm, and 60-mm blades.
Mats protect table and blade
Designed to protect your work surface and the life of your blade, cutting mats are usually printed with a right-angle grid and show a 45-degree diagonal line for bias cutting.
Mats come in an unlimited range of sizes, shapes, and custom cuts. You can find larger sizes online or at sewing or quilt shows.
Unless it was designed to fold or roll, store your mat flat on a dedicated surface, hang it on a wall, or leave it in a suitable environment that protects it from extreme temperatures and buckling. And to prolong the life of your mat, you should never iron on it.

Three types of mats
Flexible, milky white pinnable mats have the softest surface of all the mats—soft enough to pin into, hence the name, but also soft enough to cut into. They are solid polyethylene and designed for use on both sides. One problem with pinnable mats is that the cut edge of fabric can get embedded if your blade is dull; the fabric edge distorts when you lift it away from the mat.
Sandwich mats—today's most readily available mats—are thinner than pinnable ones and made from a hard, high-density PVC center layered between polyethylene outer surfaces. The hard core stops the blade from cutting through the mat but not from cutting through the outer layer. You can find these mats in fabric stores, online, and by mail order.
The Big Mat is solid 30 percent to 40 percent recycled PVC polypropylene styrenate. The nearly impenetrable composition allows you to cut on the surface of the mat and not into it, which prolongs the life of your blades and doesn't allow fabric edges to poke into the board. These mats come with a burnisher to refresh the surface. You can order them cut to any size, with standard round sizes available, with or without printed grid lines. They have a five-year guarantee, but Anna Mazur, our Pattern Review author, has used hers for more than 10.
| | | |
| --- | --- | --- |
| | Trisharp mat smoother and Sewing Emporium mat eraser | |
Repairing/healing mats
You can damage the surface of your mat when you use dull blades that require extra pressure to get through the fabric. TriSharp makes a mat smoother and Sewing Empo­rium makes a mat eraser to polish out surface flaws—but prevention is still the best method. Keep your blades in good shape and only use as much pressure as it takes to get through the fabric so you don't gouge the mat.
This article was originally published in Threads #122, Dec. 2005/Jan. 2006.
Photos, except where noted: Sloan Howard
Get the latest including tips, techniques and special offers straight to your inbox.