Mastering the Narrow Hemmer, Part One

It's hard to imagine a more basic or useful edge finish than the narrow hem. You see it everywhere: on most blouses and shirts, many linings, sheer or circular skirts, as well as on scarves, ruffles, napkins, tablecloths, and handkerchiefs. But for all its simplicity, this tiny detail can be very challenging to make well. Its very narrowness makes any inconsistency in width or inaccuracy in stitching quite obvious. Pattern instructions for these hems usually read something like: "Turn edge under 1/4 in., press, stitch near fold, trim to 1/8 in., then turn under, press, and stitch again." After many unsuccessful attempts to do this without burning my fingertips and producing uneven, amateurish results, I decided to try the professional approach: using one of the narrow-hemming presser feet available for my sewing machine. Like many sewers, I was at first frustrated with the narrow hemmer. But persistence and practice paid off, and it has become clear to me that using a foot is the only way to go. In the photos here and in the related articles, I'll show you in detail how to choose the appropriate foot, keep your fabric feeding smoothly, deal with crossing seams, corners, and other typical hemming situations, and how to achieve decorative hemming effects. But before we plunge in, let's clarify some terms, and consider a few basic points about fabric choice and handling.
Anatomy of the narrow hemmer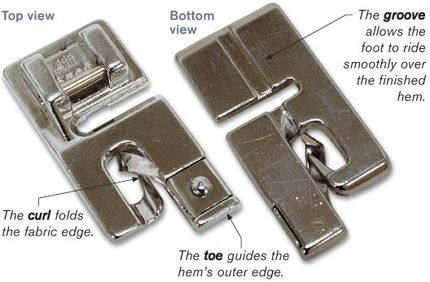 Regardless of manufacturer, all narrow hemmers have the components at left.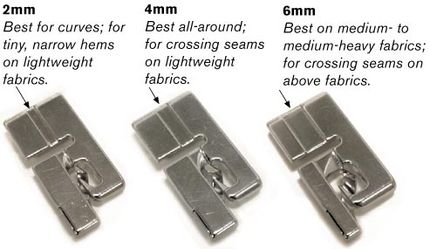 The width of the bottom groove determines hem width
Many narrow hemmers come in three widths, 2mm, 4mm, and 6mm, which denotes the width of the groove on the bottom of the foot and the hem it produces.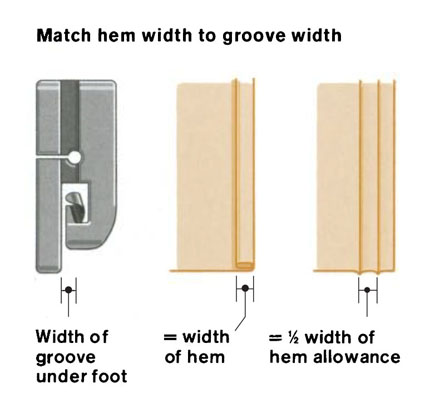 Match hem width to groove width
A hemmer by any other name…
As you'll see here, there's a small but distinctive range of functions provided by the presser feet called "hemmers." But because some manufacturers offer different feet for the various functions, while others provide a multifunctional foot, many first-time users start off confused, and may actually be trying to use the wrong foot. To make things even more confusing, there's no standardized terminology for naming these feet. Some companies call their hemmers "narrow hemmers," others use the term "rolled-hem" feet, and still others refer to them as "shell hemmers." Regardless of how manufacturers use these terms, here's how I define them:
• A narrow hemmer is a foot of any width designed to fold a fabric edge over twice and stitch it down flat, with a straight stitch positioned along the inside fold.
• A rolled hemmer also folds an edge over twice, but it uses a centrally positioned zigzag stitch to pull the fold into a tight, round, rolled edge, similar to what heirloom sewers refer to as a "roll-and-whip" edge. This foot is typically 2mm wide, with a rounded groove, or channel, underneath, instead of a flat channel as on narrow hemmers, as shown in Anatomy of the Narrow Hemmer. Some rolled hemmers can also be used with a straight stitch for a tiny, flat hem.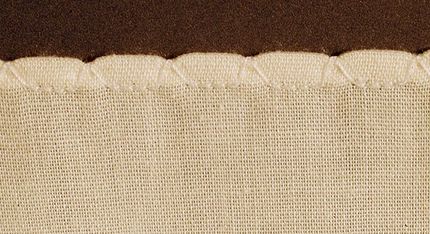 Shell edging, made using a blind-hem stich.
• A shell hemmer makes the same sort of fold as the others, but it uses a zigzag or blind-hem stitch to form the outer fold into tiny scallops, called shells, as shown in at right. It can also be used with decorative stitches for other decorative hem effects. This foot may be available in various widths, especially if it can also be used for narrow hemming.
As you can see, zigzag stitches are not required for a basic, flat, narrow-hem finish, so if your hemming foot has a wide needle opening to allow for zigzag stitching, it may be multifunctional, or it may be expressly designed for one of the other purposes just described. If so, the manufacturer will usually offer another foot specifically for straight-stitch narrow hemming. If your particular machine requires you to use a different foot for each type of hem, it's probably because of a limitation in its range of possible needle positions. Unfortunately, these distinctions are usually not obvious. To help sort through the confusion, I suggest you get a list of all available feet for your particular machine, with descriptions of their functions, from a dealer or the manufacturer. If you don't have such a list, experiment with various needle positions to see if you can get the effects you want, carefully lowering the needle by hand, at first, to be sure it won't hit the foot.
Matching foot to fabric
The folding mechanism on hemming feet is rigid, limiting the possible thickness of fabric that can be hemmed to light- to medium-weight wovens, although tricot and other lightweight knits can often be hemmed, usually with a zigzag-shell effect to allow for stretching. The given width of a foot indicates the size of the finished hem, as well as the width of the opening in front and the channel underneath. Also, narrower feet can't handle fabrics as heavy as wider feet can. Here's a listing of suitable weights for the most commonly available feet:
Rolled hemmer: For very lightweight fabrics only (handkerchief linen, batiste, voile, gauze). Makes hems approximately 1/16 in. to 1/8 in. wide.
2mm narrow hemmer: For very lightweight fabrics. Makes hems approximately 1/16 in. to 1/8 in. wide.
3mm to 4mm narrow hemmers: For light- to medium-weight fabrics (broadcloth, shirting). Makes hems approximately 1/8 in. to 3/16 in. wide.
5mm to 6mm narrow hemmers: For light- to medium-weight fabrics (poplin, flannel). Makes hems approximately 1/4 in. wide.
Shell hemmer: For lightweight fabrics, including knits. Makes hems the same widths as narrow hemmers, up to 4mm
Read more…
Mastering the Narrow Hemmer, Part Two
Sewing a narrow hem
Mastering the Narrow Hemmer, Part Three
Basic and advanced techniques
Carol Laflin Ahles writes and sews in Houston, Texas. She is the author of Fine Machine Sewing.
From Threads #98, pp. 36–40
Photos: David Page Coffin; drawings: Karen Meyer
Get the latest including tips, techniques and special offers straight to your inbox.