The Whimsical Creations of Saskia Wassing-Shepherd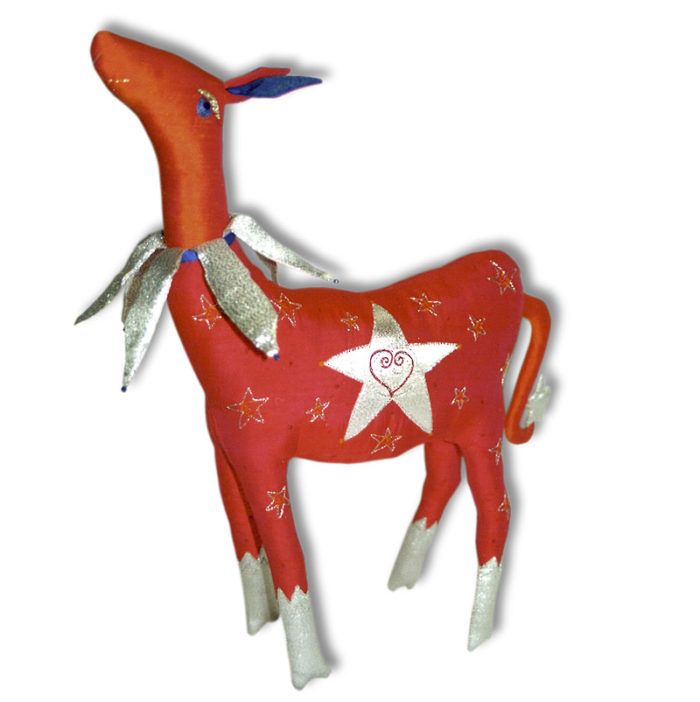 by David Page Coffin
an Online Extra to Threads #108
Saskia Wassing-Shepherd, author of "Making Ottomans" in the August/September 2003 issue of Threads (#108), designs and makes soft and semi-soft furniture and accessories for the home, and has made available to us a small virtual portfolio of her work.
For more information, visit Saskia's Web site, www.saskiadesigns.com. If you'd like to try your hand at making an ottoman like those shown here, check out issue #108; and if you're interested in slippers with a similar flair, look for Saskia's article "Light on the Sole" in the December 2002/January 2003 issue of Threads (#104).
Saskia's stuffed-animal creations are one-of-a-kind, personal explorations of patternmaking and embellishment. They're about 10 to 12 inches tall, made without interior armatures, but sometimes include florist's wire to allow for positioning parts of the design in various ways.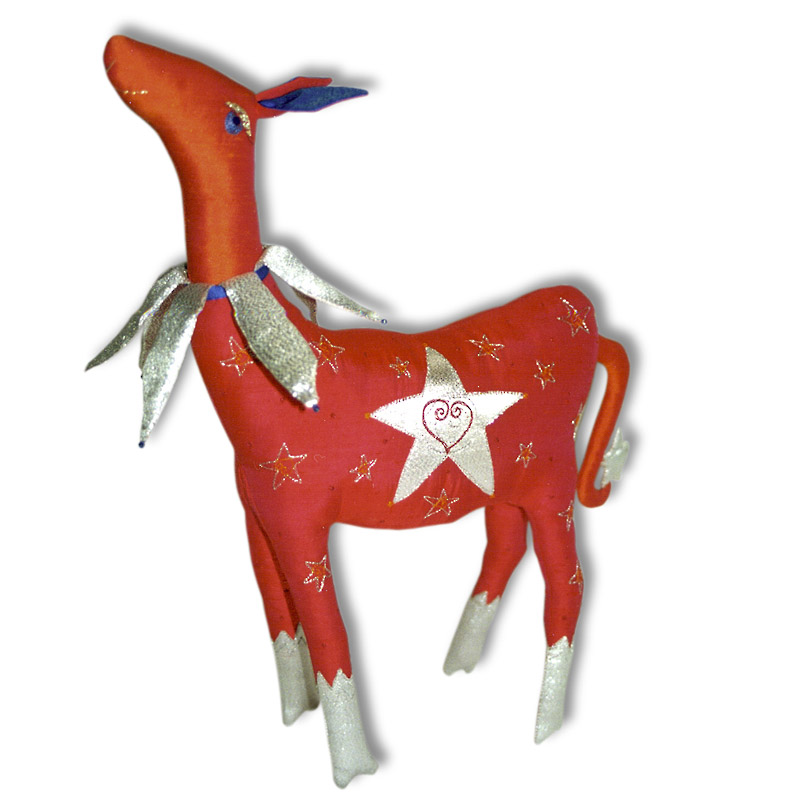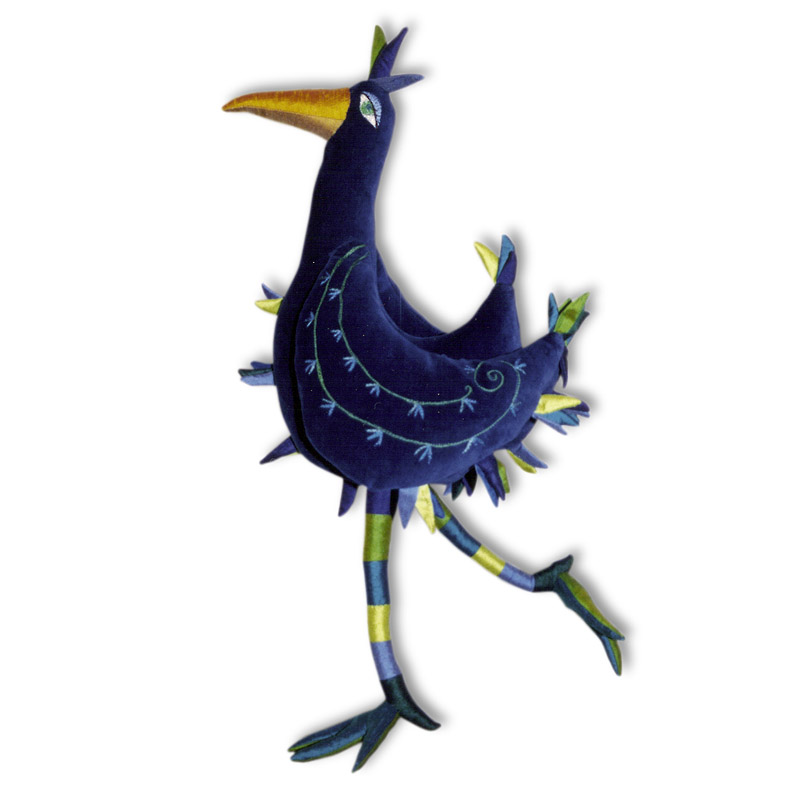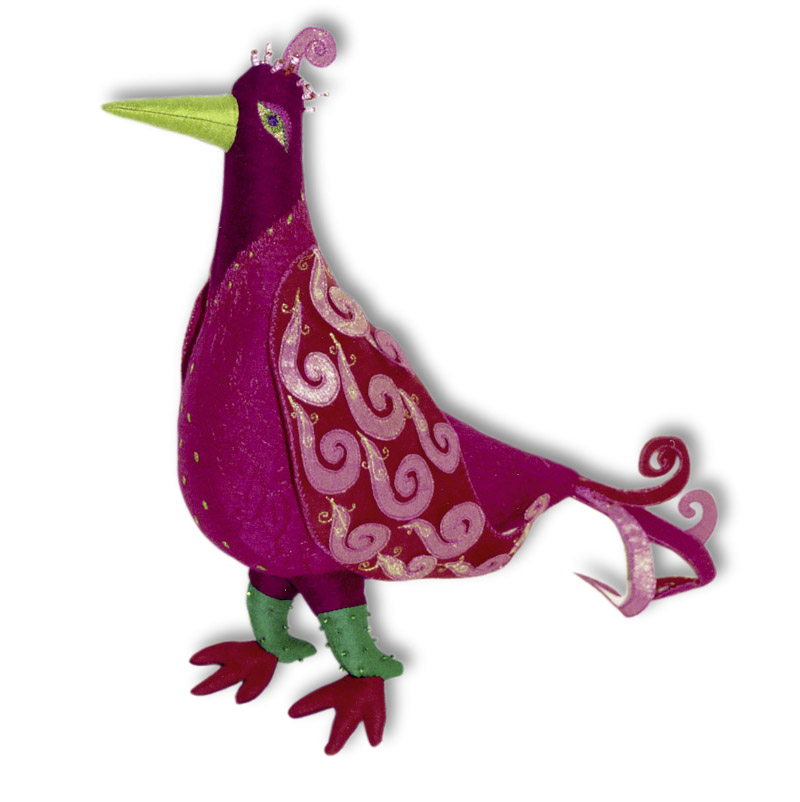 The Disco Llama Mad Morris Petrushka Papink
(with wired wings)
Playful pillows— most of which have removable covers— are embellished with Saskia's signature free-motion embroidery.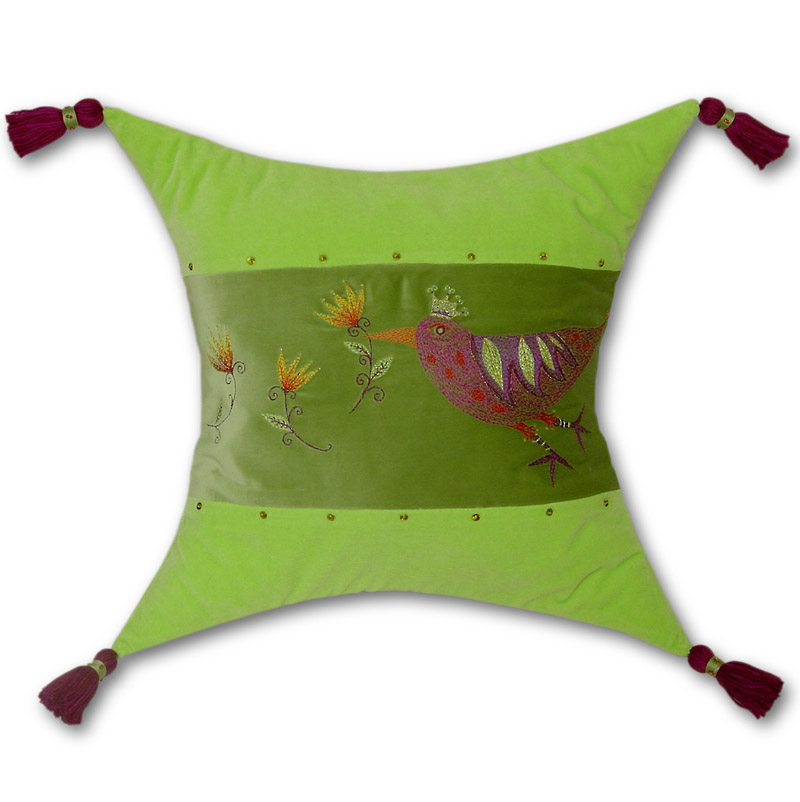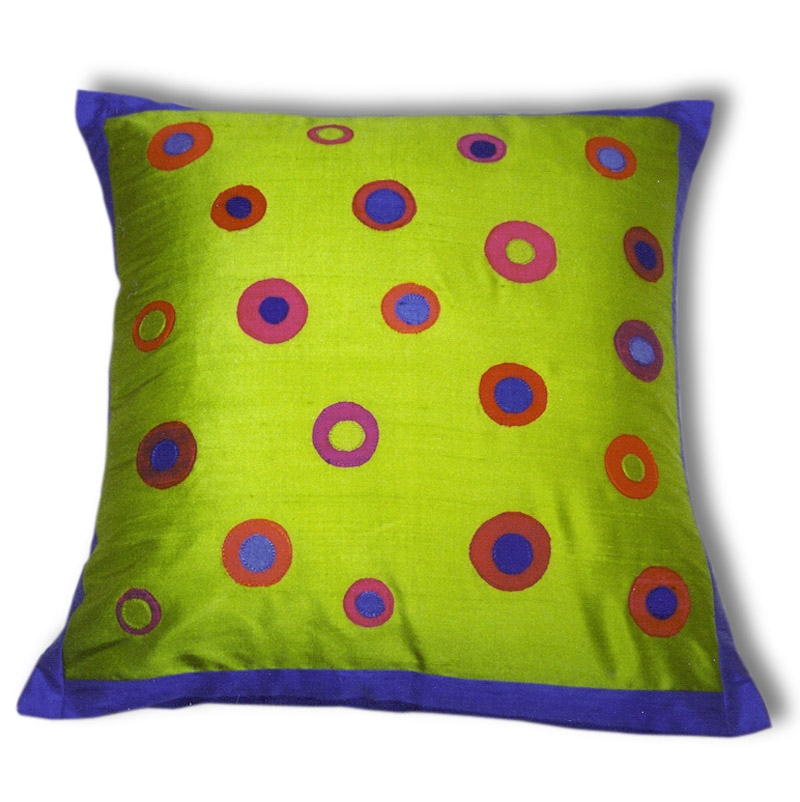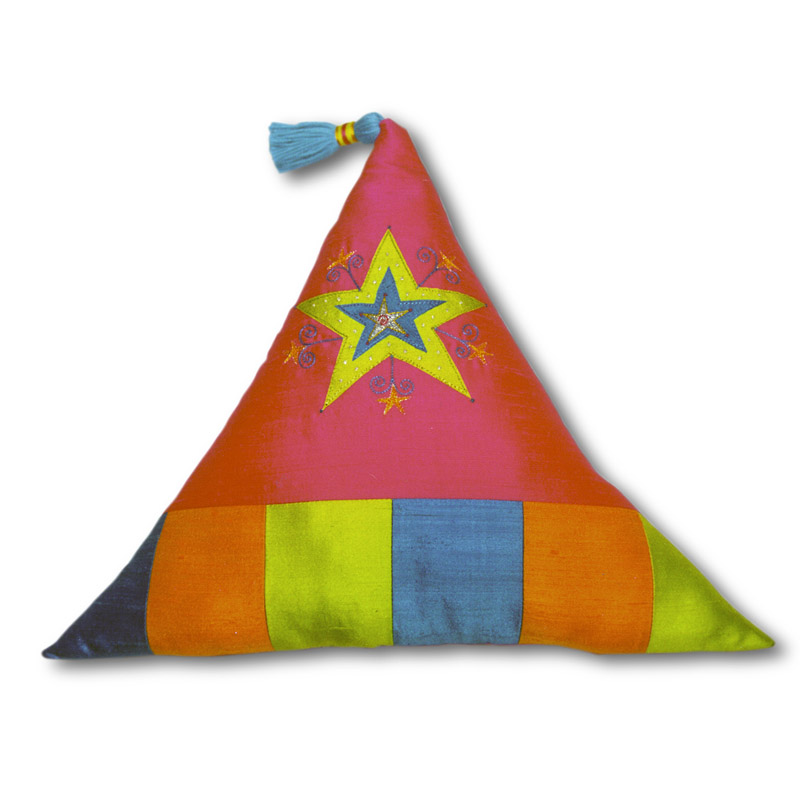 Funky Square with Bird
(16 inches point to point, velvet)
Green Dot Cushion
(16 inches, silk) Triangle with Star
(12 inches high, silk)
Get inspired by Saskia's ottomans, which are characterized by bright, pieced-velvet covers and unusual shapes. Her "poufs" all sit close to the floor, supported by short ball feet.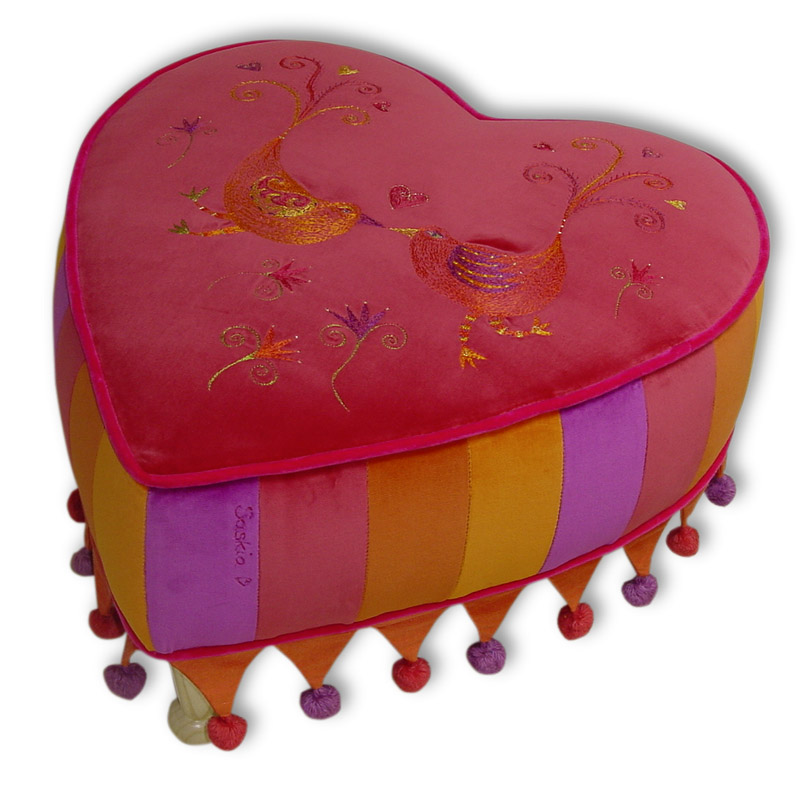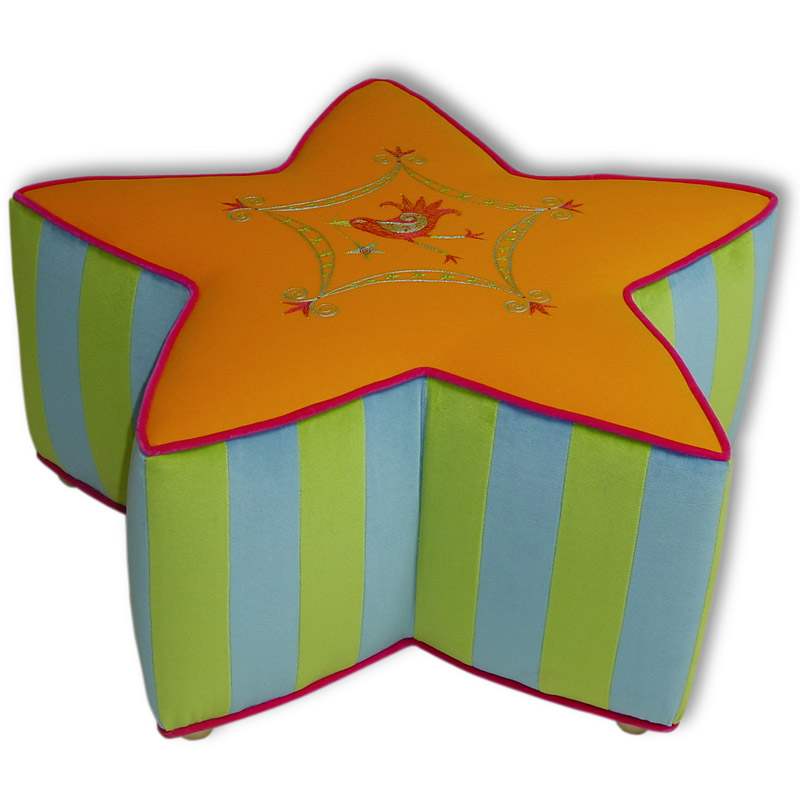 Heart with Birds
(17 inches by 10 inches)
Mango Star Pouf
(27 inches by 11 inches)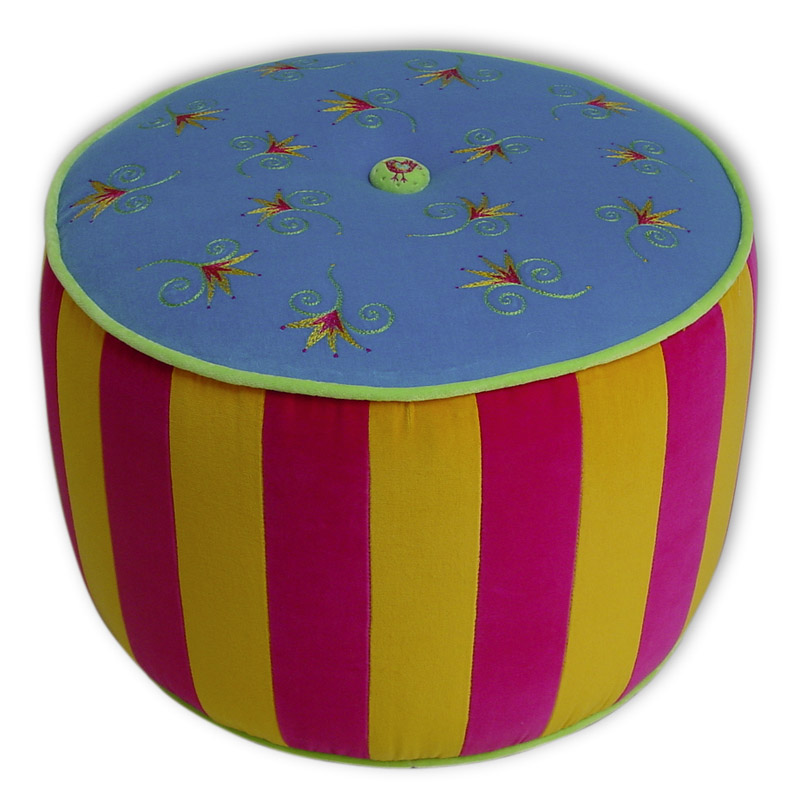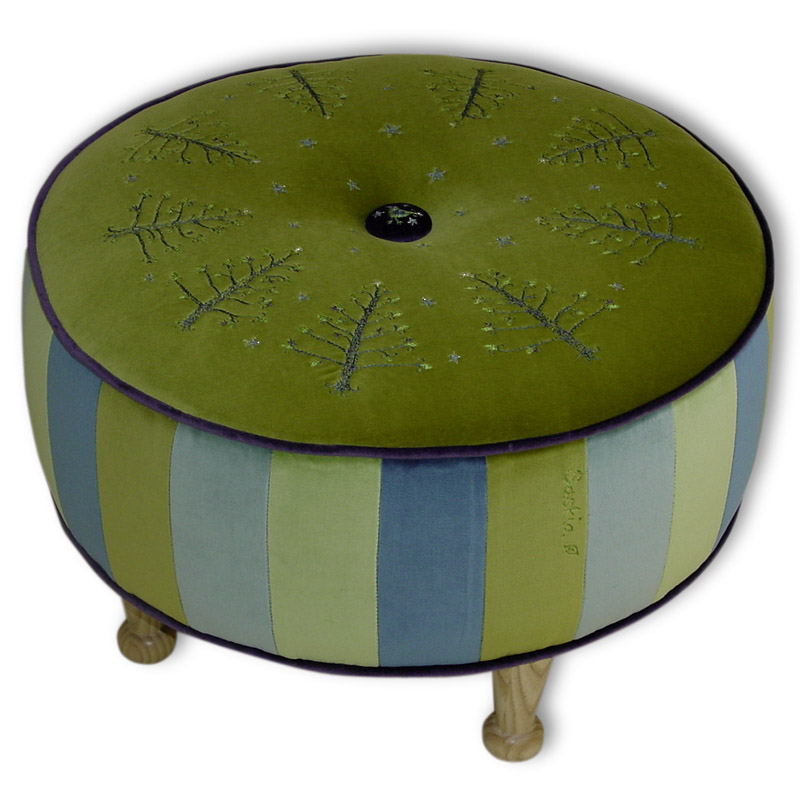 Tulip Pouf
(15 inches by 11 inches)
Olive Ottoman with Trees
(18 inches by 11 inches)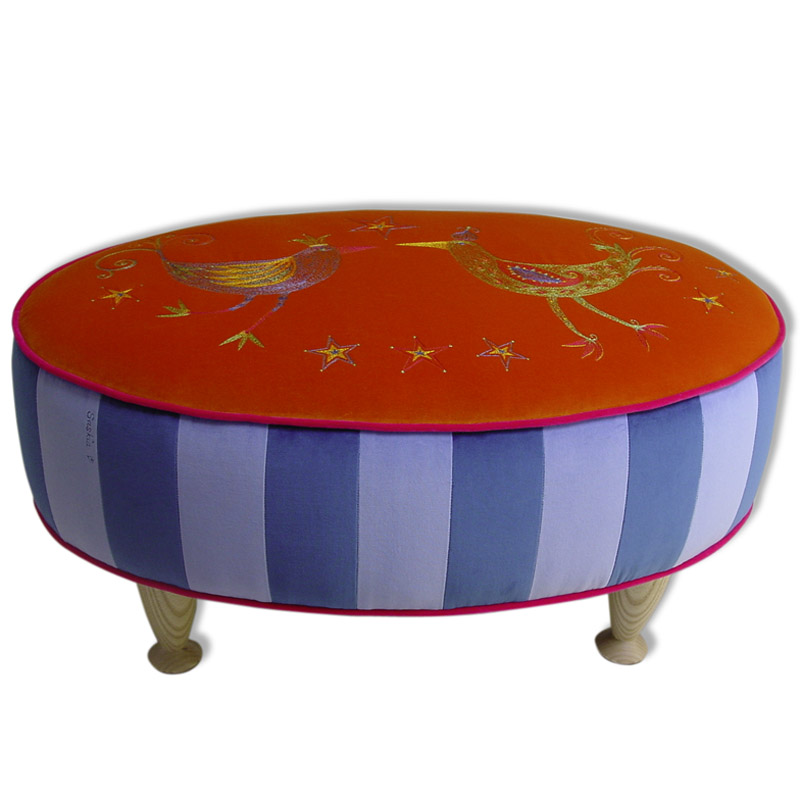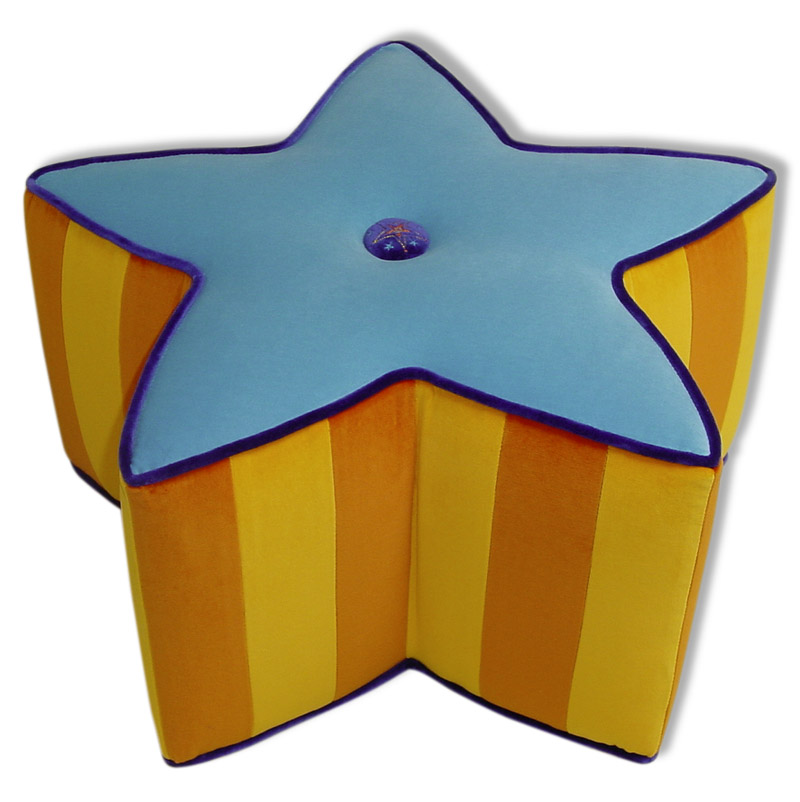 Large Oval with Birds and Stars
(30 inches by 18 inches by 15 inches)
Small Turquoise Star Pouf
(22 inches by 11 inches)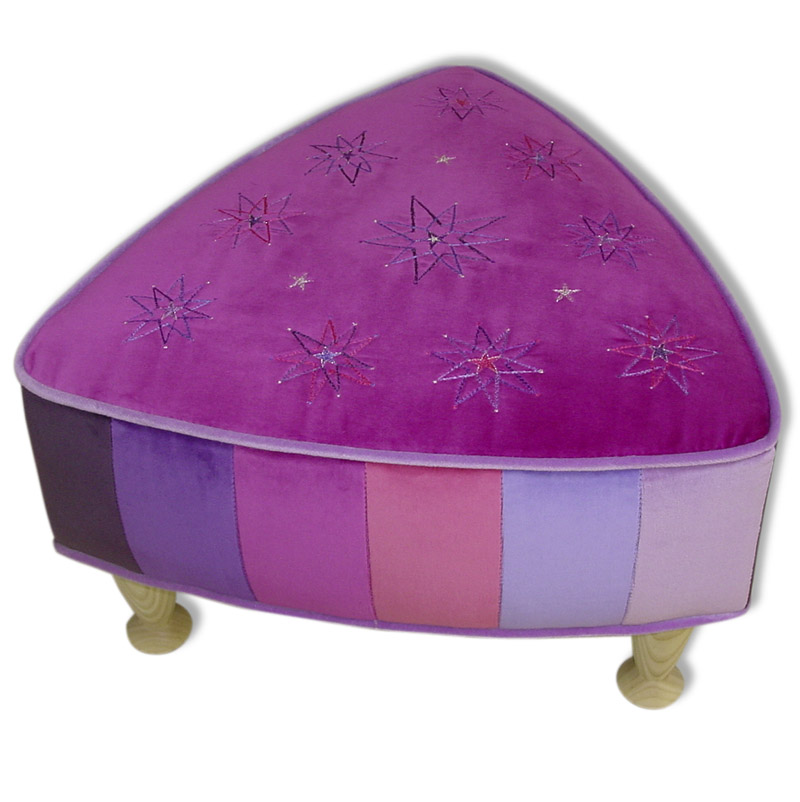 Small Triangle with Stars
(17 inches by 10 inches)
Her largest and most recent creation is an indoor/outdoor total environment in the form of a pavilion-like tent, which can be packed up to fit into a small station wagon. The roof is square, and the multilayered curtain-walls can be arranged in various ways to provide varying degrees of privacy and openness. The central metal support for the roof incorporates a small fabric-covered table, surrounded by four rectangular floor cushions.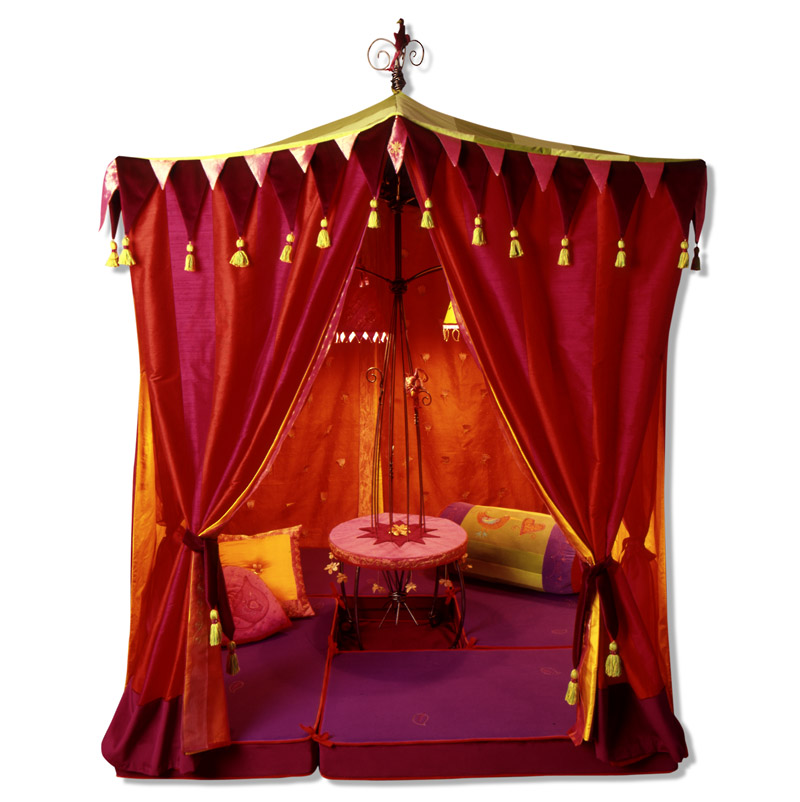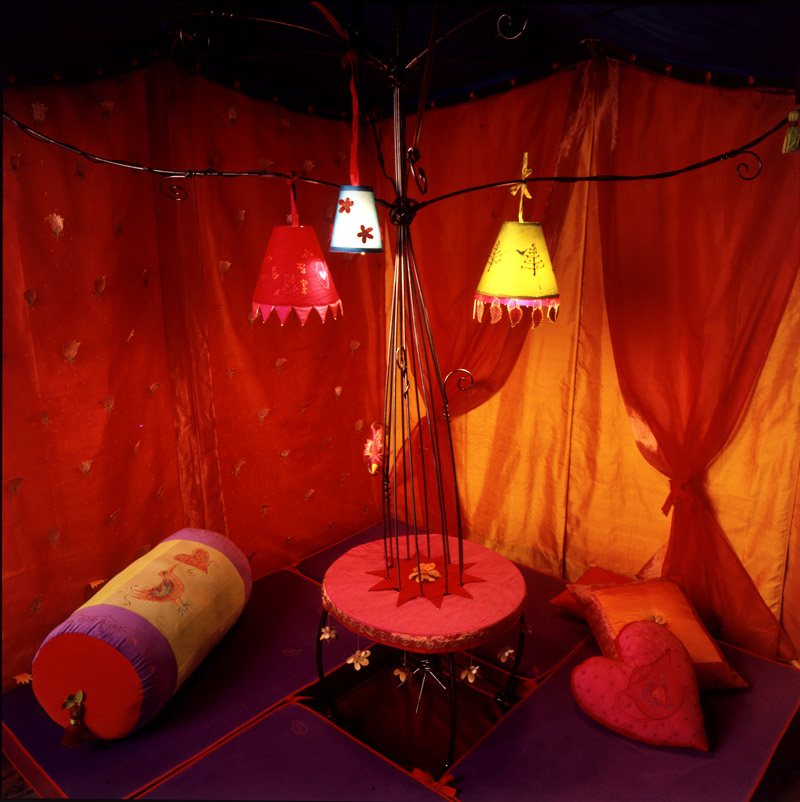 The Tent Room
(6-1/2 feet by 6-1/2 feet by 7 feet)
Interior
(showing repositionable low-powered lamps)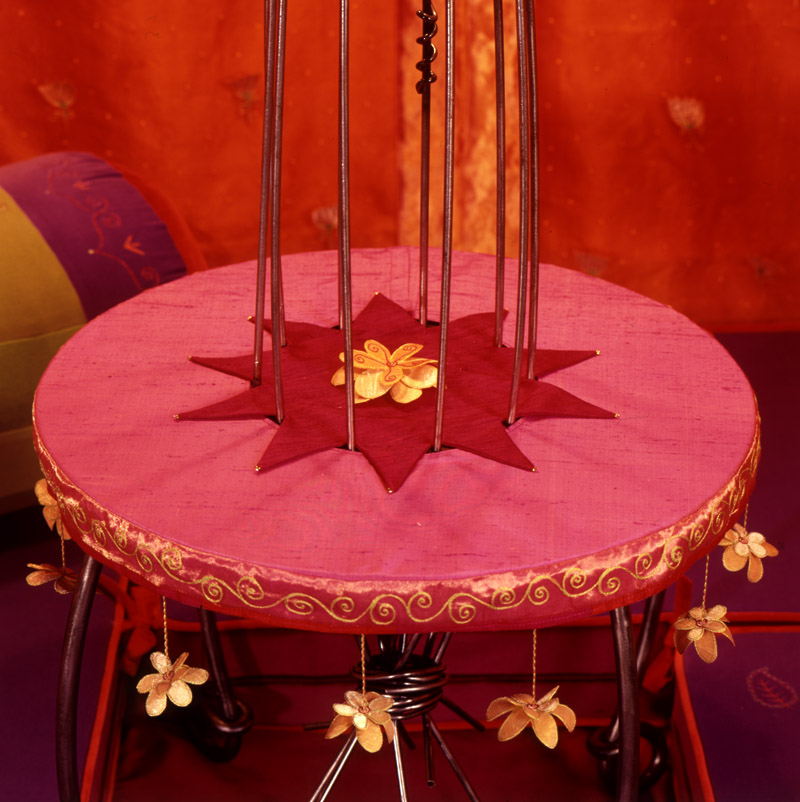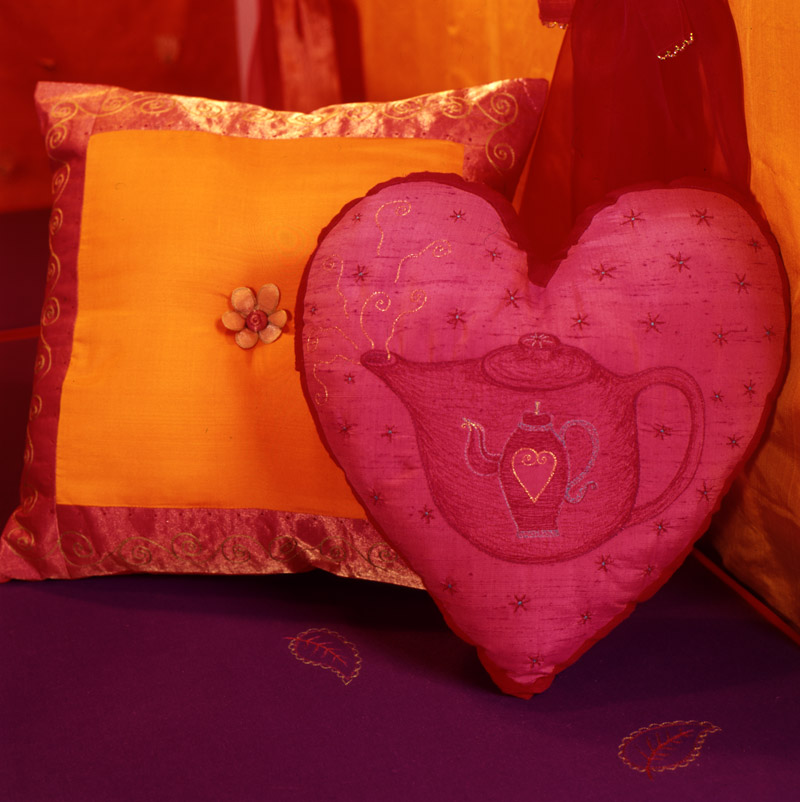 Fabric-Covered Table
(detail)
Tent Cushions
(14-inch)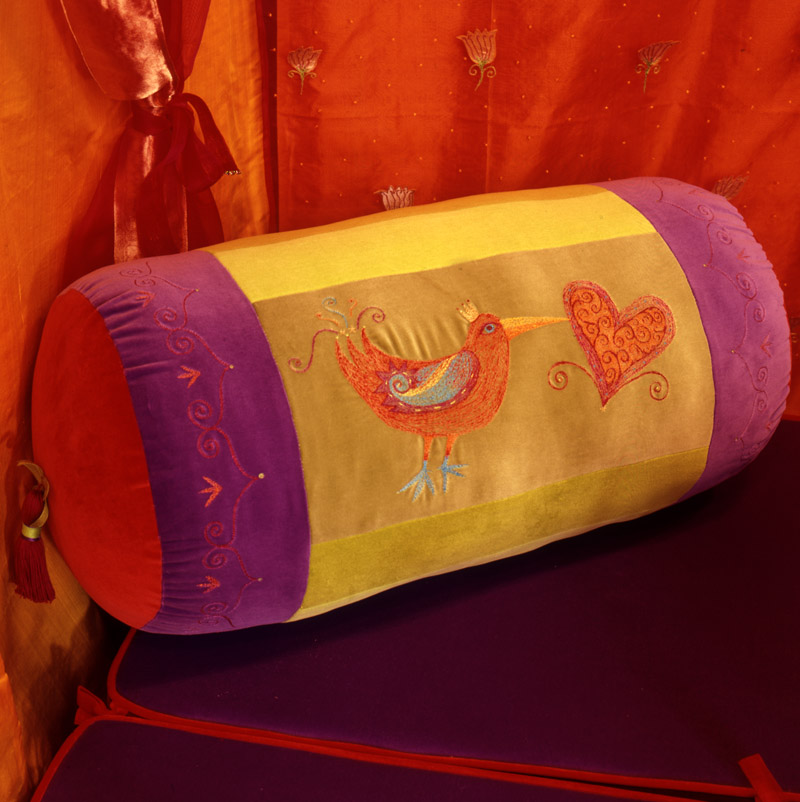 Tent Bolster
(26 inches by 13 inches)
David Page Coffin is senior editor of Threads.
Animal, pillow, and ottoman photos: Saskia and Doug Wassing-Shepherd. Tent photos: Etric Lyons