Packing Tips Help You Travel in Style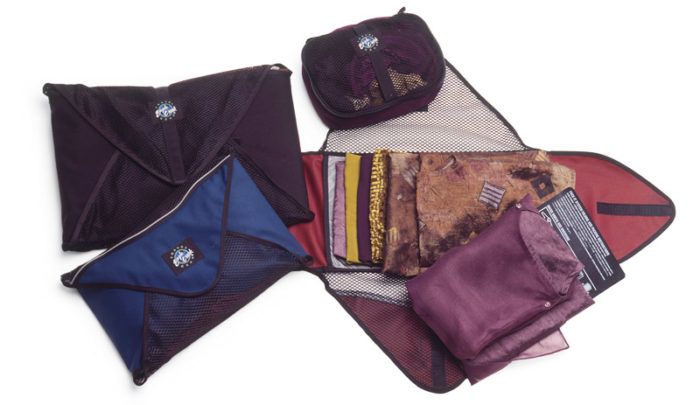 by Marcy Tilton
from Threads #100, pp. 76-81
I have found a packing system that simplifies living out of a suitcase: a collection of mesh envelopes that keeps garments neat and organized. Mine came from Eagle Creek (www.eaglecreek.com), but similar versions are available from other companies, or you can make them yourself.
Sort T-shirts, pants, and lingerie into their own piles, place each pile into a separate envelope, and close it with hook-and-loop tape. Since they don't get stirred up when you rifle through a suitcase, the garments don't wrinkle and are easy to find. On one-night stays, I fold up what I've worn and pull out what I want to wear tomorrow. I rotate the garments by putting what I wore today on the bottom of the pile.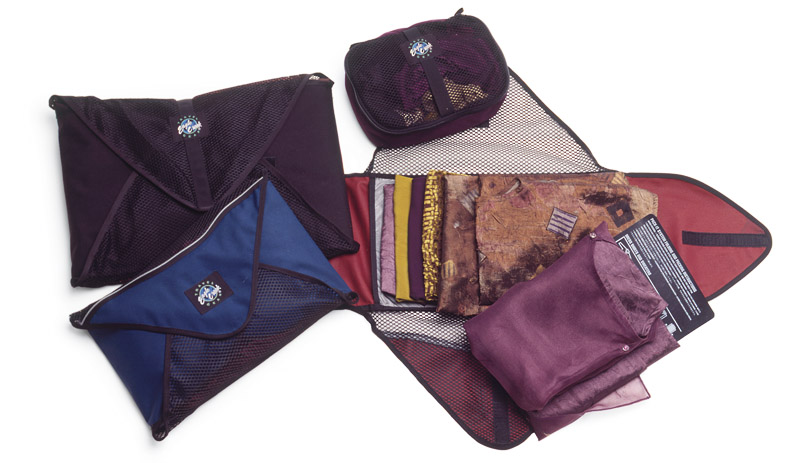 This packing system comes with a lightweight board to use as a guide for folding garments to the right size for the envelope smoothly and easily.
In "Create a Travel Wardrobe" in the April/May 2002 issue of Threads (#100), I share how to put together the right clothing for days or weeks on the road. The following are some pattern suggestions for garments and accessories shown here and in that article:
Jacket/Coat
The black raincoat shown in the article is an Issey Miyake pattern, Vogue 2038, and is no longer in print.
Suggested alternatives:
• Vogue 7395: View A is a beautifully shaped finger-tip length jacket that's easy-sewing and fits most figures with little or no alterations. The roll cuff makes sleeve length adjustment a snap. Use a light raincoat fabric, in a great color and embellish with paint, appliqué, stencil, or stamps. View B of this same pattern could be adapted to be single-breasted and made quilted and reversible.
• Burda 8816: lengthen to 3/4-length and extend center front to add buttons.
• Vogue 2232: is a dramatic raincoat possibility. I'd adapt the length to a 3/4-coat (between the two lengths shown), extend center front for buttons, and add a small stand-up collar for warmth.
Jacket/Vest
ReVisions, Java Jacket: with detachable sleeves it's one of the all-time great patterns for a vest or a jacket.
Tops
• Vogue 7337 (Marcy Tilton design): is an assortment of great-fitting basic T-shirts. I used this as a starting point for the two camisoles. An option for the slant V-neckline tops is Burda 8918.
• The acid green knit sweater/cardigan: copied from a favorite shirt. Similar patterns are Vogue 1509, Burda 3129, or 3214 (change the neckline).
• The black, slinky knit T-shirt was purchased ready-made.
Skirts
Burda 3005 and 8898: are slim ankle-length wrap skirts similar to the out-of-print Miyake pattern I used.
Pants
Those in the article are narrow-leg, fitted pants made in stretch woven fabrics:
• Burda 8873: has a narrow-leg and jean styling. I adapt the hip hugger to a natural waistline.
• Burda 2998: is similar to the black stretch-woven flared pant to the far right on p. 79; this pattern could crop easily.
• Burda 8885: is a classic yet updated trouser with slim leg.
• Vogue 7179: Sandra Betzina's slim pants are a big yes to nearly all figures in both ankle and cropped lengths.
• For soft, slim, drapey pants made in soft woven fabrics, try Textile Studio 1001, Sewing Workshop Kinenbi Pant, or Stretch & Sew 706.
• Leggings—Burda 3182: is not too tight and can stand in for a pant, pajama, or exercise gear.
Purchased ready-made:
• Backpack bag (microfiber made by Groom, a French company, sold in the US. Their Paris shop is #13 Rue Cherche Midi, Paris 75006, Tel 01 45 48 49 36): I've bought several of these bags. I love the lightweight, simple functional design, and you can toss them in the washing machine. The cost is under $100, and you should be able to call Paris and order one … I sent them home as gifts to friends. Reference # 9432, the style is Cappuccio; they come in three sizes GM, MM (my bag pictured), and a smaller one, PM; available in black, brown, red, and other colors as well as in leather (which is heavier and more costly).
• Shoes: Grid black flat and purple boot are by Arche; strap sandal is by Simple.
• Crinkle eggplant top and black slim leg pants are by Babette (www.babettesf.com), who has two shops in San Francisco.
Items available from Marcy
To order, email [email protected] or visit her Web site (www.marcytilton.com).
• ReVisions, Java Jacket pattern: jacket/vest that Marcy did with removable sleeves. $12 + $3 S&H, $15 total. (Check out all of Diane Ericson's patterns and stencils at www.revisions-ericson.com)
• Vogue 7337 Marcy Tilton design "eclectic twin-set", long-sleeved T-shirt, shell, cardigan, and the basis for all the T-shirt tops, $16.95 + $3 S&H.
• Black sturdy nylon screen with latch travel/shopping bags in two sizes: Medium: 14 x 16 x 5 in. $40. Large: 17 x 18 x 6 in. $45 + $5 S&H.
Marcy Tilton sews travel wardrobes each season in her studio in Cave Junction, Ore.
Photo: Gary Gold