Sewing Pristine and Often Fragile White Fabrics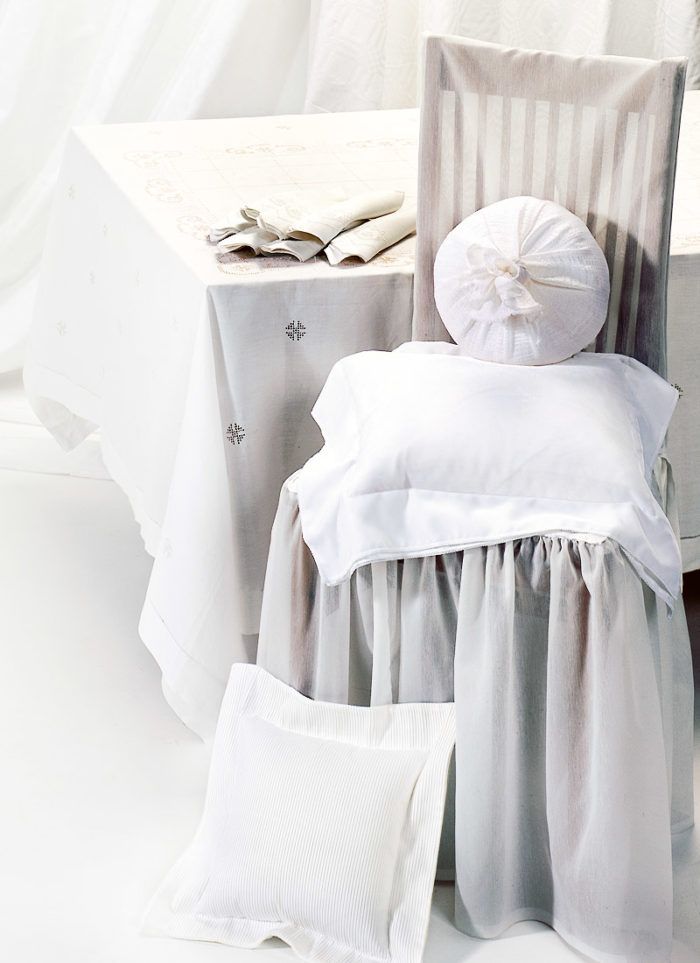 From the classic white blouse to a one-of-a-kind wedding gown, white garments have an appeal unlike any other. But the pristine and often fragile qualities that make white fabrics special can also cause the downfall of your project. Many of the problems associated with sewing white fabrics can be addressed through either technical know-how or creative design.
The most basic strategy for getting beautiful results when sewing whites is to plan ahead: Prepare your sewing space and map out construction and sewing considerations such as marking methods, planning for opacity where it's needed, and selecting supporting materials and notions with care. These steps will save yourself from some potentially unpleasant surprises. Aside from these areas of concern, choose your sewing techniques on the basis of the type of fabric you're using, rather than its color.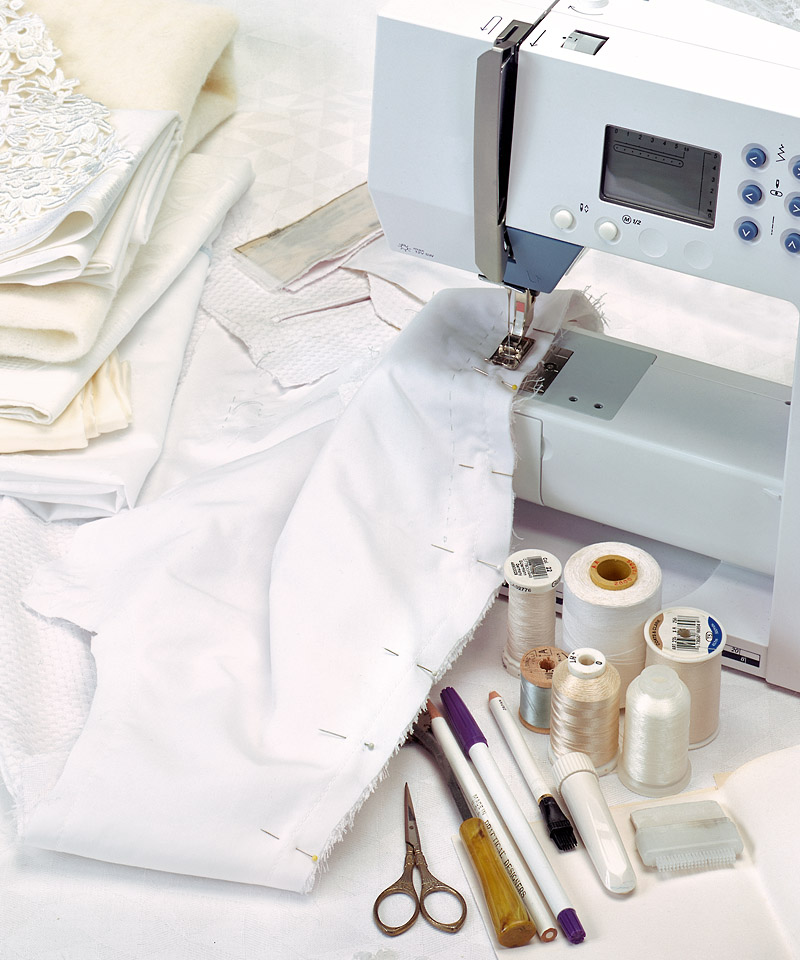 Clean up your act
One of the most important steps in sewing white fabrics should take place before you even remove the fabric from the bag: Clean your sewing area thoroughly. I take a three-step approach to preparing my sewing studio, and, whenever possible, I group several white projects to be worked on over the same time period, during which I put away any projects that use colored fabrics.
Several days before I plan to sew white fabrics, I thoroughly clean my sewing machine and oil it. I also clean the soleplate of my iron if necessary. Shortly before cutting the fabric, I wipe all my cutting and sewing surfaces with a damp towel to catch all the lint that ordinary dusting leaves behind. Finally, I run a lint brush over my ironing board.
When you're sewing, I recommend washing your hands frequently (to avoid transferring skin oils) and staying away from hand lotions. Be careful, too, not to let any cosmetics come in contact with white fabrics. Finally, if you're sewing a colored project in your studio at the same time, cover the white project with a garment bag or a clean sheet whenever you take an extended break to protect it from lint.
Anticipate show-through
White fabric of almost any weight will be somewhat see-through: The absence of color allows light to pass easily through the fabric. Even white denim, wool flannel, and gabardine can present show-through problems. It's up to you to decide whether you'd prefer to design around the transparency, or build in some form of opacity.
The obvious choice when lining a white garment is a matching white lining, but traditional lining fabrics, whether of synthetic (like Hang Loose) or natural fibers (like rayon Ambiance) are not very effective at blocking light transmission through white fabric. Drape a layer of lining and fashion fabric over your arm and hold it up to the light. If you see the contour of your arm, then your garment will be somewhat transparent. To make a garment completely opaque, I recommend underlining as well as lining it. Select the underlining for opacity, and choose a lining for comfort.
Another approach to handling the inherent translucence of white fabric is to incorporate it deliberately into your project's design. Analyze hem depths, pocket placements, seam and edge finishes, and facings; you may be able to use their greater opacity as a design element. Hems, plackets, tucks, darts, and other standard construction features can add interesting shadow details to an all-white project, but be sure to consider their proportions before cutting and sewing.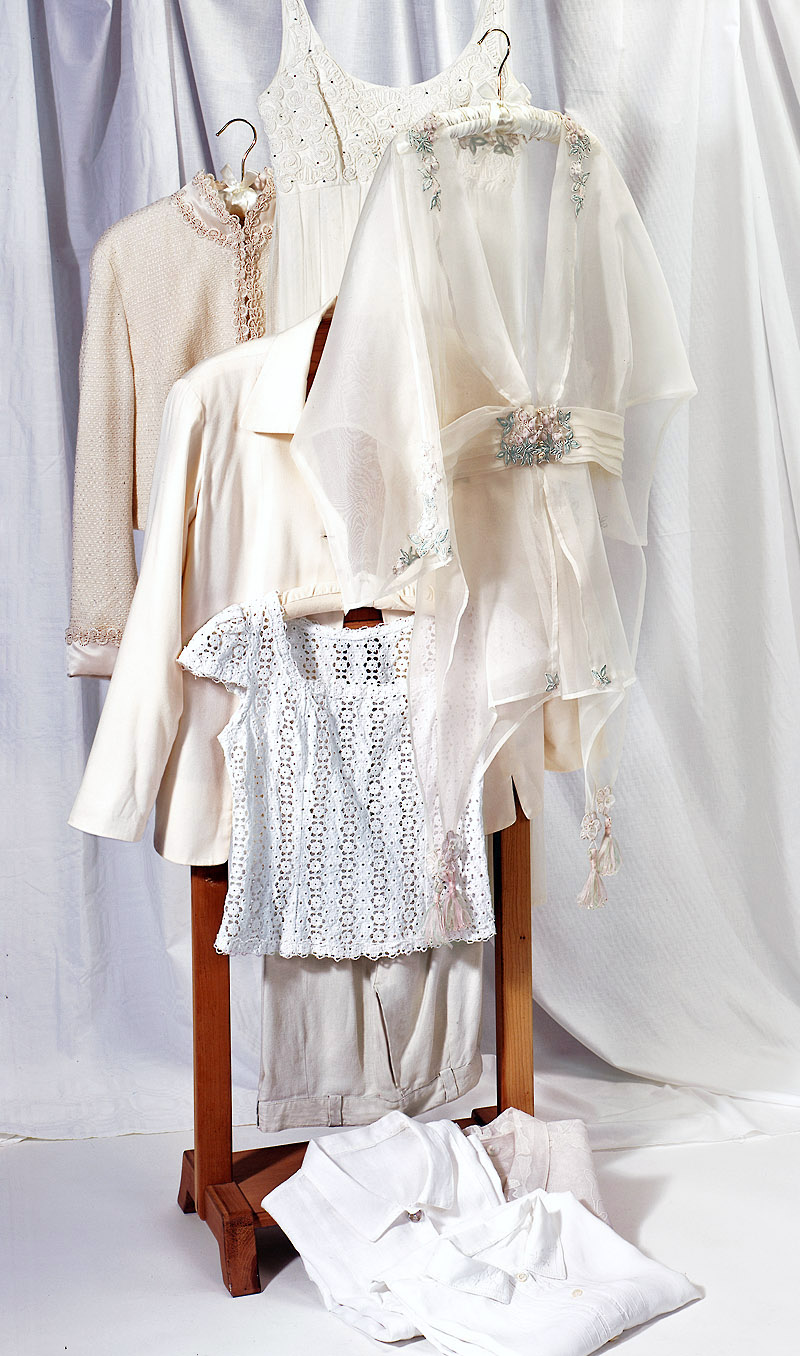 Choose the right notions
White fabrics can call for some specialized notions. For invisible seams on fine sheers, I use monofilament thread; otherwise I choose a good-quality polyester thread. Note that not all white threads are equal, and neither are all white fabrics (see Shades of white); try to match thread to fabric just as you would for any other color. When I hand-sew whites, I avoid using beeswax or other thread conditioners; if you wish to use these products be sure to test them to see if they discolor the thread or fabric.
White hooks and eyes and clear plastic snaps are readily available and are unobtrusive closures. If you're using a zipper, consider placing it in a side seam, where it will be less noticeable.
As with any fabric, select interfacing with care. In some cases, the adhesive dots on fusibles may show through. I often use silk organza or cotton batiste to interface sheer, white fabrics.
Mark with the future in mind
What could be easier to mark than white? As it turns out, almost any other color. Any colored mark that will show up well on white may also cause permanent stains, so you'll need to be careful when using marking pens, colored chalk, or dressmaker's tracing paper.
If the project is to be underlined, transfer marks from the pattern tissue to the underlining and don't mark the fashion fabric. For single-layer projects, the safest option is to mark with white chalk or white tracing paper. Although white-on-white marks can be difficult to see, you'll be sure they won't spoil the finished garment. Thread-tracing and tailor's tacks made with white silk thread are visible but nondamaging. I've also used purple disappearing pens to make tiny marks, but only after carefully testing that the marks will disappear.
Use care when pressing
The biggest fear when pressing white fabrics is making scorch marks. You can easily avoid them by setting your iron to the proper heat level for the fabric and testing. It's fine to use starch or spray sizing if your fabric needs added body, but again, press a sample ahead of time. To keep the project clean at the ironing board, use a press cloth (I like batiste, silk organza, and even wool, as long as the cloth is white), and wrap seam rolls and hams in white as well. For a large project, put a clean sheet on the floor under your ironing board. On particularly fragile fabrics, I sometimes apply a burst of steam with my iron, and then finger-press.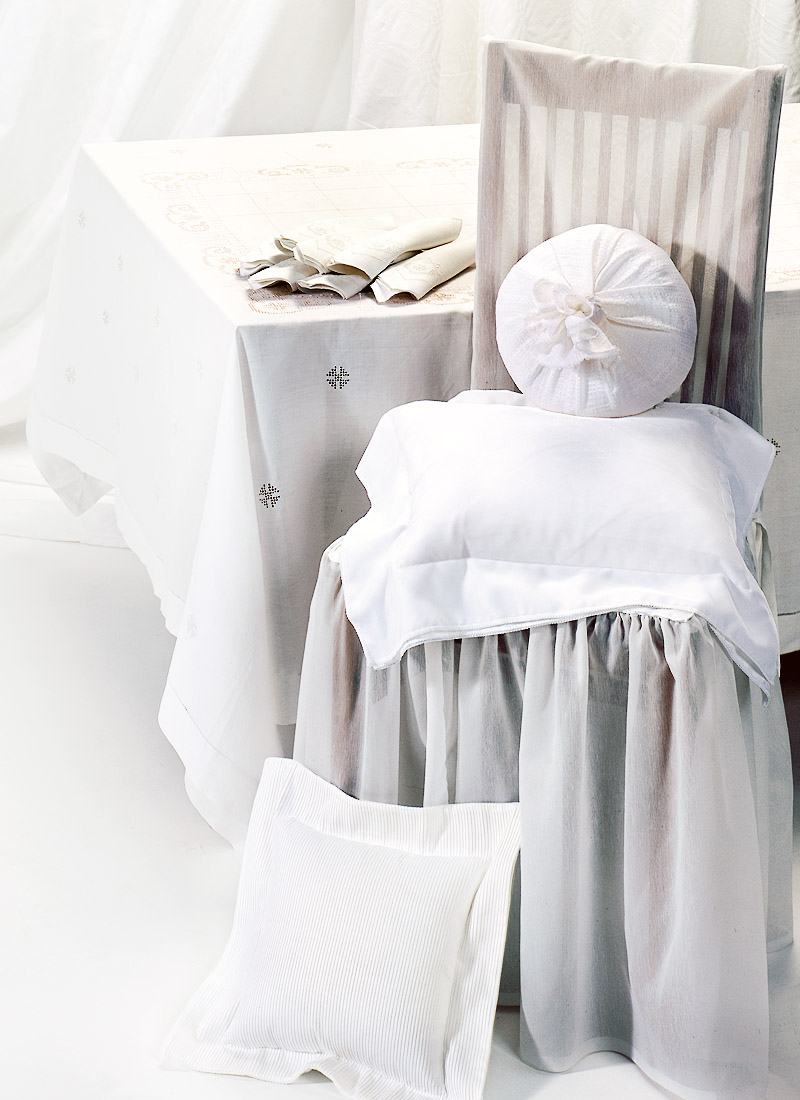 Keep the finished work clean
After you've worked so hard to keep your project spotless during construction, it's worthwhile to know how to keep it that way. Laundering by hand or machine is the gentlest way to clean whites, but avoid chlorine bleach (except for durable cottons, and don't use bleach with every wash). For other fibers, nonchlorine bleach, such as Clorox 2, is a safer choice.
Frequent dry cleaning can leave white items of all kinds—garments, linens, curtains, and accessories—grayish and dingy. I often insert dress shields in clothes I make, so that my clients won't have to dry-clean them after each wearing. Before you pack your whites away for a season or longer, launder or dry-clean them (even items that look unblemished can develop stains over time), cover or wrap them to protect against dust, and for long-term storage, use acid-free boxes and tissue.
Shades of white
When shopping for white fabrics, you'll notice that there are many colors of white. Both fiber treatments and the fiber content can influence the whiteness of a fabric.
Silk fibers are not naturally a pure white, although silk fabric can be treated to achieve a bluer, brighter version of white. The natural, slightly off-white color of silk is sometimes called silk white or diamond white. Extremely bright, pure whites are more readily found in the linen, cotton, and synthetic families.
Remember, a lining or underlining can substantially alter the whiteness of any white fabric you pair it with. Be sure to layer your fabrics together to see how the underlayers affect the tone of the fashion fabric that will be the color of the finished garment. Keep in mind, too, not everyone looks best in bright white; a softer version is more flattering to some skin tones.
This article by Rae Cumbie is from Threads #106, April/May 2003, pp. 37-39. Rae (http://raecumbie.com) is a professional clothier who makes sure Baltimore brides have perfect wedding dresses. 
Photos by Joseph Kugielsky.