Understanding Underlining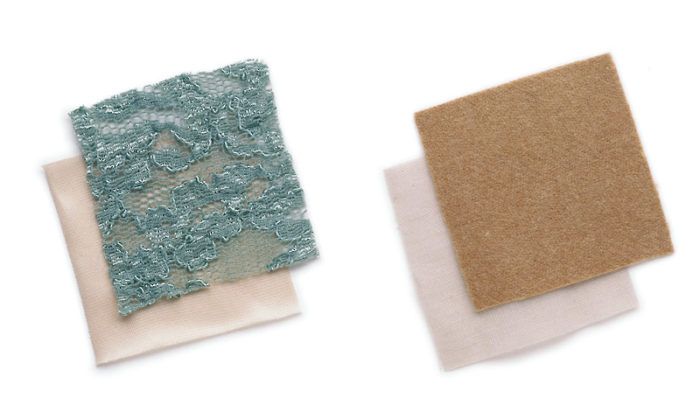 Have you ever found a fabric that was the perfect color but too lightweight or drapey for the garment you wanted to make? Do you avoid some pastel or white fabrics because you know the seams will show through on the right side? Well, these are just two of a handful of everyday sewing problems that are easily solved with underlining. Read on to find out why and how to add underlining to your toolbox of everyday sewing tricks.
Why underline?
This multipurpose technique gives you more
control with fabrics and more options for their use.
Underlining can:
• Stabilize loosely woven fabrics
• Strengthen delicate fabrics
• Eliminate seam allowance show-through
• Hide hand stiching
• Add warmth to garments
• Add bulk to fabrics
• Reduce wrinkling
Underlining vs. lining
Let's clear up one point first: lining and underlining a garment are two different procedures, and depending on their purpose, one or both can be used in a single piece of clothing. Usually cut from a slippery fabric, lining is attached only at the garment's waistband or neck, and sometimes its hem — otherwise, it hangs free in the garment. It's generally used to give a finished look to the inside of the garment, prevent seams from raveling, reduce wrinkling, help conceal some figure faults, and make a garment easier to slip on and off.
Underlining basics
The steps for applying underlining are the same for every combination of underlining material and fashion fabric.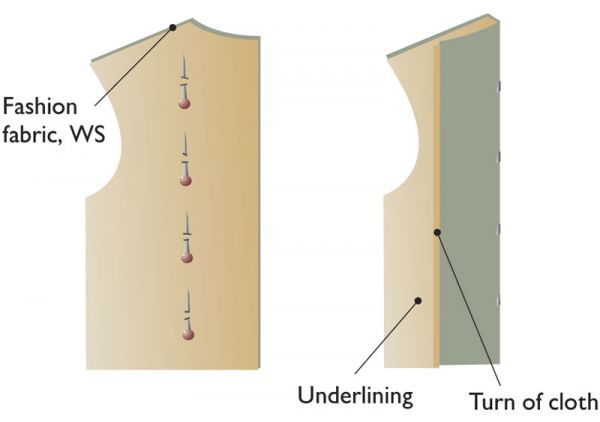 1. Cut fashion fabric and underlining from same pattern pieces.
2. Pin fabric and underlining together down center only, along straight grain.
3. To adjust for turn of cloth (amount of space taken up by fabric's thickness when folded) along straight grain, place hand over pins, fold fabric over hand (underlining's overlap shows amount of adjustment needed for turn of cloth), pin fabric and underlining near adjusted edges, and baste. Average turn of cloth will be 1/8 to 1/4 in. (or more, depending on fabric's thickness).
Underlining, on the other hand, is cut from the same pattern pieces as the fashion fabric and is attached before construction begins. Then, as the garment is constructed, the underlining and fashion fabric are handled as a single unit. Most often, underlining is cut from fine cotton batiste (see Sources for underlining fabrics), light- to medium-weight cotton broadcloth, or silk organza. But a variety of other materials can also be used to underline a fashion fabric.
Jack-of-all-trades– Underlining serves many functions in a garment: It adds stability and strength to lightweight fabrics and reduces wrinkling, enabling you to use a fabric that may be too flimsy by itself for the garment you have in mind. Underlining reduces the transparency of white or pastel fabrics, which prevents seam allowances from showing through. It can eliminate the shadow from a brightly colored blouse tucked into light-colored pants, and it hides panty lines. And underlining stabilizes loosely woven fabrics and conceals hand stitching since it alone, and not the fashion fabric, catches the hand stitches.
One last word: interlining– Interlining refers to fabric that's effectively an underlining whose purpose is to add warmth without bulk and which is applied either to the fashion fabric or the lining, which I'll explain in a moment. A lightweight wool applied to fashion fabric, for example, makes a winter coat toasty warm, while cotton flannelette (or flannel) interlining blocks the chill in a lightweight spring jacket.
When interlining a fitted or semifitted garment, interline the fashion fabric, especially if it needs more body. If the garment is loosely fitted and very full, consider interlining the lining instead, which adds warmth without reducing the fluidity of the fashion fabric.
Changing hands
There's almost no way to prevent underlining from changing a fabric's hand (its drape and feel) and adding body that may or may not be welcome, but you can minimize the change by selecting the right underlining. The choice of a soft cotton batiste, weightier cotton broadcloth, or crisp silk organza to underline silk crepe, for example, depends on how much you want to change the silk's basic character. The closer the hand of the underlining and fashion fabric match, the less change there'll be.
To get the fashion-fabric hand you want, consider expanding your underlining options to fabrics beyond the usual ones. There are no rules about how this works, so the only way to know which underlining fabric to use is to experiment with the different possibilities.
Unusual solutions– Here's a dilemma that may not occur every day, but when it does, an inventive underlining may be the solution, as it was for me: I had a wonderful stretch lace that I wanted to use for a dressy blouse/jacket. To eliminate but still suggest the transparency of lace and also maintain the lace's stretch, I ended up using a stretchy, nude-color, bathing-suit lining as an underlining. Problem solved.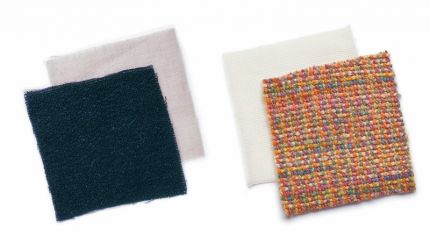 Underline to stabilize and strengthen fashion fabric. Cotton batiste stabilizes lightweight wool crepe (left). Medium-weight fusible interfacing stabilizes handwoven cotton yardage before garment pieces are cut (right).
To stabilize a handwoven cotton, I underlined the yardage by fusing a suitable interfacing to it before cutting out the garment pieces. In another case, I came up with an unusual underlining to stabilize the wrong side of a knit fabric: crinkle cotton. The pleated "crinkles" added stretch to the cotton, allowing it to give with the knit.
When I want to "upgrade" a silk crepe from blouse to jacket or dress status by adding warmth and stability to the soft, supple fabric, I use flannelette underlining.
And when necessary, I always consider using different underlinings in a single garment. In an underlined silk jacket, for example, flannelette might add the right amount of body and stability to the jacket's fronts and back, but too much in the sleeves. The solution here is to use flannelette for the jacket body and batiste or lightweight broadcloth for the sleeves.
Sometimes underlining isn't the answer- Although an extremely useful technique, underlining can't always work miracles. An open-weave wool crepe, for example, needed special handling to produce a gored skirt that would cling to the body without show-through at the seams. Underlining would reduce show-through but change the crepe's hand, while lining the skirt, even with a very lightweight rayon or silk, would hold the skirt slightly away from the body. The solution was to line the skirt with a lightweight rayon knit to reduce transparency while allowing the skirt to cling to the body.
One fabric that's always tricky to underline is rayon, since even the most well-behaved rayon sags when "hung" on the body. Because this sagging is more obvious over time when the garment is underlined, I don't underline rayon.
How to underline
Once you've experimented and found the right underlining fabric for your project, the hard part is over. To apply the underlining to your fashion fabric, begin by thoroughly preshrinking both fabrics. Cut out the underlining and fabric from the same pattern pieces, and trim the underlining along the marked hemline. Pin the underlining to the fashion fabric; adjust for turn of cloth (the thickness of the fashion fabric) along the lengthwise edges; hand-baste the pieces together (machine basting causes the fabric to draw up slightly, creating puckers in the completed garment's seams; and the method of using dots of glue in the seam allowance to attach the underlining to the fashion fabric is faster but makes seam allowances stiff); and baste along the centers of the darts to prevent them from shifting when sewn. Once the pieces are basted together, treat them as a single fabric when constructing the garment.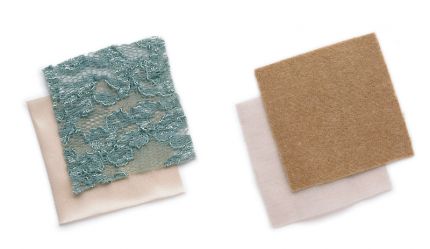 Underline to reduce transparancy and to conceal hand stitching. Tricot bathing-suit lining fabric adds a modesty factor to stretch lace (left). Cotton batiste helps hide hand stitching at hemlines on soft cashmere/camel's-hair wool (right). The delicate cashmere fibers would break at the hem under the fabric's weight without the underlining to stitch into.
Of course, underlining adds steps to making a garment, but the small investment of time pays rich dividends by giving you more options for using your favorite fabrics. Some of my examples may differ from your own everyday sewing situations, but I hope they'll serve to remind you to consider underlining as a solution the next time a fabric has you stumped.
Sources for underlining fabrics
My favorite "one-stop" mail-order shopping source for underlining fabrics is:
Vogue Fabrics
718 Main St.
Evanston, IL
60202
847-864-9600;
www.myvoguefabrics.com
For basic underlinings and interlinings, I recommend Swiss Pima cotton batiste, available in white only; "Fiesta" lightweight cotton broadcloth, "Samurai" medium-weight broadcloth, and cotton flannelette, which all come in a variety of colors; inexpensive, loosely woven, plain-weave wool (availability varies); and cool-fuse SofKnit or medium-weight Fusi-Knit fusible interfacing.
Sewing expert Sandra Betzina teaches hands-on classes in San Francisco, CA. For information, call 415-386-0440
Photos: Sloan Howard; drawing: Carla Ruzicka
by Sandra Betzina
from Threads #68, pp. 37-39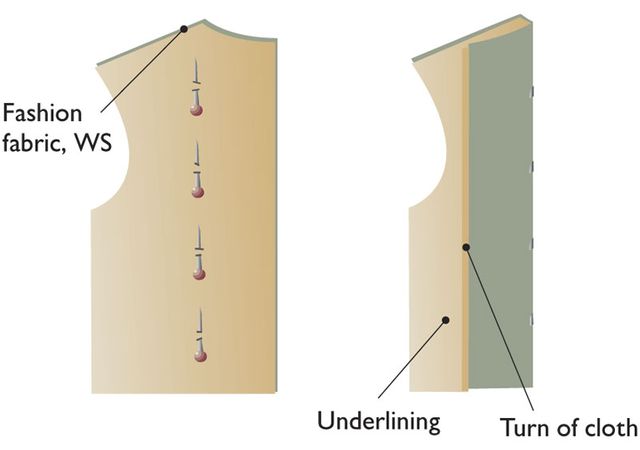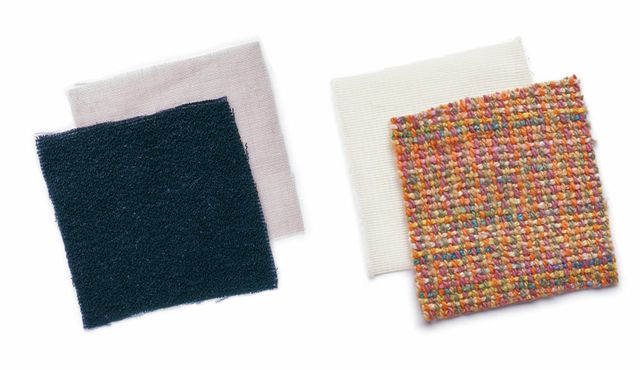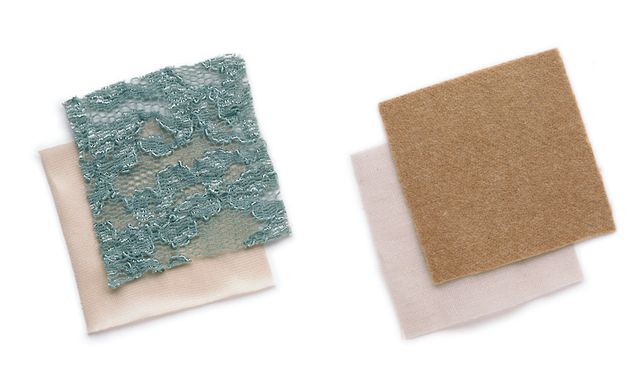 Underlining can solve a variety of everyday sewing problems.