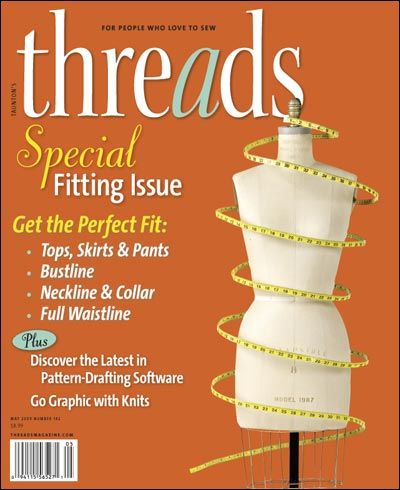 Aside from the natural satisfaction that comes from turning a piece of fabric into a beautiful garment, getting a garment that fits me (my body, no one elses) perfectly is one of the major reasons I sew. And, I find this to be true for many sewers. But, I think we all recognize that sometimes that's easier said than done. Regardless of whether you're in perfect shape or not, body types vary greatly and one pattern definitely does not fit all. What's more, our bodies change throughout the years, so the fitting adjustments you relied on years ago may not work for you now.
What better time than Spring to get a good, realistic grasp of your shape and hone in on that perfect fit? To help get you there, we've devoted the latest issue of Threads (April/May 2009 Issue no. 142) to the topic of fitting. While this issue can't possibly cover every person's fitting issues, there's a nice mix of information to get you started and we'll be working hard to bring you more great fitting content in issues to come. If you haven't gotten the latest copy of Threads in the mail already, here's a glimpse at some of the informative sewing content you'll find in this issue:
Great Fitting Content
To start, we review the latest pattern drafting software to help you design garments that fit you perfectly. (Check out this bonus pattern drafting software information and join the ongoing conversation!). There are also terrific features that focus on adjusting a pattern to fit a specific area of the body including how to fit a large midsection ("Full & Fabulous" by Kathleen Cheetham), how to add a bust dart to a pattern ("Add a Bust Dart" by Louise Cutting), and how to adjust a shirt neckline to suit your size ("Stick Your Neck Out" by Susan P. Nelson). And, you'll learn how to use fusible tape to sculpt a jacket lapel for a gently curved and softly rolled look, and of course, much improved fit in "Tape to Shape" by Judy Barlup.
Gorgeous Sewing Inspiration and more
In addition to stories on fitting, you'll find some inspiring articles on how to embellish your sewing projects with recycled materials for a beautiful effect ("Reduce, Reuse, Embellish" by Denise Severson), how to create intricate-looking color-blocked knit garments ("Splicing Knits" by Connie Long), and just in time for spring, contributing editor Kenneth D. King shows you how-to sew up luxurious silk roses to adorn any garment in "Coming Up Roses".
As in every issue of Threads, we also bring you in-depth information on embroidery, patterns, and fabrics as well as great sewing tips and tricks.
-Happy Fitting and Sewing!
Click on these links to subscribe or purchase this issue online.
Deana Tierney,
Editor
P.S. Special Fitting DVD Sneak Preview and Discount
If you're looking for more great fitting techniques, don't forget about our ThreadsFitting DVD Series. Check out this FREE special preview. Plus, order by 5/29/09 for a discounted price.