Enter Your Projects in our Fluid Fabric Challenge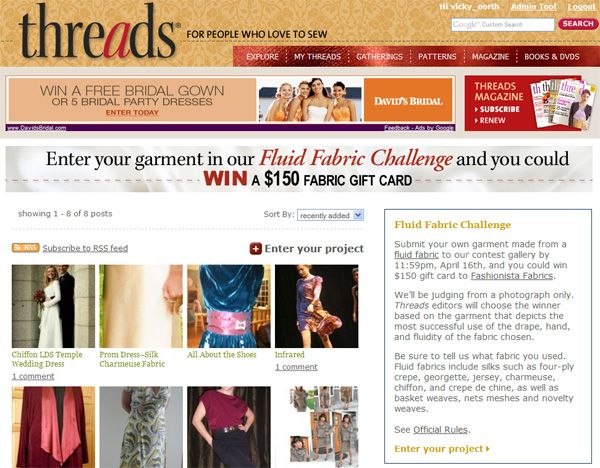 Add your projects to our Fluid Fabric Challenge gallery in the Reader's Closet and you could win. If you have never contributed to the Reader's Closet, now is the perfect opportunity to begin sharing your work with the ThreadsMagazine.com community. We want to see what you can do with fluid fabric and will reward the best project with $150 gift card to Fashionista Fabric.
How to upload your fluid fabric photos:
Login (if you already have a member name and password for Gatherings or another Taunton site, you can use your email address and password here)
Create your profile. Let other members know more about you. You can choose one of our photos or upload your own. If you choose to skip this step, you can always come back and update your profile later.
Post a project in the reader's closet challenge gallery. Click the "Enter your project" link at the top of the challenge gallery.
Upload your project photos with a short description, list the pattern used, and choose the categories that best describe your project.
You can either Preview and Publish or Save as Draft. If you clicked Preview and Publish and are happy with your post, click Continue. Otherwise, click Make Changes.
Once you have published your post you will see a confirmation screen where you can share your post with others.