New SewStylish on newsstands now!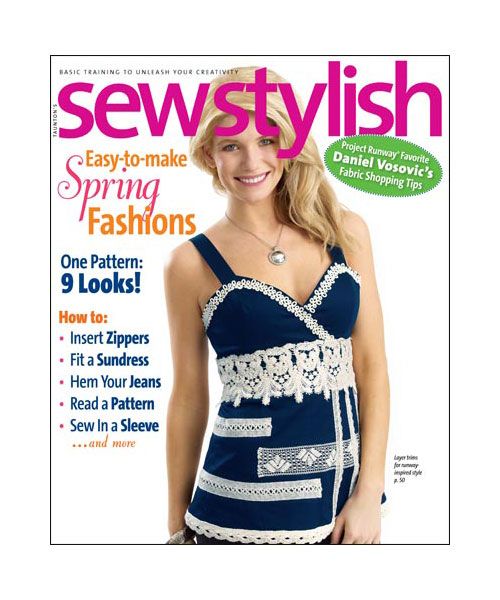 Get inspired and start sewing with SewStylish Spring '09. Featuring designer-inspired projects and industry techniques, this issue is packed with tons of sewing know-how straight from the pros. A value to sewers of all skill levels, SewStylish Spring '09 highlights new looks straight from the runway and classic sewing methods through easy-to-follow instructions and fashion-forward fabrics.
Some of the highlights in this issue include:
Construction Zone – Learn the basics of various sewing techniques including how to insert four types of zippers, tools to improve your sewing, how to choose which interfacings work best for you, and how to create perfect topstitching.
Pattern Play – Get a behind-the-scenes look at how a SewStylish pattern is made at Simplicity. You'll also learn how to read a pattern, how to fit a sundress pattern to your bustline, and how to transform one shorts pattern into three different looks inspired by designers this season.
Tricks of the Trade – Learn industry techniques including three ways to set in a sleeve, how to use industry seam allowances to reduce bulk, how to layer trims for a look that's uniquely you, and finally how to do small alterations at home including how to hem your own jeans and mend tears.
Designer Secrets – Get designer style with Daniel Vosovic from Project Runway as he shows you how to select the best fabrics for your designs, learn how to change one simple jacket pattern into three looks straight from the runway, see how designers this season are combining fabric prints and how to get the look in your creations, and discover how to add unique pockets into your next garment.
Trend to Technique – Get the look of Marc Jacobs this season with a reconstruction project that transforms a vintage vest into a chic, cummerbund-style belt.
Fast Fab – Crafty Chica Kathy Cano-Murillo, author of The Crafty Chica's Guide to Artful Sewing shows readers how to transform an everyday men's shirt into a super-cute, sleeveless top.
ENTER THE CONTEST:
In the Spring '09 issue of SewStylish, we show you how to get designer style using Simplicity SewStylish pattern 2657. We know you're talented, so show us what you've got and you could win more than $380 in prizes.
To enter, sew up your versions of Simplicity SewStylish 2657. You can change the pattern any way you like or sew it straight from the package. Then, upload a picture of your creation to the gallery by June 5, 2009, 11:59pm for a chance to win.
We'll pick our top three favorites based on creativity and technique. Then, you'll get to vote on the winner.
The winner will receive a Singer Esteem II sewing machine, Pattern Master Boutique pattern-drafting software from Wild Ginger, and Threads Industry Insider Techniques, Volumes I and II DVDs—everything you need to make your sewing dreams a reality.

TO ENTER NOW, CLICK HERE.

See Official Rules for more details.