A Special Trip to Mary Jo's Cloth Store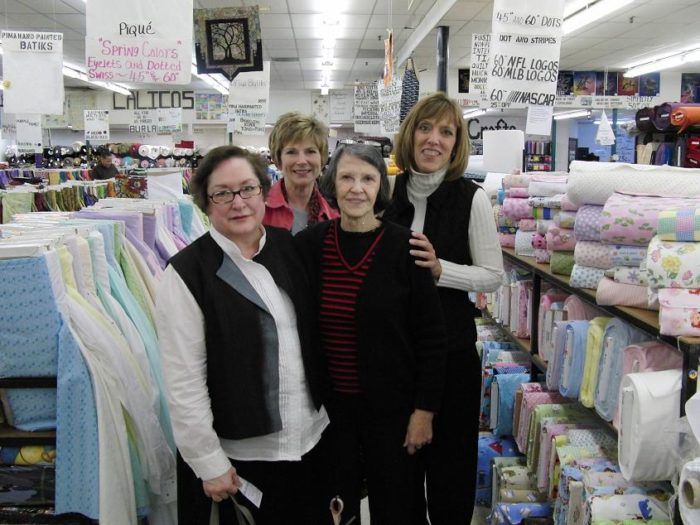 On a recent trip to North Carolina, we happened upon fabric heaven. If you live anywhere near Gastonia, North Carolina I'm sure you already know about this 58 year old gem of a fabric store and are probably on a first-name basis with Mary Jo. But if not, and you are anywhere within driving distance, then you need to make your way over to Mary Jo's Cloth Store so you can get a piece of this fabric heaven for yourself. In fact, if you're not in the area, then you need to make a special trip to Mary Jo's. It's that good.
Senior technical editor, Judith Neukam and I discovered Mary Jo's while visiting with Coats and Clark for an article on how thread is made. On the way back from the Coats factory in Marion, North Carolina, our gracious hosts Nancy Jewell and Lynne Browne mentioned Mary Jo's and that we simply must stop by; it really "couldn't be missed".
With the New York fabric district at our fingertips here in CT, I thought I'd seen the best of what a fabric store could offer. But, what I saw when I got inside Mary Jo's made my mouth drop open. Not only is it huge (we asked Mary Jo how large it was and she said "large enough") it is chock full of some of the most gorgeous fabric you have ever seen.
We only toured one floor of the store, but on that floor we found ourselves wandering aisle upon aisle, touching and admiring beautiful bolts of fabric in every color and style imaginable with our awed faces permanently afixed. From drapery fabrics, to quilting and bridal fabrics, to trims, lace, and notions — you name it, they've got it. And, it's organized in the most pleasing, user-friendly way: accessible, and with each section lovingly labeled with hand-made signs.
We had the great pleasure of meeting Mary Jo and she shared the amazing story of how the shop got started. Click here and click on "Quick Tour" to hear the story from Mary Jo herself. If you just can't make it to Mary Jo's, then the website and blog are the next best thing. You can even find their current fabric selections and order online.
I left Mary Jo's feeling a little sad that there wasn't a comparable fabric store back home. While roaming the bridal section (I'm getting married in August) I actually got teary-eyed thinking about the wedding dress I could have made with these fabrics and at the thought of not being able to shop at such a great place on a regular basis. This charming shop, and it's owner had won over my fabric-loving heart. I just had to take home a little piece of Mary Jo's with me. I did find a stunning floral trim and a few yards of silk organza which I'm going to make into a sash for my wedding gown.
Is there a fabric shop in your neighborhood that you just can't live without? Share your favorite fabric store with us.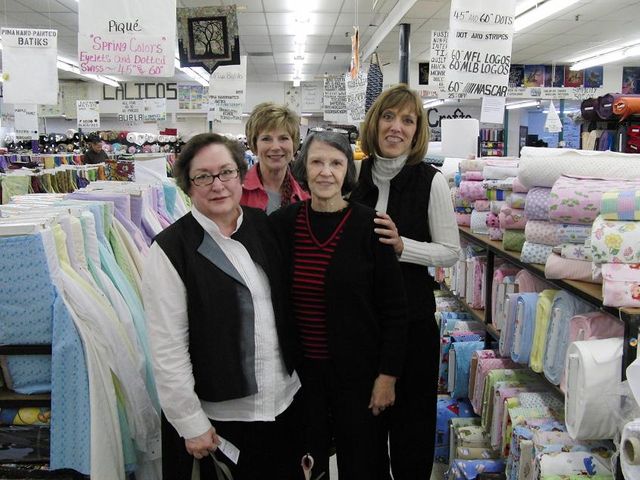 Senior technical editor Judith Neukam (left), and Coats and Clark's Nancy Jewell (right) and Lynne Browne (2nd from left) pose with Mary Jo (2nd from right).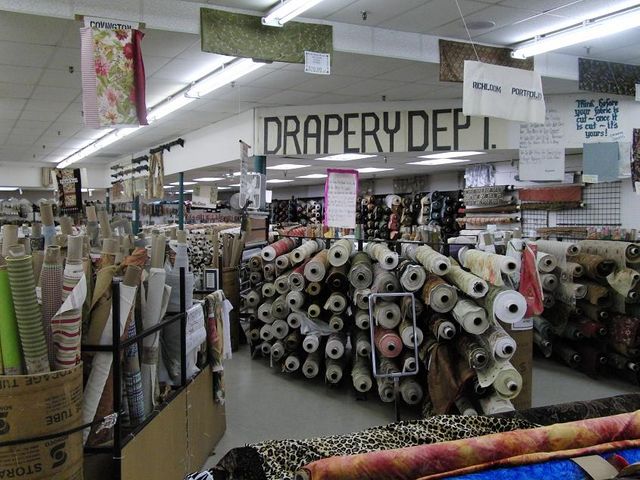 A peek at the drapery department.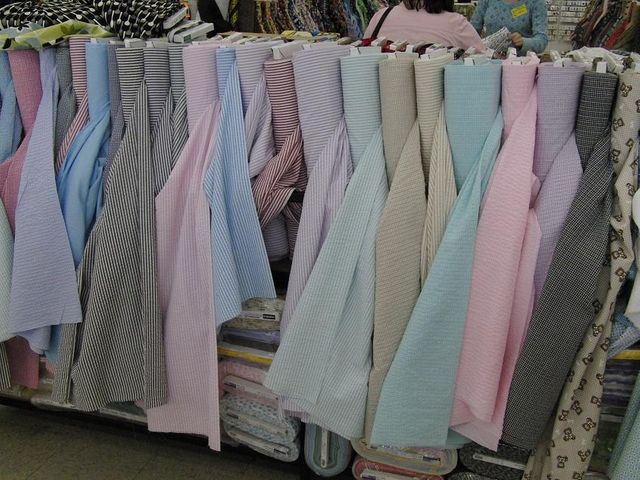 A candy-colored display of seersucker fabrics.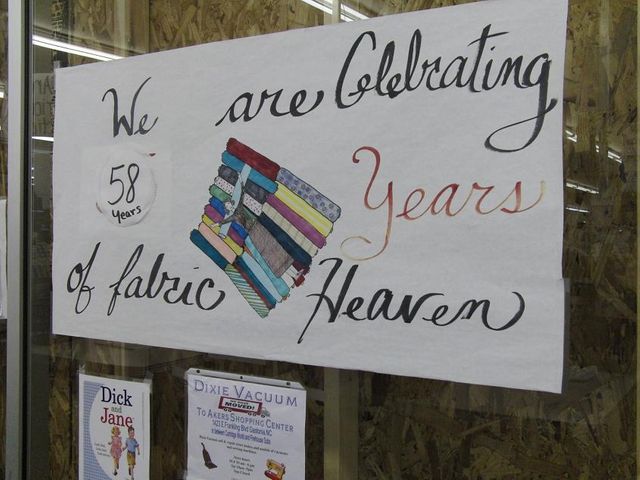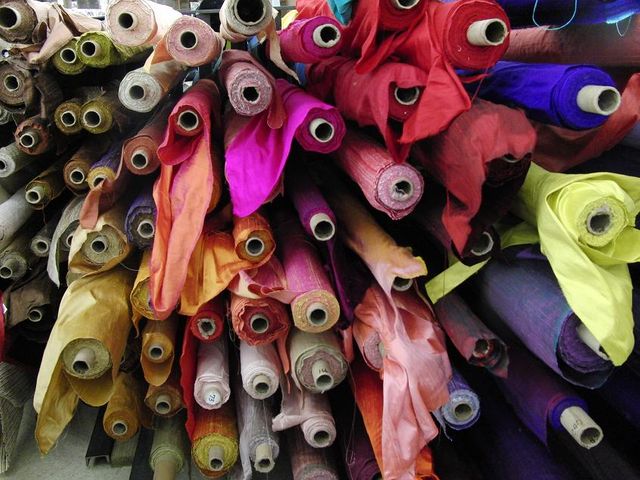 A colorful smattering of silks.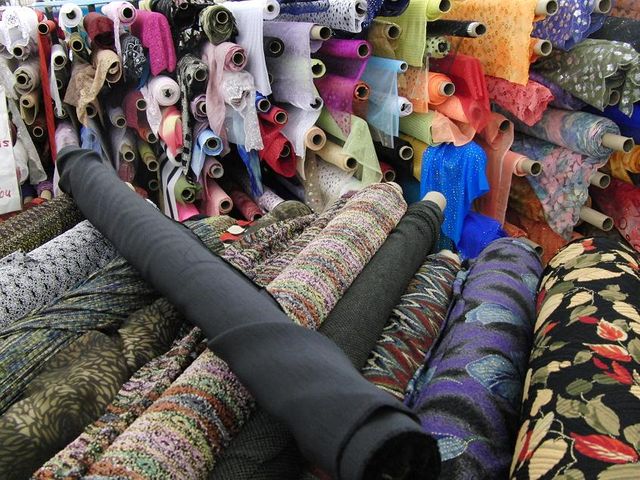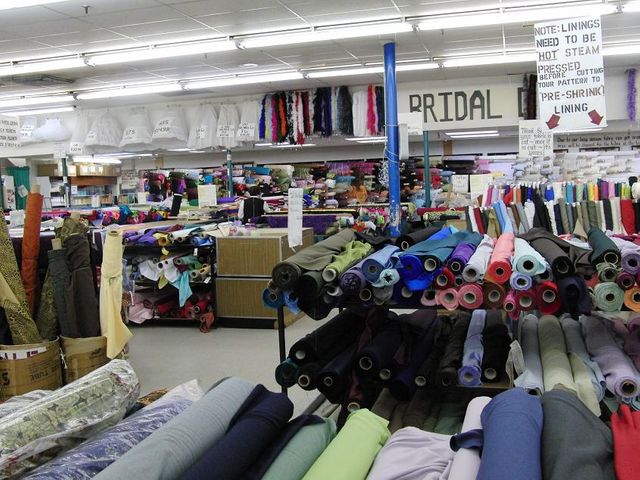 The bridal section...where I spent most of my time while shopping there.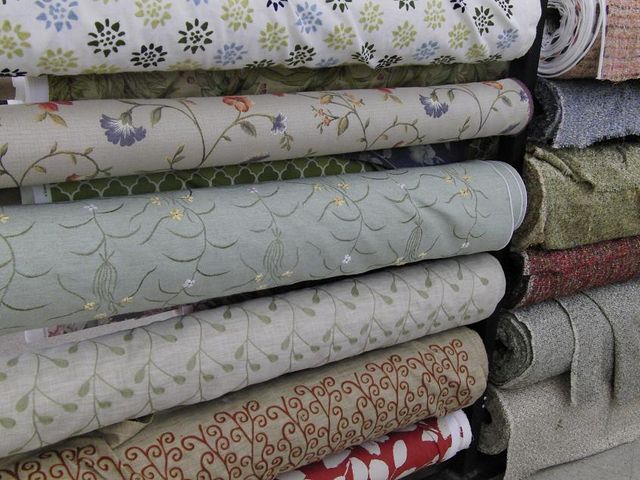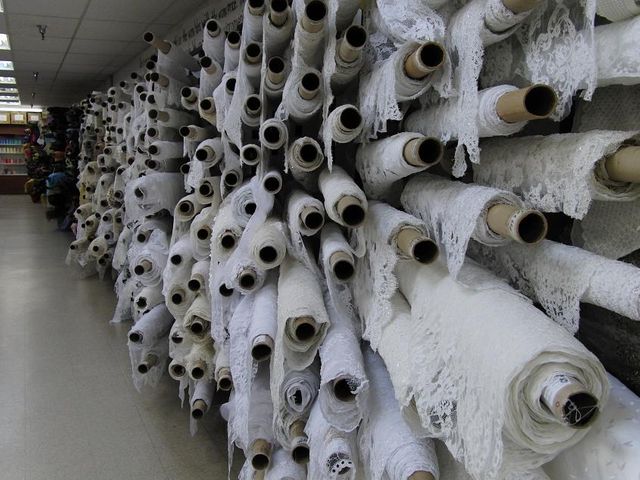 An entire wall of bridal lace.