Restyle with Wardrobe Refashion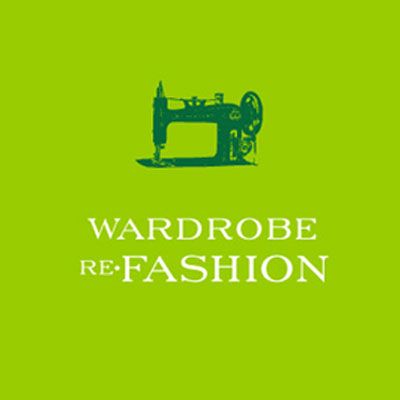 Originally started in 2006 by Nichola Prested, the Wardrobe Refashion blog is still going strong with many new contributors taking part in the fun each round. A former pastry chef turned sewer, Nichola currently lives in Australia, is a regular contributor to BurdaStyle, and has her own personal blog called NikkiShell.
The Wardrobe Refashion idea is simple: you take a pledge to not purchase anything new for a predetermined amount of time. Any clothing you acquire during your pledge must be handmade or refashioned from an old favorite. And, you must post photos of your creations on the Wardrobe Refashion blog.
The pledge reads:
" I __________________ pledge that I shall abstain from the purchase of "new" manufactured items of clothing, for the period of 2 / 4 / 6 months. I pledge that i shall refashion, renovate, recycle preloved items for myself with my own hands in fabric, yarn or other medium for the term of my contract. I pledge that I will share the love and post a photo of my refashioned, renovoted, recycled, crafted or created item of clothing on the Wardrobe Refashion blog, so that others may share the joy that thy thriftiness brings! Signed__________________. "
But, just in case you happen upon an amazing sale at your favorite store, each contributor gets a "Get out of refashionista jail free" card. How many you are allowed depends on the length of your agreement. You can sign up for 2, 4, or 6 months at a time. They even now have an option to sign up for life!
Wardrobe Refashion continues to have about 20 – 30 posts every week from sewers around the globe making their own garments. It's a great way to see how others are transforming old favorites or using fabrics in new ways.
The blog is currently taking on people for the next round starting this Friday. Click here to sign up yourself. I just signed up for the 2-month agreement. Who's with me?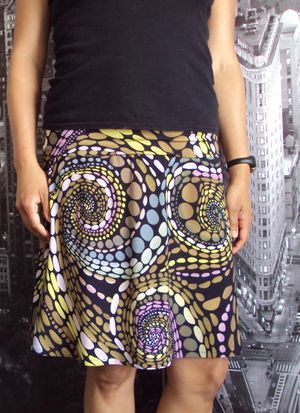 Skirt made from fabric remnants by Wardrobe Refashion user Koala Brains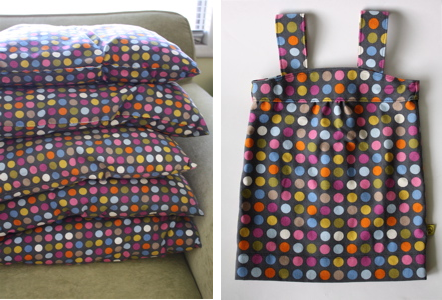 Child's shirt made from pillows by Wardrobe Refashion user Dana.