Exhibition: "Chic Chicago" at the Chicago History Museum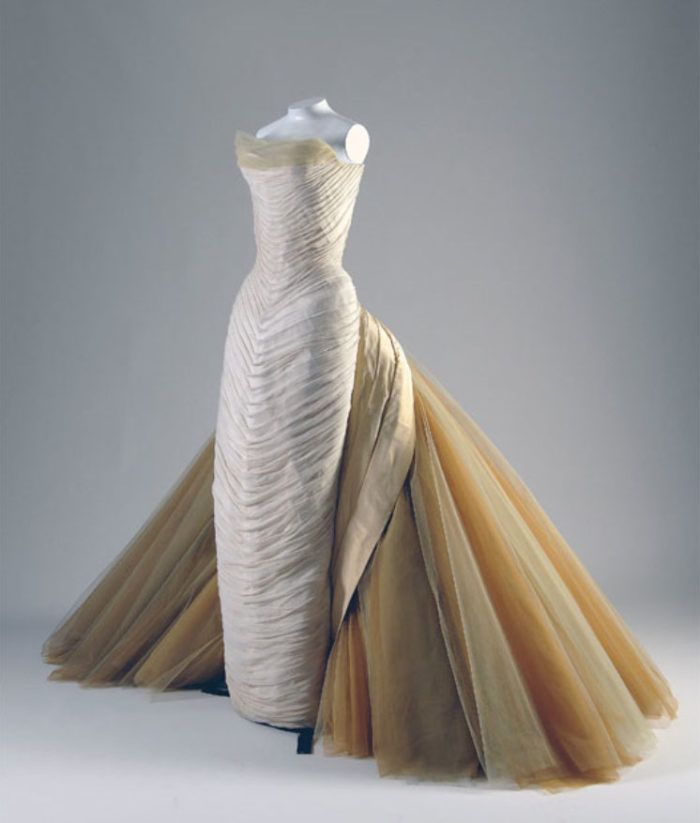 I'm a brand new transplant to the Midwest, and one of the first field trips I took with my family was to the Chicago History Museum. There, I learned that the name "Chicago" comes from a native American word for "wild leek." Good to know…I guess. What I liked even more was the current exhibition of couture garments from the museum's collection, "Chic Chicago." The show features dozens of high-fashion garments dating from 1861 through 2004, but what makes it extra-special is that each dress, gown, cloak, and coat is paired with a mini biography of the fabulously chic Chicago woman who wore it. They were socialites, artists and art collectors, teachers, designers, philanthropists—fascinating women all…and it's equally fascinating to imagine what it would be like to poke through their wardrobes.
Curator Tim Long has selected a range of garments, from elegant day dresses and suits to sumptuous ball gowns. I was captivated by the dresses designed by the Callot Soeurs, who manage to pair a body-skimming silhouette with gorgeous draping and stunning surface embellishment. Vionnet is represented by a court presentation gown worn by Mrs. Potter Palmer II, in which the designer maintains her signature look while following all the rules of court dress (which dictate everything from color and length to style of embroidery). There are a couple of ultra-soigné suits, too, by Madame Grès and Jacques Fath, as well as chic dresses by Charles James and Cardin that are stylish enough to wear today. You'll see innovative garments from designers like Paul Poiret and Issey Mikaye, and much, much more, proving that women in Chicago have been every bit as fashion forward as their counterparts in New York.
The exhibition design brings you up close to the garments, which aren't shielded behind glass (hooray!). This is a huge benefit for fashion lovers who also want to know how things are made. And as an added bonus, a couple of enterprising interns (whose names I neglected to write down—but you know who you are!) recreated two of the more amazing gowns in half-scale muslin versions, and visitors are invited to touch and explore these small wonders.You'll also get to smell the scents of Chicago, in a series of flacons that offer aromas from classic perfumes (Chanel No. 5) to stock yards.
If you can't make it to Chicago before July 26th, when the show closes, pay a visit to the museum's Web site, http://www.chicagohistory.org/, where you can view a slideshow of the garments. You'll also find video interviews with the curator, the collection manager, the conservator, and other staff members who created the exhibition. These behind-the-scenes clips bring the exhibition to life, and make me wish I could work with the museum staff and collection.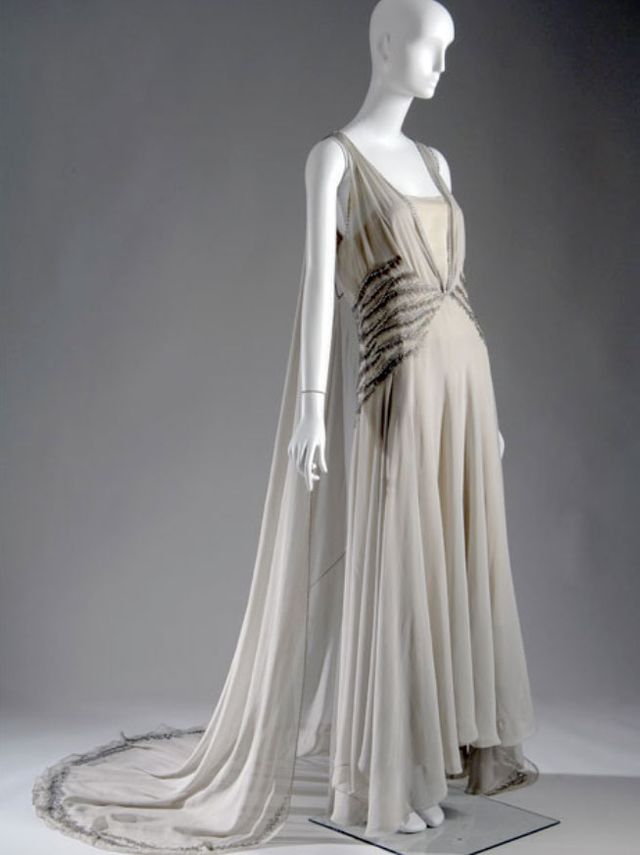 Court presentation gown by Madeleine Vionnet, 1938, worn by Mrs. Potter Palmer II when she was presented to the King and Queen of England.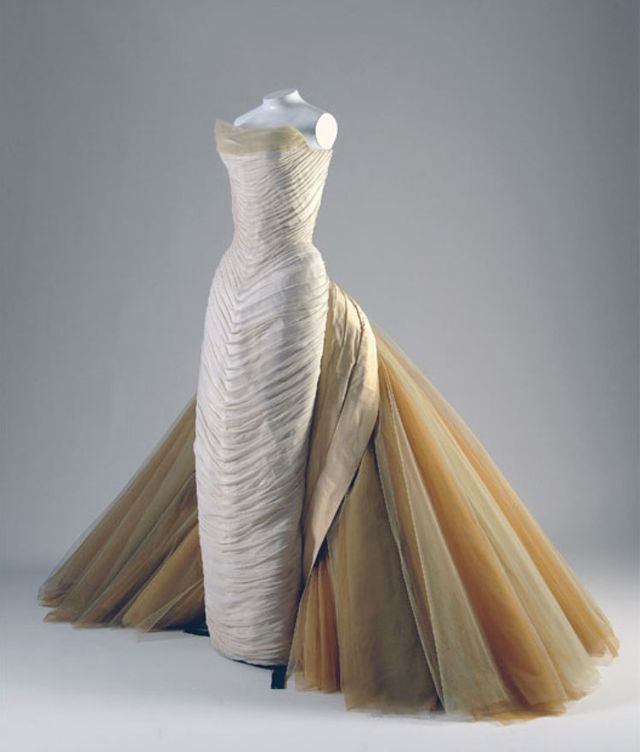 "Butterfly" ball gown by Charles James, 1954. This dramatic gown was designed for Mrs. William Randolph Hearst, Jr. It's made of 25 yards of peau de soie and net, and weighs 18 pounds.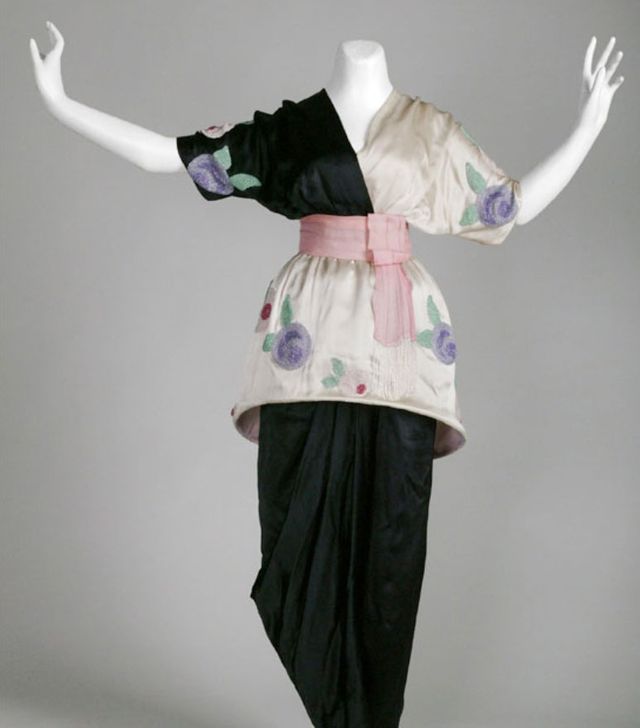 "Sorbet" gown by Paul Poiret, 1913. This sprightly garment was the first haute-couture designed to be worn without a corset--and it changed the course of 20th-century fashion.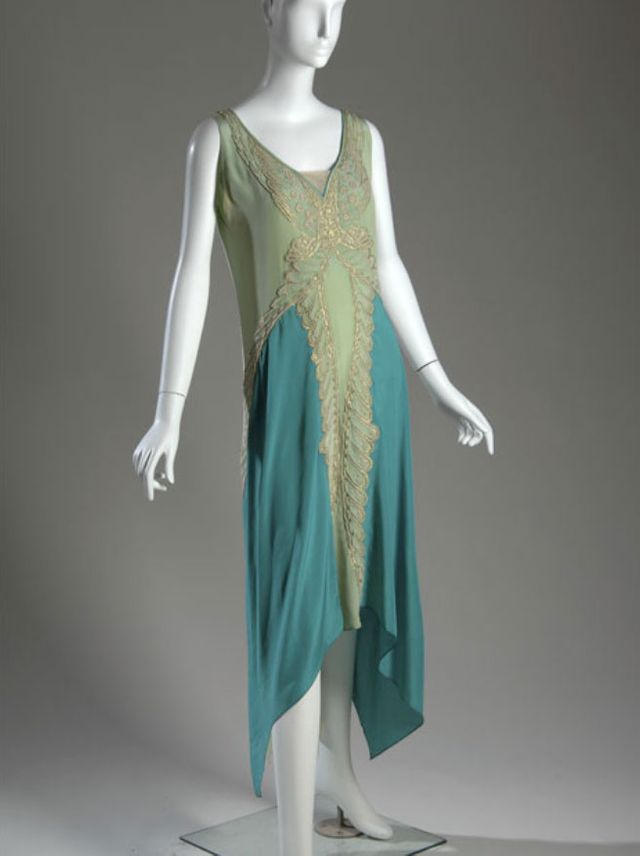 Evening gown by the Callot Soeurs, ca. 1928, worn by Mrs. Potter Palmer II. The stunning drape and embellishment of this silk charmeuse dress is typical of the Callot Soeurs during this period, and shows how strong the designers' influence was on one of their star pupils, Madeleine Vionnet.