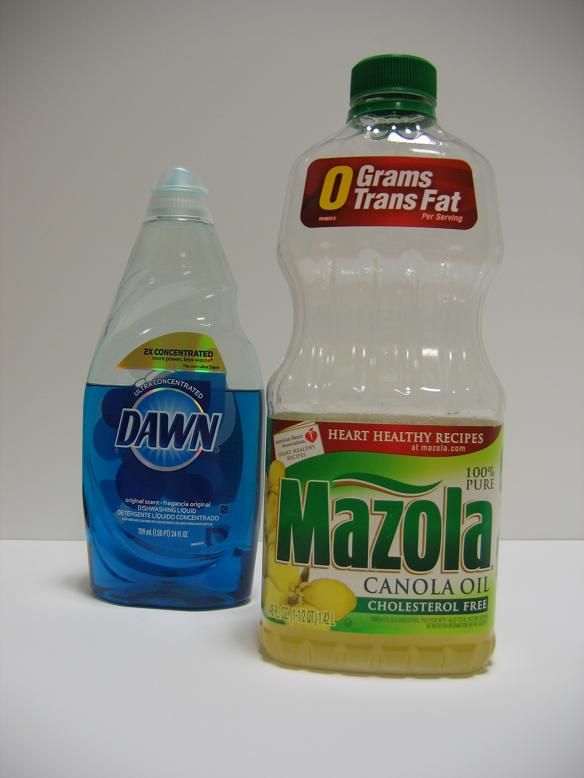 I'm often getting calls and emails about removing unusually difficult spots. My first major crisis was when, as a young bride, I spilled a can of ebony stain on the pale yellow, wall-to-wall carpeting in our brand new apartment. I frantically attacked the damage before my new husband could see it. I had no idea how to get it up. I blotted with paper towels, but nothing helped the spot. It just seemed to get bigger and darker. (This spot was about two feet in diameter.) I had used Goop hand cleaner to clean the stain off my hands so I tried it on the spot and it worked! Let me warn you, however, sometimes a cure can be a curse. For the next two years every speck of dust within a mile of our home found that greasy Goop spot and stuck.
Recently a colleague emailed, "My wife wore a fleece jacket to a bead show and forgot to remove her adhesive-backed name tag when she threw the jacket into the wash. It was washed in cold water and hung up outside to dry. I noticed the mess when I went to put the jacket away. The paper name tag is gone, of course, but the adhesive remains (and is even still tacky). Any ideas?"
The first thing that comes to mind is using products designed for getting adhesive off objects: Gum Out and Glue Be Gone—but don't run to the store just yet. Most fleece is polyester, which is a petroleum product. Two of polyester's less desirable characteristics: it holds odors and won't release grease spots. That's because they are both delivered with oil. The polyester actually internalizes it because oil is its source. Ever since the stain incident I try to anticipate what problems I'm going to get with the cure. My experience with the gum removers is that they work but I don't want to wear them—stinky poo—same thing with Energine (old-time spot remover that you can still buy at the grocery store.) These will probably melt the adhesive but the smell can get trapped in the polyester garment forever.
So this is what I suggested he do: "Use some liquid food oil, like canola, if you use olive oil she'll smell like an olive. Saturate the adhesive from the front and blot face down on a paper towel so you don't run the adhesive through the fabric. The oil should soften the adhesive and you can pick it off or soak it out. Then use a good oil cutting dish soap, like Dawn, and wash the spot by hand with hot water rushing through from the wrong side. All of the odors should be non-offensive and I don't think the oil spot will show because of the nap in the fabric. If this fails, cut out the adhesive and sew a patch over the hole."
Several days passed, and I heard back from him, "Holy cow, it worked!"
Do you have some good spot remedies to share with us?