Entering the world of sewing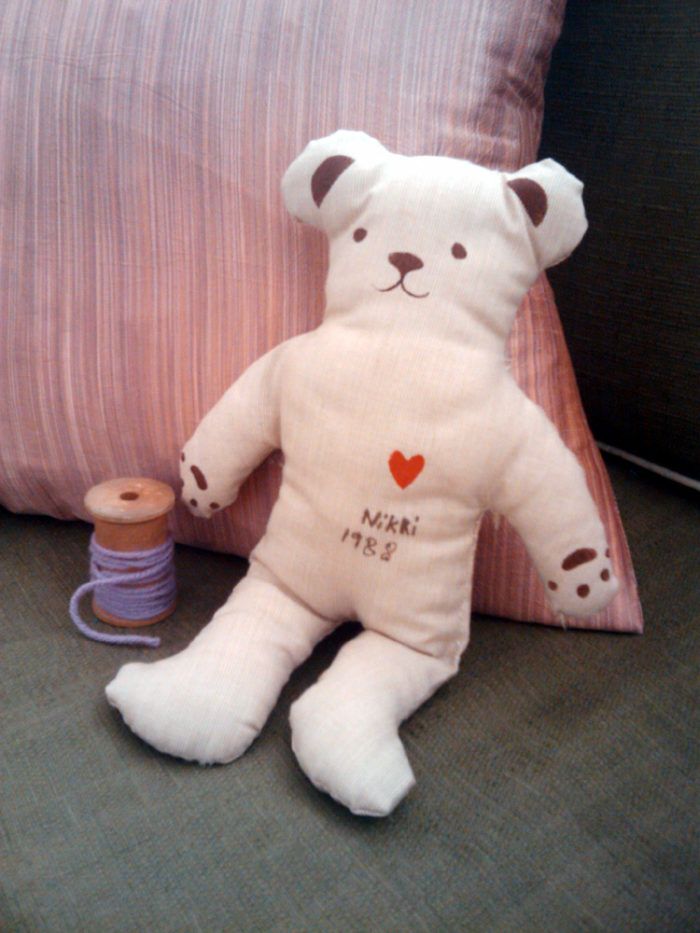 When I was a kid, my mother ran an arts & crafts business out of our home. I grew up surrounded by craft supplies and if my Saturdays weren't spent out on a dig with my archaeologist father, my presence was required helping my mother at a craft booth selling her country-inspired, decorative home pieces.
Despite the fact that I grew up completely immersed in craft projects, fabric scraps, and incredibly creative parents, I never would have learned to sew if I hadn't asked to. My community didn't have a home-ec option, and even if I did have the opportunity, my electives were way too consumed with marching band practice (yes, I was still cool).
However, when I was a child, my mom enrolled me in Saturday morning enrichment courses because I wanted to take more art classes. This is where I first learned to sew.
My very first project was a stuffed bear measuring about 10 inches tall. He doesn't have a name, but I'm pretty sure it's still a "he." I made him when I was 9 years old, and he's still in pretty good shape despite attending college dorm life with me and now living on my couch in Brooklyn, NY.
After being enriched during those Saturday mornings as a kid, I didn't continue my sewing adventures. I didn't start up at the machine again until 10 years later at the age of 20 when I dropped out of Quantitative Analytical Chemistry to take Fashion Design (my scientist father was furious, but I secretly think my mom was excited).
Pictured above is the bear that has been with me for over 2 decades now. Perhaps it's time for him to have a name. Or maybe he should still be my silent, nameless partner, reminding me to never stop learning and making things.
What was the first thing that you sewed? Did you actually finish it? Do you still have it today? Was it a gift, for yourself, or for your home? Who taught you how to sew?
P.S. I ended up teaching Saturday morning enrichment classes when I was about 18 at that same school. I didn't teach sewing, but I did teach 6-year-olds all about dinosaurs. Rather, I taught kids to draw and make dinosaurs out of clay.