Where Do the Threads Editors Buy Their Fabric?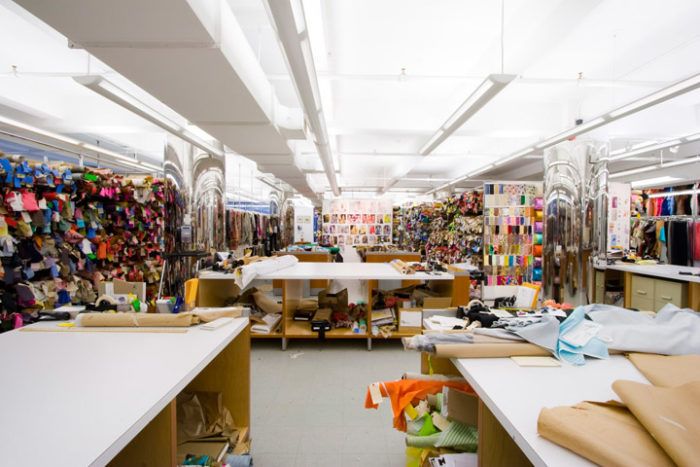 Those of us who sew love to find a great fabric store loaded with amazing fabrics, unusual notions and other great sewing supplies. Many of us actually seek out new fabric stores when we travel on vacation or for business, because we know that finding a great new sewing source makes the trip totally worthwhile. We believe it would be a travesty to be within shopping distance of a great store and not take advantage of the possibility of experiencing a great find. Let's face it, we're a little (well, maybe a lot) obsessed with fabric and feel the need to maintain a "respectable" fabric stash.
Some of the garments found within the pages of Threads are made by the authors themselves, but many of them are made by our seamstress, Norma Bucko. The editors have the chore (or is it a joy??) of shopping for the fabric she'll use. Taunton Press (the Threads parent company) is located in southwestern Connecticut. We're about an hour away from New York City which is a little far to travel for our fabric needs, but luckily one of our staff members lives in Brooklyn. She does a lot of our shopping to take advantage of the wonderful garment district in NY, but we've also found some terrific stores right in Connecticut. Here are the fabric stores we find ourselves using most frequently. If you ever happen to travel near any of them, be sure to stop by. You won't be disappointed. (They're listed alphabetically so as not to give preference!)
Tell us about your great fabric stores, and tell us what makes them so fabulous. Please include their contact information so we can all dream about shopping there!
B&J Fabrics
525 7th Avenue
New York, NY, 10018
212-354-8150
BandJFabrics.com
B&J carries a huge selection of high-end fabrics including brocades, metallics, faux furs, sequined fabrics, novelty fabrics as well as silks, and laces. The staff is friendly and very willing to help you find the perfect fabric. They sell only garment-making fabrics, so if you want something truly special, this is the place to go.
Banksville Designer Fabrics
115 New Canaan Ave.
Norwalk, CT 06850
203.846.1333
banksvilledesignerfabrics.com
We're thrilled that Banksville is right in Connecticut! With 1/4 million yards of fabric to choose from, you can't beat the selection. They sell fabrics for everything from sportswear to evening wear, bridal garments and home decorator projects, and they specialize in natural fibers of the highest quality. They offer the hard to find and the most current fabrics at the lowest price, and their knowledgeable staff are always willing and able to help.
Greenberg & Hammer
535 Eighth Avenue
New York, NY 10018-2446
800-955-5135
greenberg-hammer.com
Greenberg & Hammer is one of the few notions stores left in the country. They completely focus their inventory on sewing notions of all kinds, garment and fabric cleaning products, and the tools needed for professional looking garment construction. If you can't find a notion or tool anywhere else, they will more than likely have it!
Metro Textile Corp.
265 West 37th Street (between 7th and 8th Avenues), Suite 908
New York, NY 10018
212-209-0004
metrotextile.blogspot.com
Metro Textiles is a wholesaler of all varieties of fabrics located in the heart of Manhattan's garment center. Kashi (in the photo above), the owner, stocks great quality staples, like Italian wools, and he also offers some more trendy options. The prices are fantastic, the quality is excellent, and the service is exeptional. Everywhere you look in his shop, you'll find something wonderful!
Mood Fabrics
225 W 37th St, 3rd Floor
New York, NY 10018
212.730.5003
323.653.MOOD (Los angeles store)
moodfabrics.com
Mood houses probably the broadest variety and selection of sewing needs in the area. In addition to fashion fabrics, they also carry home decorator fabrics, all kinds of notions and supplies, buttons, trims, laces, leather, pillow stuffing, etc. It's one of the only stores that cover such a broad variety of items covering every possible sewing need from A-Z. The prices are competitive and the selection is incomparable.
NY Elegant Fabrics
222 West 40th Street
New York, NY 10018
(212) 302-4980
nyelegantfabrics.com
NY Elegant stocks some of the most unique fabrics you'll ever fine. The choices include exotic fabrics as well as funky fabrics, and everything in between. If you're looking for a specific fabric, they'll go out of their way to help you find it. Their primary focus is on garment fabrics, but they do offer a nice selection of home decorator fabrics as well.
Sawyer Brook Distinctive Fabrics
PO Box 700W
Clinton, MA 01510-0813
800-290-2739
www.sawyerbrook.com
Sawyer Brook is a swatch subscription based shop, although they also sell fabrics on the Web. Threads magazine subscribes to their service, and when we receive their seasonsal swatches, we all rush to check them out. The swatches come with an easy-reference brochure, that describes fiber content, width, fabric care, color, and other pertinent information. Their standard for quality 35 years in business are able to They offer a limited collection of fabrics, but it's based on quality and the interest they've seen in swatch, mail order and web store sales, so they always seem to have exactly what you need. They focus 100% on garment construction fabrics, and all of their employees are knowledgeable and able to provide superb customer service. they also maintain a fabulous Best-Match Service. They will find the best match of lining fabrics, interfacing, buttons, zippers, etc., to your fabric swatch.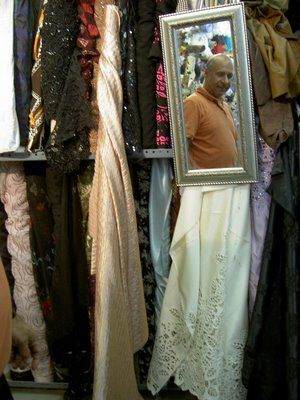 Kashi (in photo) at Metro Textile Corp.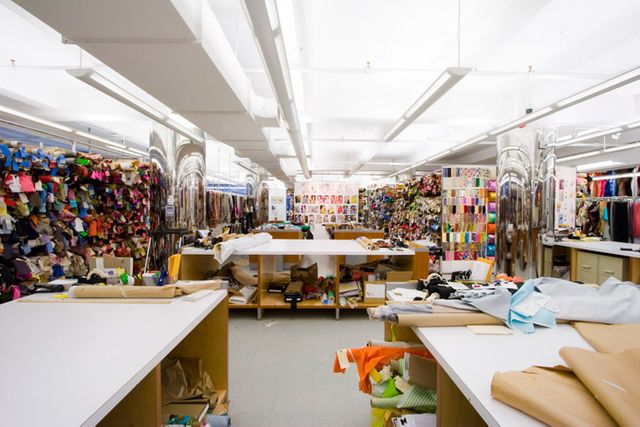 B&J Fabrics' spacious selling space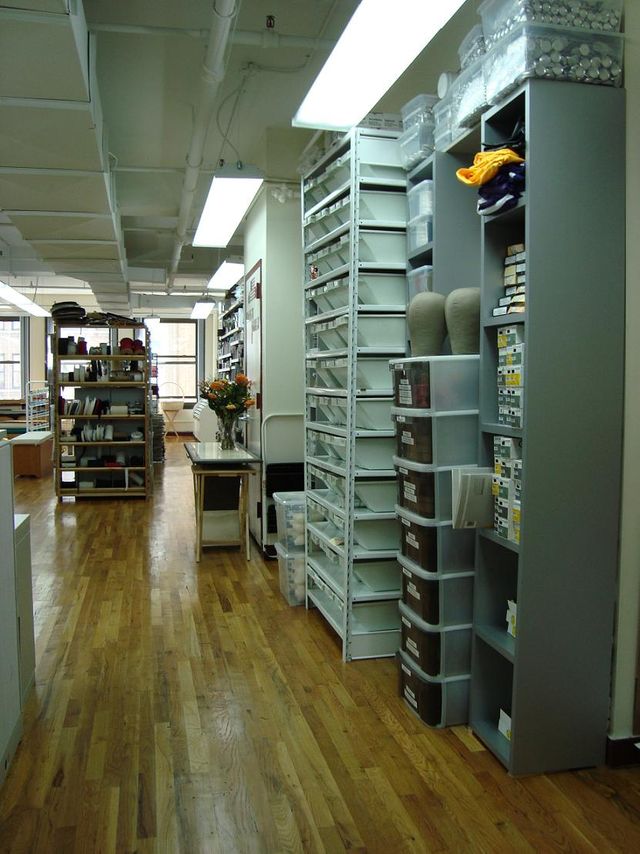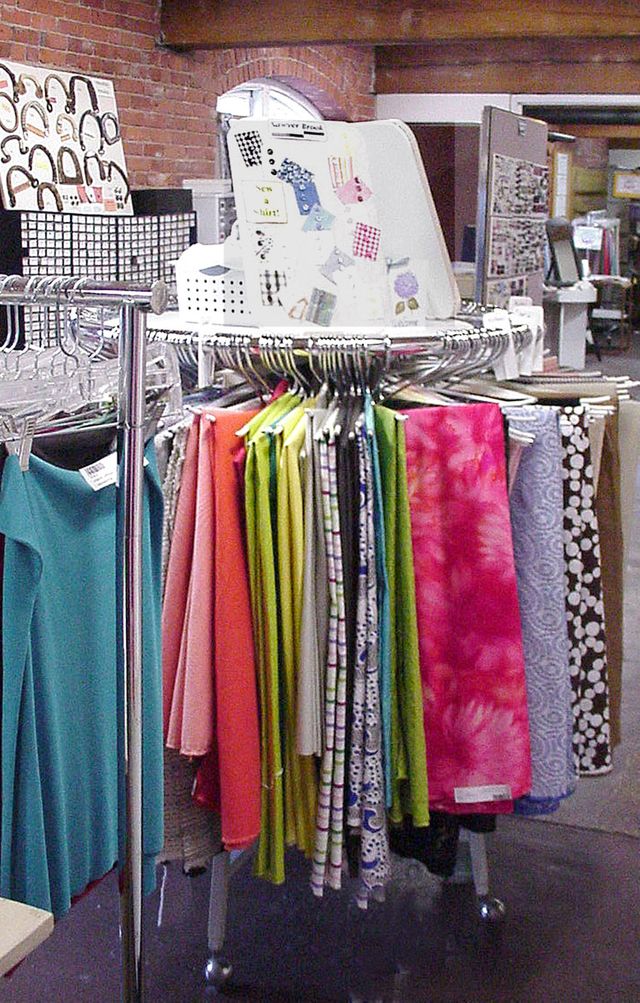 Here's a look at some of selections at Sawyer Brook.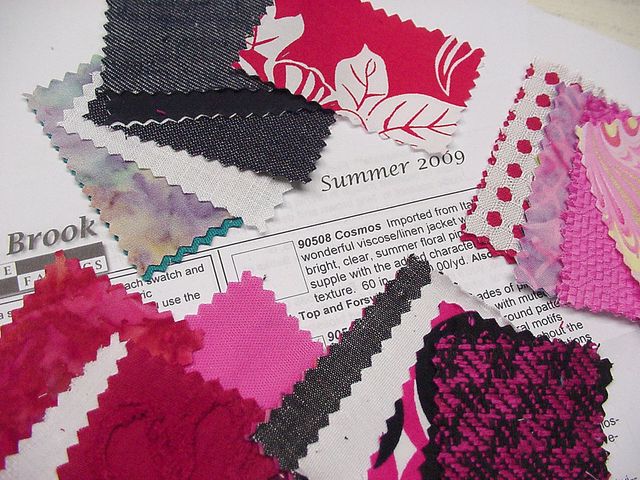 Examples of the swatches you receive with a Sawyer Brook swatch subscription.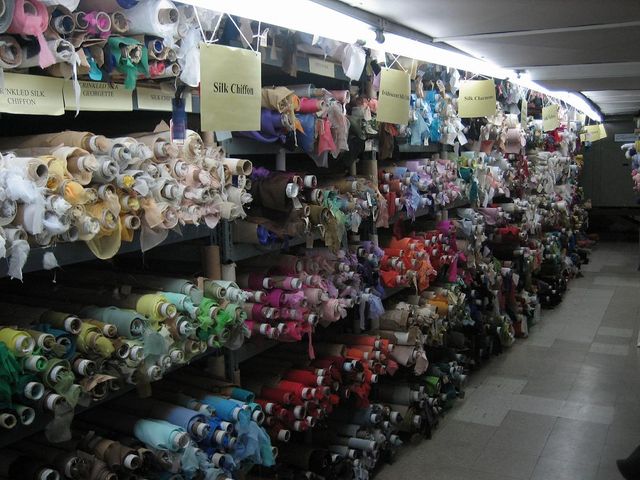 Just a small part of the extensive options at NY Elegant Fabrics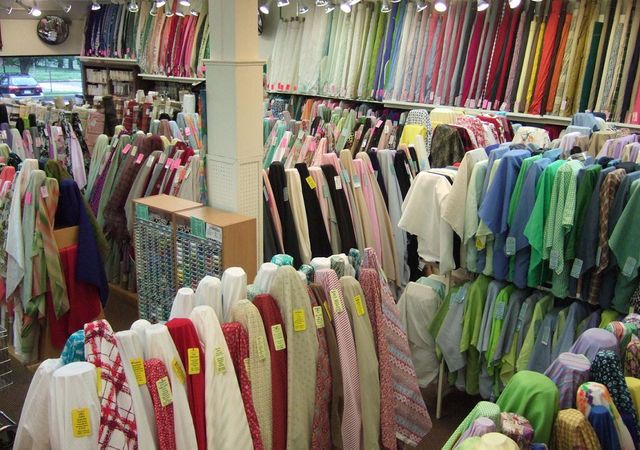 Banksville Fabrics is packed with great fabrics.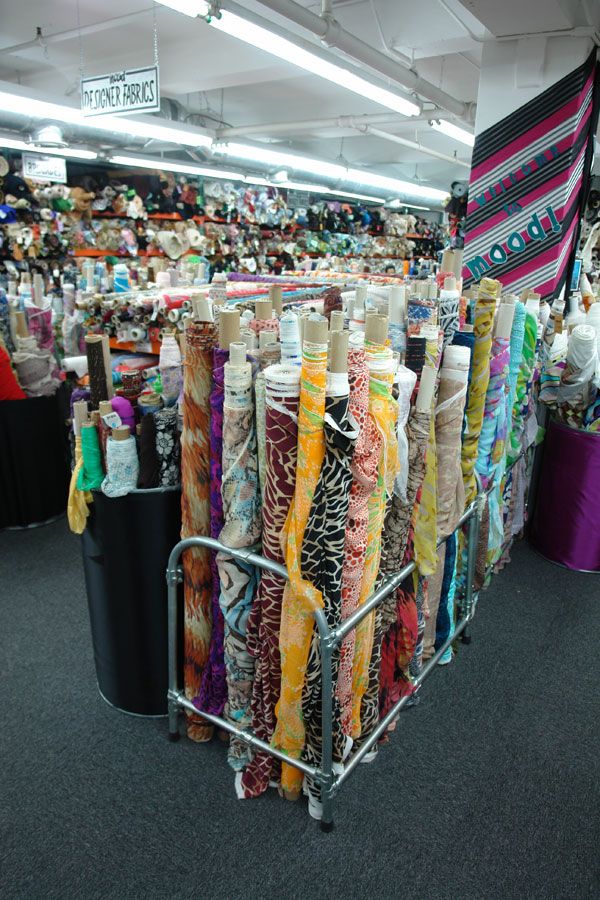 Find fabric for both fashion and home decorating.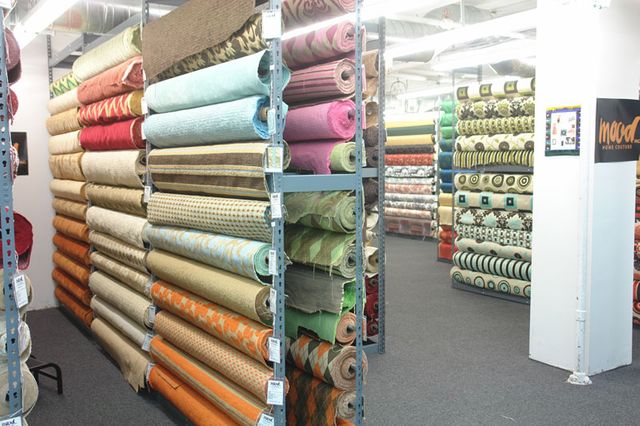 Mood probably houses the largest variety and selection of sewing needs in the area.