Get to know fabric designer Anna Maria Horner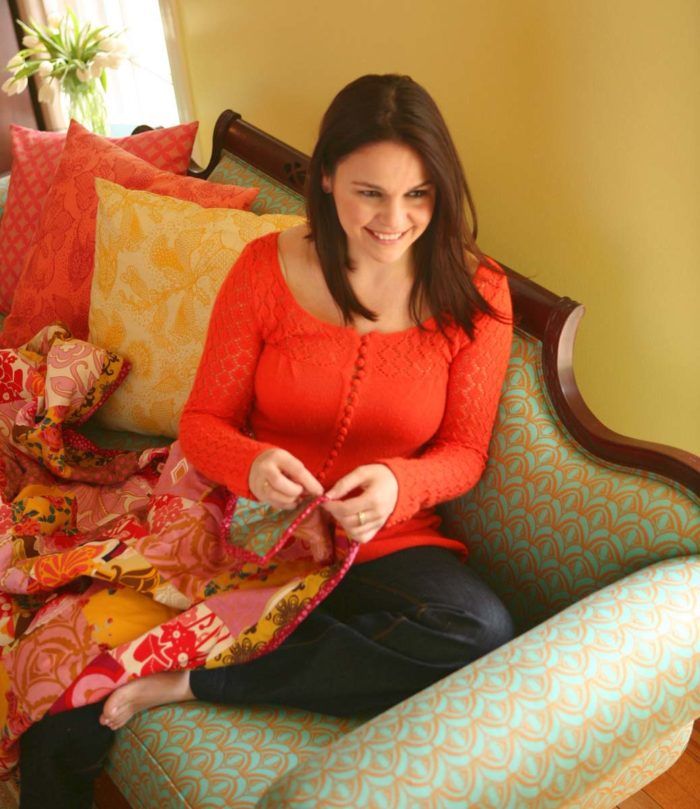 In the current issue of SewStylish, we highlighted the many inspirations of the talented Anna Maria Horner. Here's a little more from that interview along with photos of her inspirations and new pattern line.
We just love the amazing fabric designs from author Anna Maria, and now she has her own pattern line and book available, too. From her very first fabric collection for Free Spirit in 2006, to her current quilting and décor lines for Westminster, Anna Maria always has an original style full of inspiration.
For more on Anna Maria, check out her blog here, or see her book, Seams to Me (Wiley 2008), available here.
SewStylish: When did you start sewing?
Anna Maria: I started sewing as a little girl, probably around six or seven with just a thread a needle, but my mom helped me learn how to use the machine when I was around 8 or 9 years old. Haven't stopped since!
SS: What is your favorite thing about sewing?
AM: For me sewing answers so many needs all at once, both creatively and practically. The technical aspects keep me focused on what I'm doing and the creative aspect lets me use my artistic side as well. I also think that the self-sufficiency that arises from sewing is incredibly gratifying.
SS: How would you describe your pattern line?
AM: My pattern collection goal is to provide classic, and stylish designs that can be transformed easily by changing up the fabrics, lengths etc. without a lot of fuss. I design the details to truly enhance the garment or accessory and not just add complicated techniques to the sewing process. I think women like being happy. I want to help them do that with my clothing and accessory patterns by providing shapes that flatter as well as comfort who ever is wearing them.
SS: What are your favorite sources of inspiration?
AM: ~Art books~ the palettes in both famous and lesser-known paintings can inspire a whole range of fabrics for me.
~Runway~ the forms, ideas, colors, moods that designers evoke with their clothing line play a big part in the ideas that I store in my head from one season to the next. The simple nuance of seeing fashion evolve is highly inspirational to my work.
~My grandmothers~ Both of them sewed, crocheted, knit, you name it. And while those endeavors mostly arose out of need, the results were creatively beautiful.
~My children~ The energy and tempo that is existent in this household (5 kids with 6 on the way) is palpable and keeps me up. I think the activity level keeps my mood design choices on an upbeat level.
~Vintage clothing, furniture, photographs~ I very often am composing textile collections and the forms that happen within them around some narrative or period in history that I find provocative. So researching older images gives me an opportunity to reinvent some old grand ideas into something modern.
~Items made by customers~ I love seeing what people do with my fabric and patterns and it often helps direct me in what to work on next, or what new palettes to play around with. I'm very inspired when someone has paired fabrics that I hadn't yet thought of together, or seeing how someone has modified aor adapted one of my patterns.
~Kindness~ This seems strange, but its true. Whether this can be accomplished or not, I like to think of my design work as …friendly… and warm and inviting. Even though some prints or palettes can be moodier than others, I like to think that I am invoking them with a welcome and cheerful air. I am met with so much kindness in the form of letters, emails, calls and gifts from people who appreciate what I do, and I like to think of my collections as thank you notes going back to those who support me.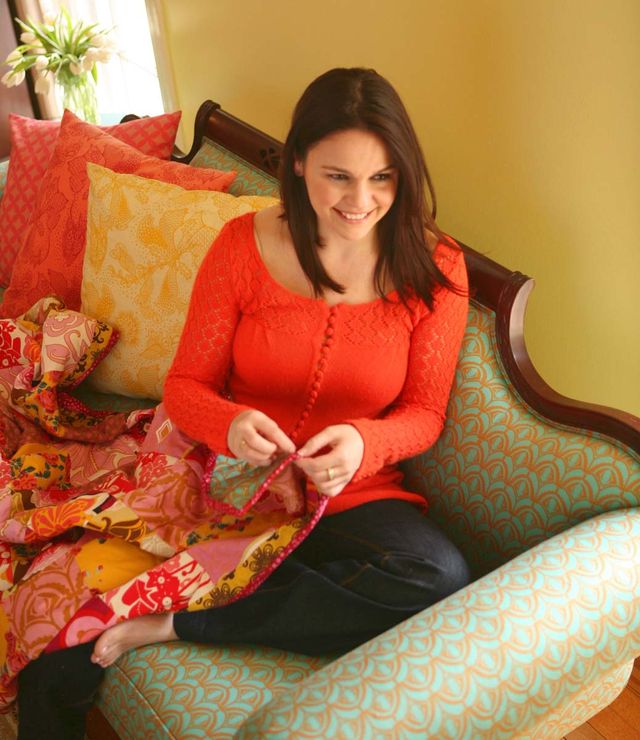 Anna Maria quilting on her couch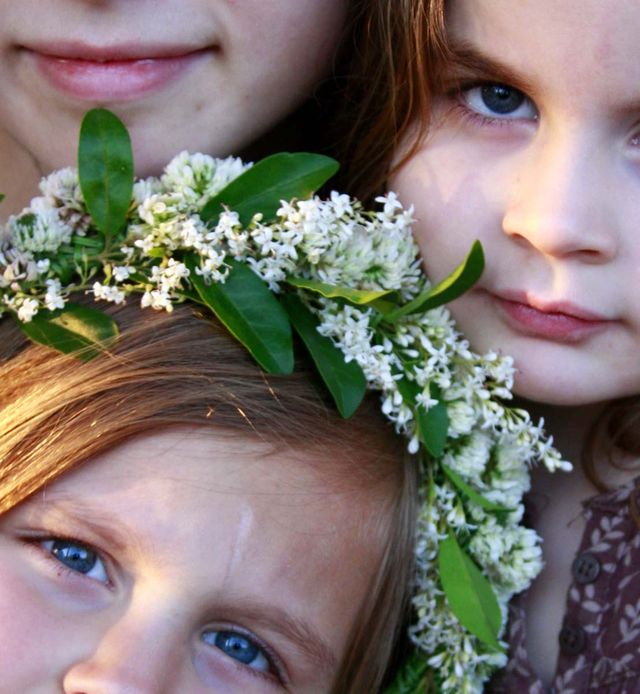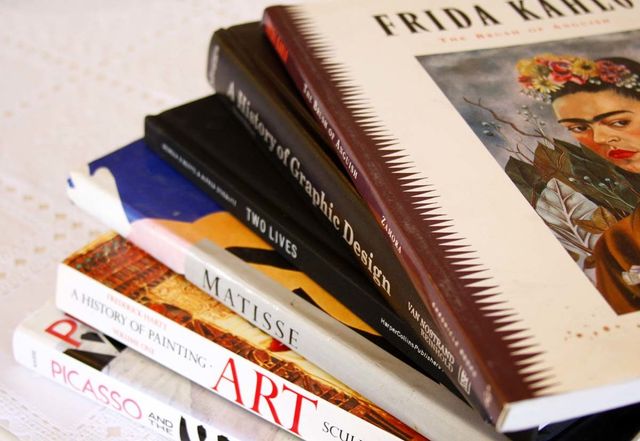 Some of Anna Maria's favorite art books.