Check out the new issue of Threads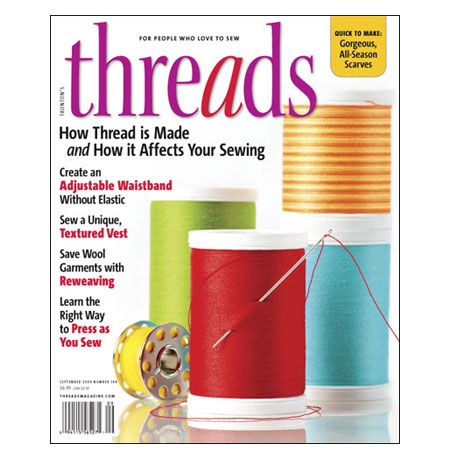 The latest issue of Threads magazine hits the newsstand today. If you haven't already received your copy in the mail, here are some highlights of the great sewing content you'll discover in this issue:
How'd they do that?
A few months back, the Threads editors had the distinct honor of taking a tour of the Coats and Clark offices and factories where thread is made in the US. Click here for more information on the tour. The process was, in a word, amazing! If you've ever wondered how thread is made, you'll love the article "Making Thread". In addition to being wowed by all that goes into a humble spool of thread, you'll also get some great tips on how to choose the right thread for your project, and learn about the surprising places where Coats thread can be found (think baseballs, air bags, and even fiber optic cables).
Techniques galore
In the usual Threads fashion, this issue is loaded with techniques to apply to your sewing today. You'll learn how to:
Needle-felt with silk fabrics to make gorgeous garments (Needle Felting Without Wool by Evy Hawkins)
Save your favorite wool garments from tears or cuts by reweaving the fabric (The Lost Art of Reweaving by Kenneth D. King).
Create beautiful feminine trims with shirring, ruching and ruffling (Shirring, Ruching, and Ruffles—Oh My! By Jennifer Jamal).
Make a pair of adjustable waist pants that has nothing to do with elastic. Finally, a beautiful and functional waistband that adjusts in size along with you! (A Moveable Waist by David Page Coffin)
Creative garments
Plus, there are inspiring projects to take you into Fall in style. Follow along with Katherine Tilton as she shows you how to make a unique vest that's a study in elegant texture by using frayed edges, exposed seams and piecing to its most beautiful advantage. And, make a show-stopping, seasonless scarf that's unique to you with Lois Ericson's multi-faceted scarf project. Finally, Liana Sandin shows you how to take your scrap fabrics and use them to recover a pair of shoes to coordinate your outfit and bring new life to your old shoes.
And More!
You'll also find great articles on design, pressing, patterns and machine embroidery along with great sewing tips and the expert answers to your sewing questions. To submit a tip, send an email to [email protected]. To get an answer to a sewing question, click here. You never know–your question or might end up on the pages of Threads!
We hope you love the issue. (Let us know what you think.) Thanks for your continued support!
Happy Sewing,
Deana Tierney
Editor