"Sew Deadly" — Summer Reading Every Sewer Will Enjoy!
I love mysteries, and when Threads received an advanced proof copy of Elizabeth Lynn Casey's new novel, Sew Deadly, I was intrigued. I had just finished a novel and was in need of something to read, so why not. Besides, it boasted *A Mystery* right on the cover. I have to admit, I wasn't expecting much, but I was pleasantly surprised and just couldn't book the book down.
A Sewer's Mystery
The book takes place in a small, rural town in South Carolina. After the main character, Tori Sinclair, moves to the town, she is invited to join a women's sewing circle, and not long after a murder occurs. In fact the victim is found on Tori's back door, and she thus becomes a definite suspect.
Despite being a murder mystery, the story is sensitive and endearing, and the mystery had me stumped until near the end. Not only was it totally entertaining, it also contained an underlying message about human nature. We can sometimes be so set in our ways that our lives and the lives of those around us can be affected negatively by our "tunnel" vision. It was definitely a good and surprisingly thought-provoking read.
Laura Bradford, who writes under the pen name Elizabeth Lynn Casey, has loved writing since she was young. I asked her a few questions that I wondered about as I read because the book revolved around sewing in so many ways. Here is a little bit of our interview.
April:
Do you sew?
Laura:
I don't sew…not in the way I'd like to. I've always admired people who can create things with their hands–art, clothing, home decor, you name it. Anyone can go out and purchase an article of clothing or buy a store-bought gift for a friend. But to make it? With their own two hands? There's no comparison in my opinion. My sewing ability mirrors that of one of the side characters in my novel–Leona Elkin. She thinks she CAN'T do it. But part of the fun for me with this series is the fact that she WILL learn as the books go on (as will I).
April:
Did you have a specific reason for using sewing as a behind-the-scenes theme for your book?
Laura:
I liked the idea of women getting together over a common interest and sewing seemed like a natural. Too often in life women get so busy with life (kids, spouses, jobs, homes) that they forget about taking time for themselves. Being in a sewing circle provides that time as well as the opportunity to work with a wide range of ages (my favorite part to write).
April:
This is the first book in your new series. How many books do you anticipate will be in the series?
Laura:
I'm contracted for three books with the hope the series will absolutely take off and allow for even more. The first book, Sew Deadly, releases on August 4. The second book, Death Threads, will release on March 2, 2010. The third book will follow sometime in the fall of 2010.
April:
Will the series include the same character(s)? If so, who?
Laura:
Tori Sinclair is a Yankee librarian recently transplanted to a small southern town in South Carolina. She is the main character throughout the series, but each story will center around a different member of the circle. Thanks to the dynamics of a sewing circle, there are a handful of characters ranging in age from mid-twenties to late-seventies who will play a part in each and every book.
April:
How long have you been writing novels? What motivated you to write your very first novel? What's the title of that book?
Laura:
I've wanted to be a writer since I was just ten years old. It's all I've ever wanted to do. And, after working for various small town newspapers and as a freelance business writer, I finally found the time to focus on my first love–fiction. My first book, Jury of One (written under the name, Laura Bradford), was birthed from a memory of vacationing on the Jersey Shore. Since I adored the likes of Nancy Drew and Mary Higgins Clark growing up, I decided to make it a mystery. That first book went on to be an Agatha nominee for best first novel and a book club selection for Harlequin's Worldwide Mystery. Sew Deadly is my first book with a New York publisher, though. And I couldn't be more excited. It's truly a dream come true.
Love story next?
What's interesting though is that I've recently veered off the mystery path into a second genre. You see, after hearing an interesting tidbit on the car radio one morning (a launching pad for many of my ideas), I tried to write a mystery. But no matter how hard I tried, it wanted to be a love story. I resisted for months before finally giving in. And, although new to the genre, I sold it to Harlequin right away. That book, Kayla's Daddy, will debut with the company's American Romance line in January.
Good summer reading
If you're looking for some great summer reading, I recommend ordering this book (available from Indie Bound or Amazon) or buying it at Borders or Barnes & Nobel. Sew Deadly is available in mass market paperback, large print, and Kindle editions. You wont' be disappointed.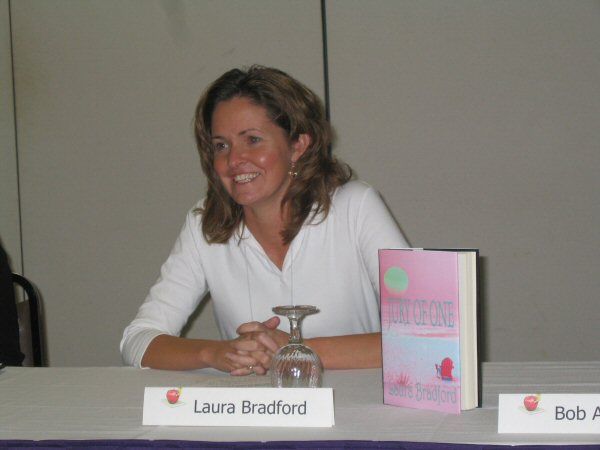 Laura Bradford, pen name Elizabeth Lynn Casey, author of "Sew Deadly"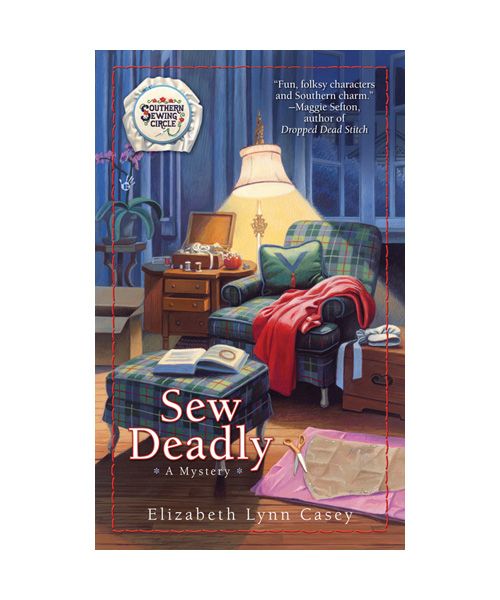 A member of a small-town sewing circle is murdered in the new novel Sew Deadly.