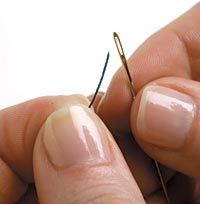 Hey, it's OK to drool on your sewing! Most sewers intuitively wet the thread when trying to thread a needle. But wait! If you wet the eye of the needle instead, you'll find it's suddenly easier to get the thread through that tiny hole. Turns out that the capillary action of the moisture draws the thread through. Who knew?!
Submitted by: J. Jacobi, Victoria, BC, Canada
Do you have a good sewing tip? Send it in, and we'll pay you if we publish it in Threads magazine. We'll also select the cleverest tip in each issue, and the winner will receive a gift package from Taunton Press including Threads DVDs and other instrucional sewing books.
Send tips to:
Threads Tips
POBox 5506
Newtown, CT 06470
or by email at:
ThreadsTips{at}taunton{dot}com