Winner of the Summer Sewing Challenge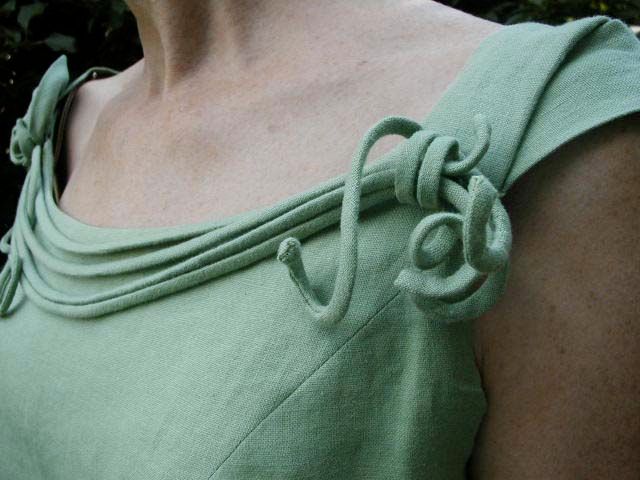 It was a tough choice, but the Threads editors put their heads together and poured over the 90 entries we received in our Summer Sewing Challenge–Express Yourself in Linen. But, one entrant in particular stood out from the crowd with not one, but a few, standout garments made in linen. We had to choose just one winning garment so with that, we're proud to announce that the winner is Trishapat with her Mother of the groom dress. We were wowed by the foliage inspired embellishment along the neckline made from bias tubes of linen. There's an architectural, yet subtle, graceful quality to the dress that we all agreed was perfect for the occasion in which it was designed. Congratulations, Trishapat! We hope you enjoy your new 1100D serger from Janome.
Check out her beautiful dress below, along with some of her other stunning creations. In addition, we've chosen a few of our other favorite submissions to share with you. There were so many great garments and beautiful designs it's always hard to pick just one. We hope you are as inspired as we were in looking at all of these amazing linen garments!
WINNER: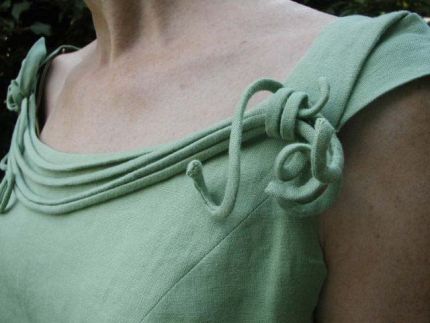 The winner of the Express Yourself in Linen Challenge: Mother of the groom dress by trishapat.
Another beautiful creation from our winner: Pinkish heirloom with flounce collar by trishapat.
RUNNER UP:


Although there isn't a runner up "prize" we felt compelled to don this Cherry Blossom Dress by Couturegirl as our official runner up. We love beautiful neckline with hand-sewn bias trim detail in contrasting red fabric and the juxtaposition of the adorable cherry trim with the taupe linen. Kudos to this fun and beautifully constructed design.
HONORABLE MENTIONS:

In this seemingly simple Great White Shirt by Sewista, handkerchief linen was embellished with smocked, beaded, and embroidered inserts at the waistline and on the collar adding an exquisite detail.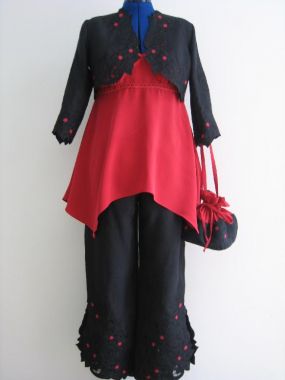 The elaborate cutwork on this ensemble, aptly titled On the Cutting Edge by evek, deserves a special nod.

It warmed our hearts to see our inspiration in action in this Tailored Linen Suit and Shoes by Shoofly. The shoes were inspired by Threads article "Custom Covered Shoes" in issue 144.

We had to give props to this Linen Jacket by SewMath, which was inspired by our Bias Topper article in Threads issue 143.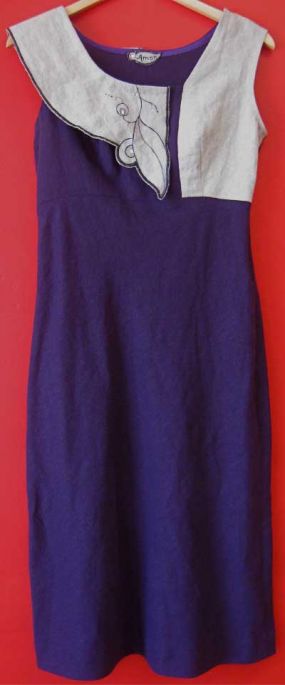 We loved the handpainted asymmetrical detail of this bias cut dress by Ixchel Amor by ixchel.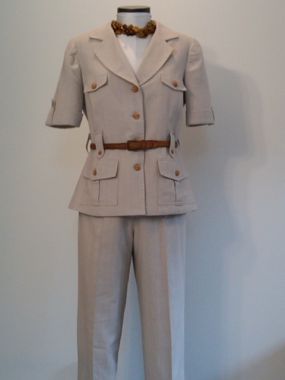 This Safari-style suit by Sew1_knit2 looks like a professionally made designer garment–perfect pressing and tailored details.

Check out the beautiful pinstitching in this Heirloom Linen Blouse by Sewista.
Thank you to all of the entrants! Look for more Threads challenges to enter soon.