Mystery Sewing Machine Foot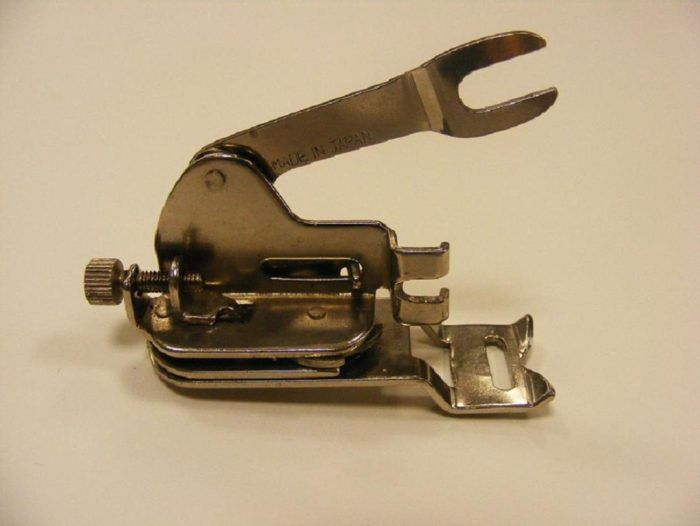 Since writing my sewing-machine-foot blog article earlier this month asking you which sewing machine foot is your most important must-have foot, I've been trying to find out what the foot (pictured in the photos above) is used for. It's not mentioned in "The Sewing Machine Attachment Handbook" by Charlene Phillips, a fabulous book that we reviewed in the current issue of Threads. No. 145–although every other foot in my stash was described in the book.
I received the foot in question without instructions or paperwork, and I haven't been able to find anything like it. I can clearly see where it attaches to the machine's stem, and it's obvious that it works using a zig-zag stitch given the width of the needle hole. There's a screw toward the back which apparently controls the length or depth (or some other measurement) of its stitches or maybe of the amount of fabric being pushed under the foot. The "fork" goes up and down as it stitches which causes a gear to circulate. The gear reminds me of the gear on a can opener.
I guess I could just place the foot on my machine and begin to stitch to see what happens, but I'd love to have a rough idea about what it should be doing.
Have you ever used or seen a similar foot? If so, what is it used for? Do you have a foot that you keep but don't use, because you don't know what it's for? Wouldn't it be nice if we could solve all of our sewing mysteries!?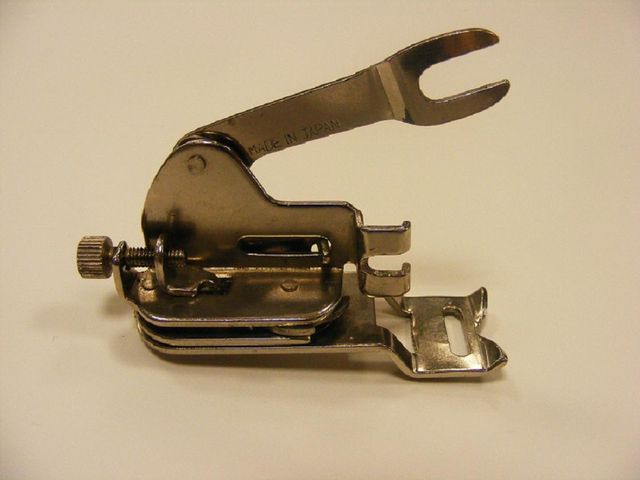 Side view of my mystery sewing machine foot with the "fork" in the up position. Note the small bar in the middle right. It moves left to right as the fork rises and right to left as the fork falls (see next photo).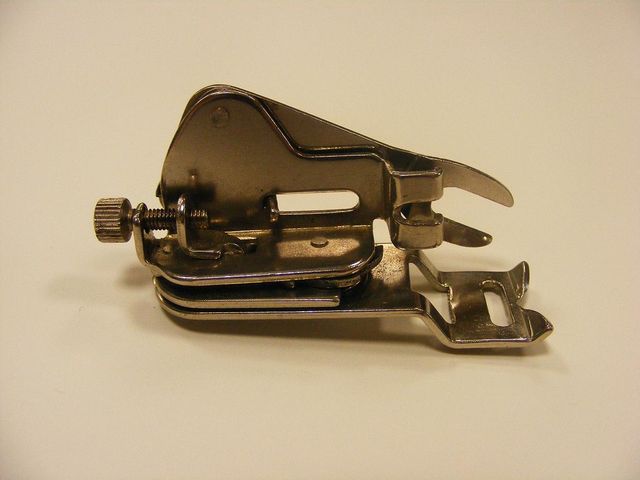 Side view of the mystery foot with the fork in the down position. The small bar in the middle of the foot has moved to the left. (See previous photo.)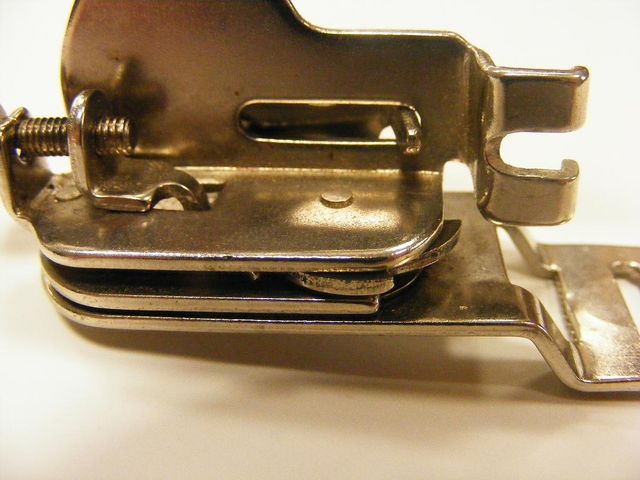 Close-up of the small bar in the center. The fork is in the up position. Note the "can opener" gear which rotates as the fork moves.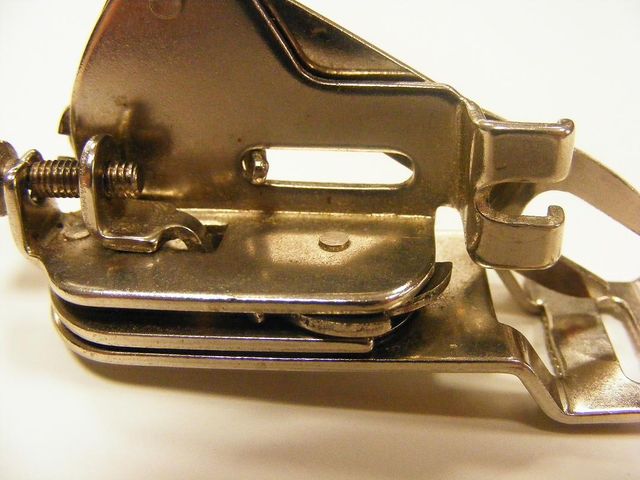 Close-up of the side with the fork down. Note that the bar is on the left. Note the "can opener" gear which rotates as the fork moves.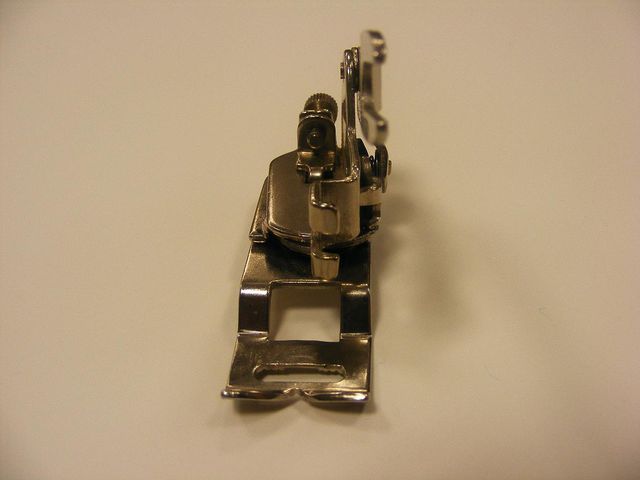 Front view. You can see the needle opening.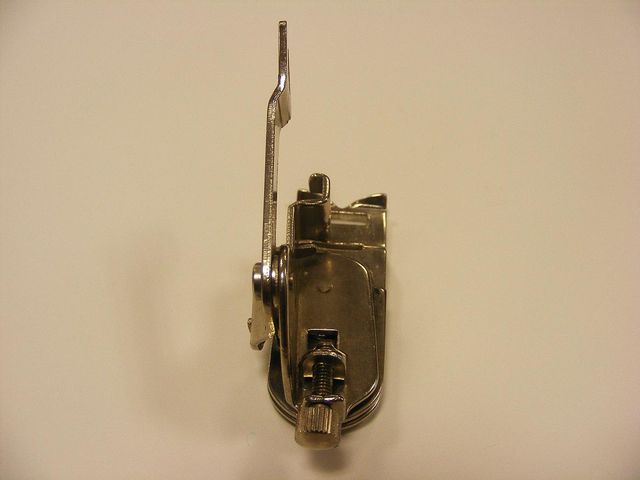 Back view. You can see the adjusting screw.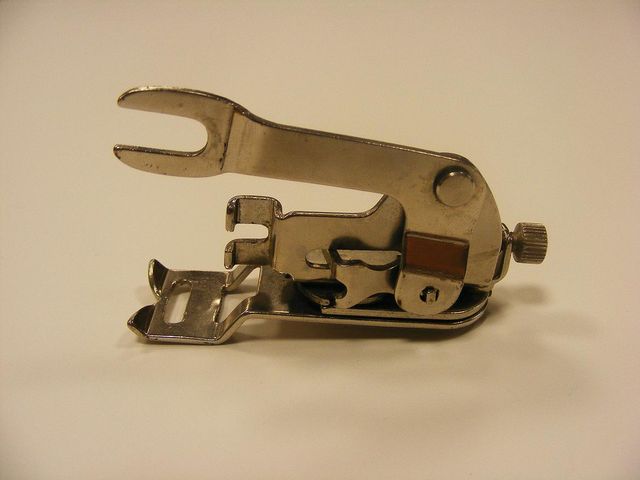 View from the other side. The bar viewed from this side looks like a bent fork with one of the tongs reaching through the hole to the other side.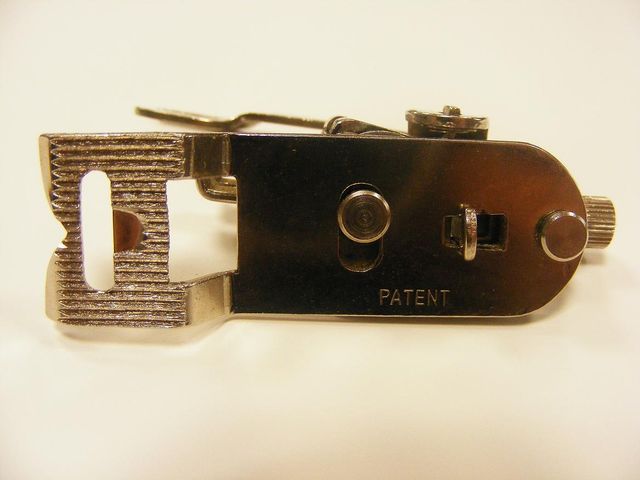 Bottom view. The round, circular part mid-center moves up and down as the fork moves.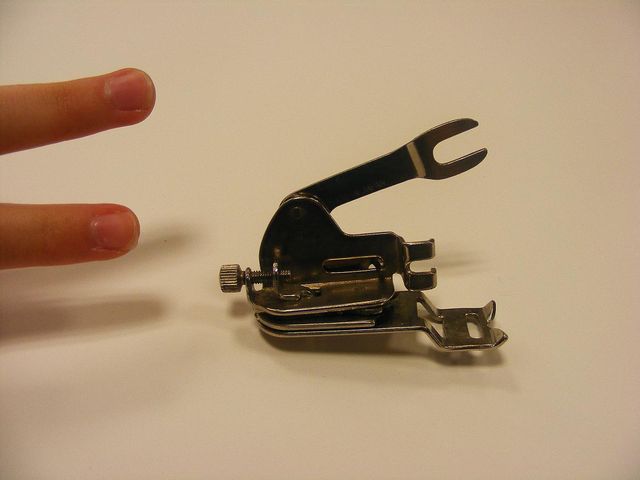 The two fingers shown give you the approximate size of this foot.