Latest Issue on Newsstands Now!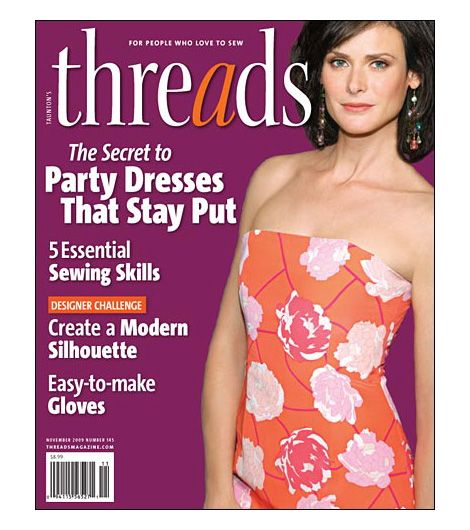 If you're a subscriber, then you probably already have your latest issue of Threads, but if not, then get to the newsstand and pick it up today. Since this issue comes out during my favorite month, September, which just happens to be National Sewing Month, we've dedicated it to topics that will hopefully inspire you to learn something new or tools you can use to pass along your knowledge to someone else. Here are a few of the article topics you'll find in this issue:
EMBELLISH WITH METAL: Learn how to embellish a garment with metal chain with hand or machine sewing for an elegant updated look.
MAKE A GREAT FITTING DRESS: Learn the secrets to creating a corselet foundation in a strapless garment by Susan Khalje.
CREATE BEAUTIFUL BLIND STITCHES: Learn 3 ways to use a blind stitch in a whole new, decorative way by Susan Cleveland, Judith Neukam and Kenneth D. King.
SEW UP GORGEOUS GLOVES: Learn how to make gloves…from the basic to the most elaborate by John Koch.
MASTER THE BASICS: 5 Essential Skills that every sewer should know.
GET CHISELED CHIC: How to add dimension to a garment with sculpted sleeves, exaggerated geometric shapes, and stand out necklines and shoulders by Julien Cristofoli, Louise Cutting, Susan Khalje and Sarah Veblen.
ACHIEVE ZIPPER PERFECTION: The perfect center back zipper by Louise Cutting.
BE INSPIRED: See the winners and winning garments of the Make it With Wool Challenge.
To subscribe, click here.
We hope you love this issue. If so, let us know. If not, let us know that, too. We'd love to hear from you.
All the best, and happy sewing! And, Happy National Sewing Month!!!
–Deana Tierney