Project Runway, Episode 6 Goes to the Movies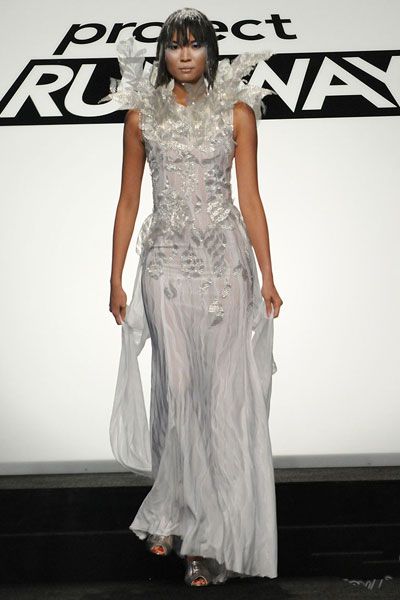 On Project Runway last night, the designers were asked to invent a character that lives in one of five genres and tell whom she is, what she does, and what she is wearing. I thought the designers did a great job in this challenge. They invented interesting characters with stunning costumes.
Overall, this season's challenges have been superb. They put all parts of the designers' genius to work. I'm impressed with how quickly they can arrive at a concept, make decisions, and execute a design. The designers I know work for months on the concept alone, and then many more months on ways to build-in delicious details. What these individuals can pull together in the tight time frames is incredible.
I also know that nagging feeling of rushing toward a deadline with a project that isn't right. Several times during this season we have watched as designers abandoned their project to pull a last-minute save out of the hat. Sadly, that's not quite the way it worked for Ra'mon last night—but what a valiant effort he gave. I agree, his first costume would have pushed him out the door even sooner, but to abandon it with only two hours to pull his replacement together took courage. I am sorry to see Ra'mon go. He is a good designer and seemed to be a courteous team player too.
Nicholas won the challenge with his science fiction wicked white sister queen frozen in eternity. Christopher brought in a vampire bride who didn't know whether to marry her lover and curse him or leave him and break his heart. Epperson got the judges' praise with his western saga: While the husband is off to war his feminine wife shows her capable side in tattered, rugged, and romantic garb. The judges said, "I love the layers and fabric choices. He created something new." Tim Gunn said, "I'm seduced by the ruffles." This brings me to the judges.
Where are Nina Garcia and Michael Kors? There's too much trading around with judges, and I don't think they are making the right decisions. Just how different or innovative was Nicholas's entry? Not too. Christopher's dress was okay, but his bustling wasn't all that pretty. The one person in the whole competition who didn't get to choose his genre was Epperson—they loved his work—why didn't they choose him? With constantly revolving judges, I don't think they have the opportunity to see the body of work the designers have presented. I think previous work should be considered when they look at each new entry. What do you think?
Until next time…